Verbolten has got to be one the most highly anticipated coasters of 2012, and that's saying something since there are a lot of them. The coaster is taking the same footprint as Big Bad Wolf, the classic coaster that closed in 2009 and was demolished in 2010. To say that it has some shoes to fill is a bit of an understatement. But as Summer approaches, the coaster looks as if it can be opened at any time.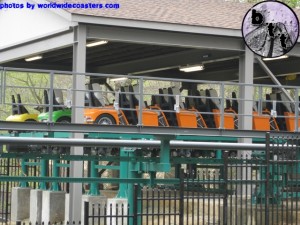 Perched on the track, ready to take off at any moment are the coaster trains. Water dummies fill the seats, an indication of testing of the new coaster. In fact, the coaster was making full circuit test runs throughout the week when the park was closed.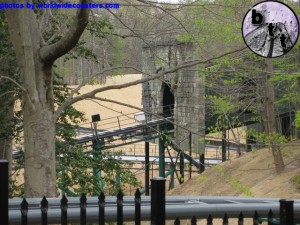 Decorative rock work adorns the track, as it enters the show building. The coaster will feature two separate launches, and will put guests inside of a darkened Black Forest. Effects such as wind, rain and lightning are said to be waiting those that dare the journey.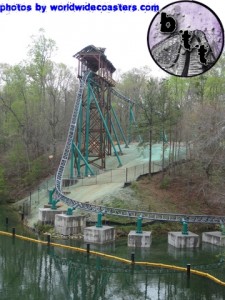 As guests ride towards a rickety bridge, they will face the famous last drop that was once shared by the legendary Big Bad Wolf. As of right now the drop looks a little on the smaller side, but if you compare it to the original coaster you just might see the difference.

Trees. Lots of trees. The drop is the same, the trees around the old site had to be removed. As for when the coaster will open, we've heard that it is moving ahead of schedule. The official Facebook page had a date of May 11th, which was quickly removed. On Sunday there were employees stationed at the coaster telling guests that it would open May 18th. We've been told that we could possibly expect soft openings as early as April 15th, though that should be taken with a grain of salt.
More Verbolten pics, courtesy of Worldwide Coasters:
Elsewhere in the park, the Easter bunny is back! The Easter Bunny is greeting kids for a photo op. The park is open all this week for Spring Break, and will be open Easter Sunday.
For more information on Busch Gardens Williamsburg, including tickets, visit the official website!