SeaWorld is known the world over for amazing sea creatures, great shows, family entertainment and water…lots of water. In 2008 SeaWorld opened the all new Aquatica in Orlando which mixed water slides, sandy beaches and live animals in a way that only SeaWorld can. The park featured a signature attraction not seen anywhere else in the world that featured live animals. Now in 2012, SeaWorld San Antonio has opened their all new Aquatica water park. As they say, everything is bigger in Texas.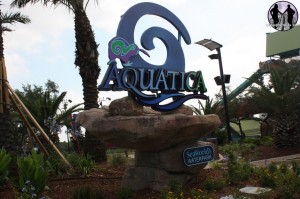 Announced in May of 2011, Aquatica San Antonio took less than a year from the initial announcement to opening.  The water park sits on what used to be Lost Lagoon, the old water park that was free with paid admission. Aquatica, however was announced as a separate ticket, so in order to get guests excited about the new water park, SeaWorld San Antonio needed to make a big statement. Instead of going with a copy of Dolphin Plunge like their sister park in Orlando, that gives you a close up look at Commerson Dolphins, Aquatica San Antonio went another direction.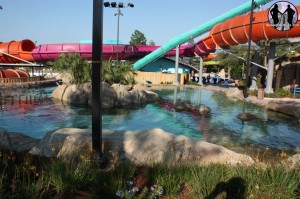 "We wanted something that would set us apart from every water park in the world" said Dan Decker, President of SeaWorld San Antonio. "We have two signature attractions that you can only find here. There's nothing else like them in the world."
As you walk into Aquatica San Antonio, the first thing you notice is a huge orange slide. Situated underneath the slide is a shallow pool where a variety of stingrays swim freely. Even more guests are encouraged to come up and interact with the  rays. If you want to get closer, you can even wade into the water with the rays where you can feed them. If that's not enough, you can board the slide and ride through the aquarium. Yes…ride THROUGH the aquarium. What starts off as a fast paced family raft slide slows down as you drift gingerly through an aquarium where stingrays, cow-nosed rays and tropical fish swim overhead.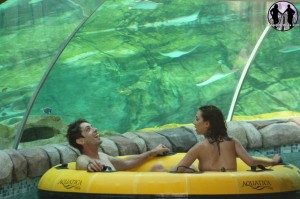 While the common complaint on many slides of this nature is that you go slipping by so fast you don't get a good look at the animals, Stingray Falls slows you down so that you can get  agood look and even get your picture taken as you go sliding by.
Take a ride with us on this video:
httpvh://www.youtube.com/watch?v=y5gB6dr-kik
More Stingray Falls:

The other signature attraction is Walhalla Wave. Another family ride, it too involves a raft. Only this one isn't for the faint of heart as you go plummeting down a series of twists turns and drops only to be launched up a near vertical wall that gives riders a sense of weightlessness.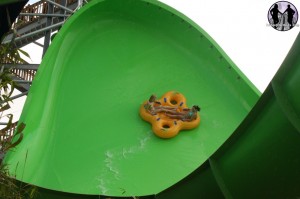 "We wanted to give guests something thrilling, while still being able to ride with the family." Said Decker "It is the first slide of it's kind in America."
More Wahalla Wave:

In addition to the two signature slides, there are tons of other slides from tubes to bodyslides, and even places for families to relax. Sandy beaches, wading pools, hammocks, splash playgrounds are all apart of Aquatica's "just go with it" attitude.


The staple of every waterpark is the wave pool. Aquatica of course has "Big Surf Shores", the park's huge wave pool. The wave pool is surrounded by sandy white beaches, and can produce waves up to five feet. The pool can also do a variety of patterns, from the typical "washing machine" pattern of traditional wave pools to the perfect curls that so few parks do.

"San Antonio is a city that truly has something for everybody" Dan Decker commented "Now they have a beach!"
What to know
Aquatica has something for everyone. It's appropriate for all ages, and has rides that the entire family can enjoy. While Aquatica has no slides that will give you a permanent wedgie, or send grown men crying like babies into the wave pool, it does pack a lot of thrills. Walhalla Wave is very intimidating, and will have many thinking twice about riding. With that being said, it has a height requirement of 48 inches so your little thrillseeker can ride if they are brave enough.
Stingray falls also has a height requirement, but it's only 36 inches and involves only a few drops and moments of darkness. It might be too much for some little ones, but they'll go nuts over the stingrays regardless.
There is a separate fee for Aquatica, but runs about $20 dollars for a single admission.  Admission is also limited to 5,000 visitors so that the lines remain rather short. That, however will not help Stingray Falls or Walhalla Wave. The two biggest rides in the park also sport the biggest lines. So if you go, go early and make sure you hit those first. They will get busy very fast.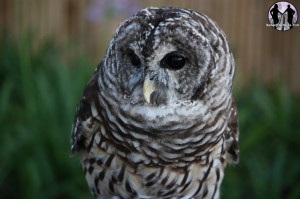 In addition to all the slides, you really never know what you'll find when you visit Aquatica. During our visit we encountered Sea Lions, lemurs, alligators, and a didgeridoo player.
You can also expect a courteous and friendly staff who are more than happy to answer questions, give directions and help in every way possible.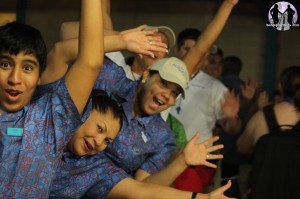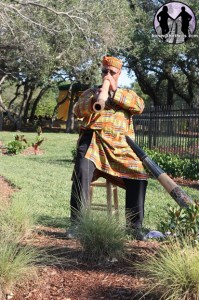 Even more Aquatica:
So is the park worth it? We flew all the way from Florida just to check it out. Honestly we expected to see the exact thing that we have in Orlando. We were pleasantly surprised to see not only had the park done things differently, but the attractions were really unique. It was definitely worth the long trip to experience.
All this summer, visitors can also expect to see some really special sandcastles. They are at various locations throughout the park, and should last all summer long.
Aquatica is open all summer, and will begin daily operation later this May.
For more information, including tickets, visit the official Aquatica San Antonio website!