You can be great, you can be somebody! You…can be a Minion! That's the latest message popping up all over the walls of the all new Despicable Me Ride building at Universal Studios Florida. The walls for the ride have come down, revealing the front facade of Gru's House. There are also tons of propaganda posters, which already makes this attraction look like a lot of fun.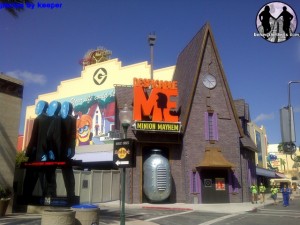 While some walls are still up towards the front of the attraction, the facade is completely visible, showing off Gru's monster car and the front porch of the house. It appears that once guests walk in they will be taken through the rest of Gru's house, as it looks like the entire old queue area will be walled off.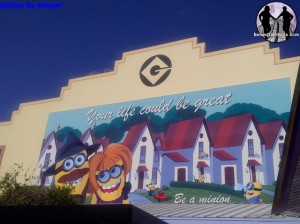 Meanwhile, propaganda posters are all over the building urging guests to "Become a Minion". It's actually a very funny and silly touch.
More Minion Mayhem:
The attraction is set to be a motion simulator based on the attraction. No specific date has been given yet except for "Summer". Chances are the park will open this right before the summer gets into high gear, say around the first part of June. Keep following here for more information as it comes out!
For more information on Minion Mayhem and Universal Orlando, visit the official website!