Waiting in line less at a theme park. It's a dream of many vacationers who want to make the most of their visits, to wait less and ride more. It's also something that the parks are investing a lot of time and money into making a reality….or at least a reality that moves faster and more efficient than current methods. All new systems have already been spotted at Disney which will make it easier for guests to not only use their Front of the Line System, Fastpass, but also reserve it using their Ipads and from their hotel rooms. Now Universal Orlando is also testing an all new system.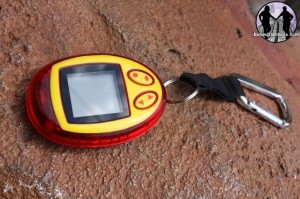 The system is called Q-Bot, and is provided by Lo-Q. It's an electronic system that allows guests to reserve rides via a reservation system similar to Disney's Fastpass. You get a listing of rides and ride times on a little round device. You choose your time via the little buttons, and when your ride is ready it notifies you.
Yesterday at Islands of Adventure our own Joey Hancock was in the park and was asked to test the system.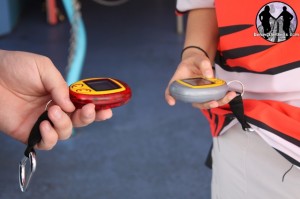 Joey reserved a time for Cat in the Hat, because it was the first on the list. Once his time was ready, a message popped up on the screen saying that he may now ride Cat in the Hat, and he took it to the attendant who validated it using their own Q-Bot. He was then able to go in to the Express entrance and ride. The system is extremely easy to use, and comes with a clip to hook to belt loops or backpacks to make it easier to keep track of. The system is already in use at other parks like Six Flags and Dollywood, and has varying levels of success. At Six Flags the Q-Bot system has made buying the system a neccesity, as the park does not seem to limit the amount of devices sold, and will fill entire coaster trains with Q-bot users.
Universal already has it's own successful system called "Express". Express works on a ticket system that you purchase and have scanned at each ride. Once you ride a particular ride, you can no longer ride that ride. It's a one time use. The only problem is that tickets get lost, wet and damaged. Many guests are either turned away from using it, or are allowed to ride multiple times. Universal also has a system that allows their onsite hotel guests the ability to use the Express system for free using their hotel room key.
It's unclear whether or not Universal will continue to use the Room-Key system for hotel guests, or whether it will allow guests to have free front of the line access at all. For regular guests, however, Q-bot is an easy and high tech alternative for those looking to skip the regular lines. It also must be noted that Universal is only testing the new system, and nothing official has been announced. Universal may not even use the system at all, so until its officially announced, make no plans just yet.
For more information about Universal Orlando, visit the official website!