When Pixar's newest film opens next month, it will have the first Pixar Princess, who will also be the first Scottish Princess. Brave does a series of firsts for the animation company, and another first is that guests can meet the wild and free Scottish Princess at Magic Kingdom before seeing her onscreen. We take a glimpse at the newest meet and greet involving this less than orthodox princess.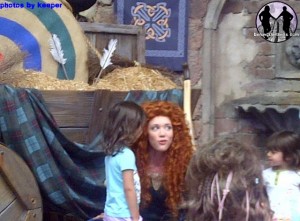 If you've seen one of the many trailers for the upcoming Brave, then you know just about everything that everyone else does about Princess Merida. She's independent, strong, and isn't your typical "proper" princess. She spends her days loosing arrows at targets, searching for mystical beasts and befriending bears. Not the typical princess behavior of sleeping in a castle, dressing for a ball, or losing your fins in exchange for feet because you fancy a sailor.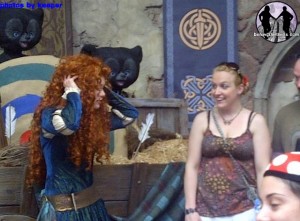 The new meet and greet at Magic Kingdom takes you inside Merida's Kingdom where you meet the fiery red-headed princess and her cubs. Merida at Magic Kingdom captures the essence of the film. In short…she's crazy. In the time we were there, she never stood still. She was so full of energy and excitement that it spread to the faces of all the kids coming to visit.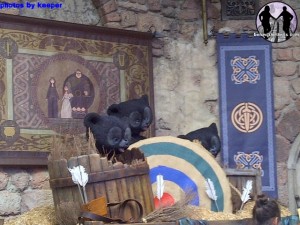 Merida is not alone either, as she has with her three cute bear cubs. The animatronics for these cubs are simply fun. They make noise, move, blink and cry if they think you're not sharing your snacks.
More Brave:
For more information, including tickets, visit the official Disney website!