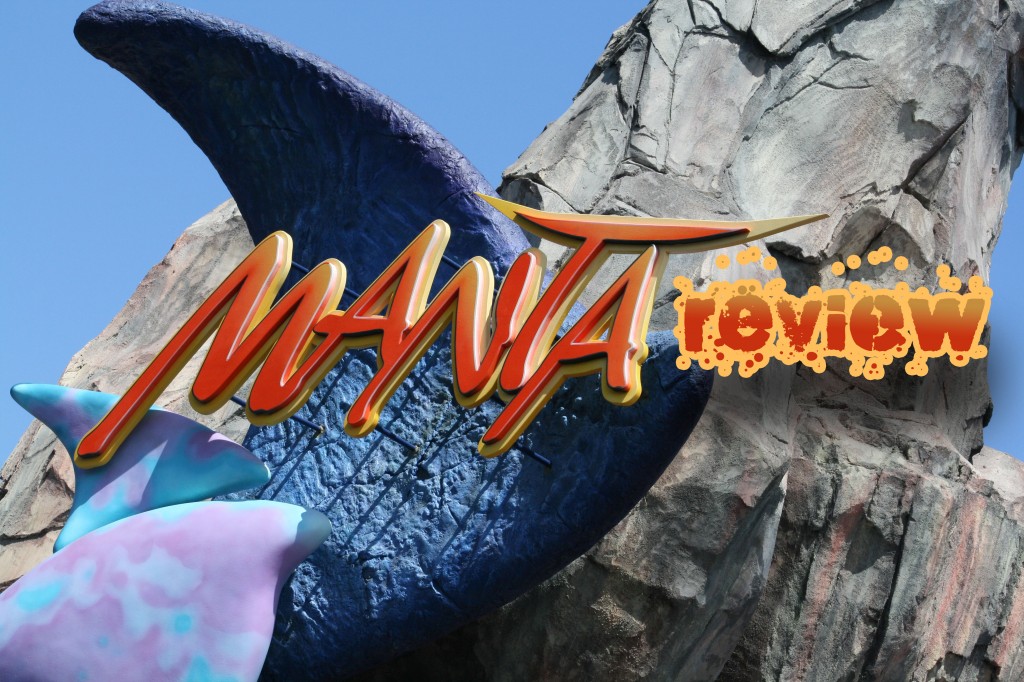 It's very common in Southern California for a park to have building restrictions. Some parks are land locked, others have height restrictions, but no other park suffers more from these problems than SeaWorld San Diego. Being built on a landfill in the early 60s, it has often been scrutinized by the California Coastal Committee with strict building regulations. With these issues, major attractions are a rarity at this park. In Feb. 2011 SeaWorld announced that a brand new "Mega-Attraction" would be opening at it's San Diego park with the name of Manta. While it shares the same name and general theme as the huge B&M Flyer at SeaWorld Orlando, it is a very different attraction all together with a very different target audience.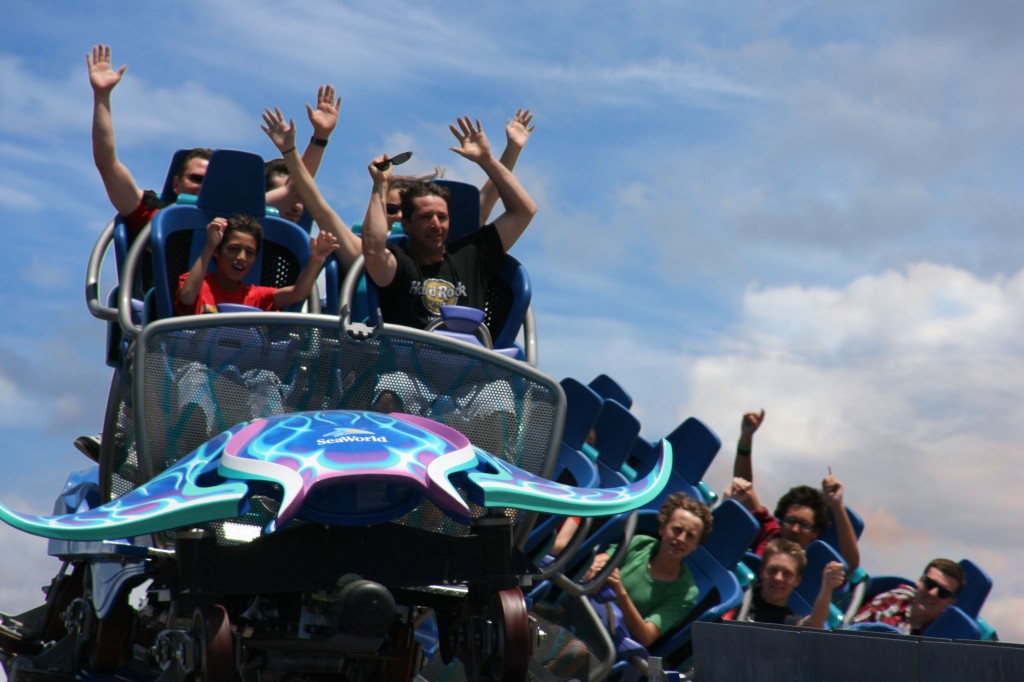 The attraction had it's grand opening on Saturday with local officials in attendance for the "kelp" ribbon cutting ceremony.
Also on hand was a troupe of Japanese drummers. The park and this attraction has a very Japanese feel with the architecture, so it fit the occasion. The first riders on Manta were students from the Elementary Institute of Science — a science enrichment program dedicated to nurturing the intellectual curiosity of San Diego's young people by providing hands-on experiences to stimulate an ongoing appreciation and understanding science, technology and the environment. As part of the grand opening, SeaWorld made a $10,000 donation to the nonprofit program and invited 20 students to be the first riders on opening day.
[youtube=http://www.youtube.com/watch?v=t-MLHFeQ9Bk&]
More Grand from the Grand Opening:
While Manta shares a name with SeaWorld's Florida sister park, there are plenty of differences that make this coaster unique. The first and most obvious difference from the Florida Manta attraction is that this ride would have a completely different ride system. Instead of calling B&M for another Flying Coaster, SeaWorld trusted MACK Rides from Germany whom have produced all Journey To Atlantis attractions for each SeaWorld park. Also, instead of having a traditional hill lift, the new ride utilizes duel Linear Synchronous Motor (LSM) launches which allows this ride to really pack a punch, very close the ground.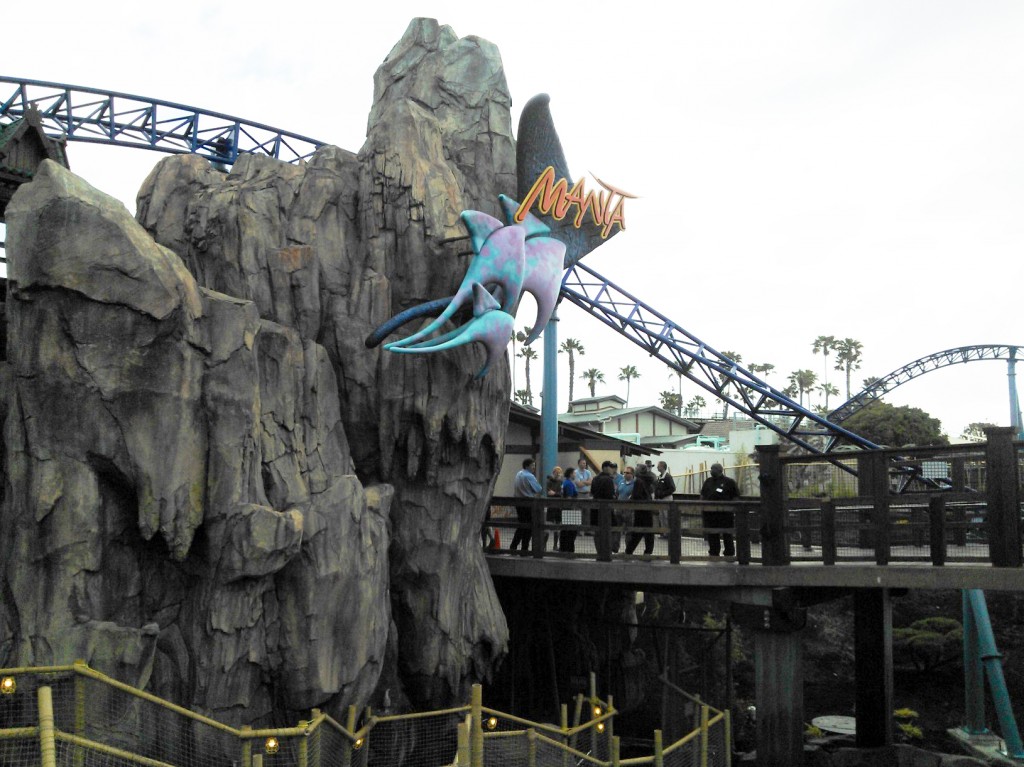 We begin our journey on San Diego's Manta at the entrance of the ride, SeaWorld did a fantastic job creating a very iconic looking entrance that allows guests to walk both over and under Manta's track before descending into the underground portion of the queue featuring the Ray aquariums. One feature I really enjoyed is that Manta's queue offers two choices to be able to experience the brand new Manta aquarium. You have the option to enter the traditional standby line in which you will pass through the underground aquarium as you make your way back up to the coaster's loading station. Or if you have no desire to ride you can enter a secondary entrance off the right which houses it's very own viewing area of the California Bat Rays.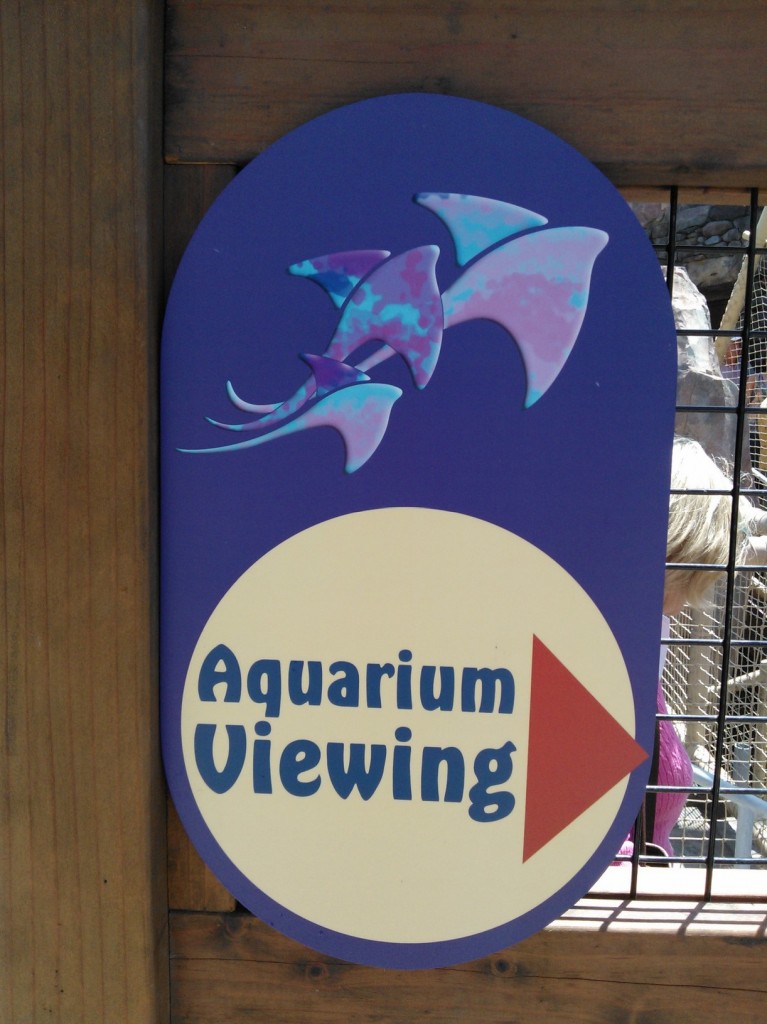 After guests have passed through the Manta viewing areas, they ascend a jagged pathway to the loading platform. The main queue is fairly short and while I really enjoy the subtle Japanese/Pacific Island thematic elements throughout the entire ride, gift shop, and Ray pool areas. I could not help but notice a lack in landscaping. The surrounding ride area seems to feel a bit bare, especially for the second half of the ride. But that can be expected as new landscaping is just being put in and needs time to fill in a bit.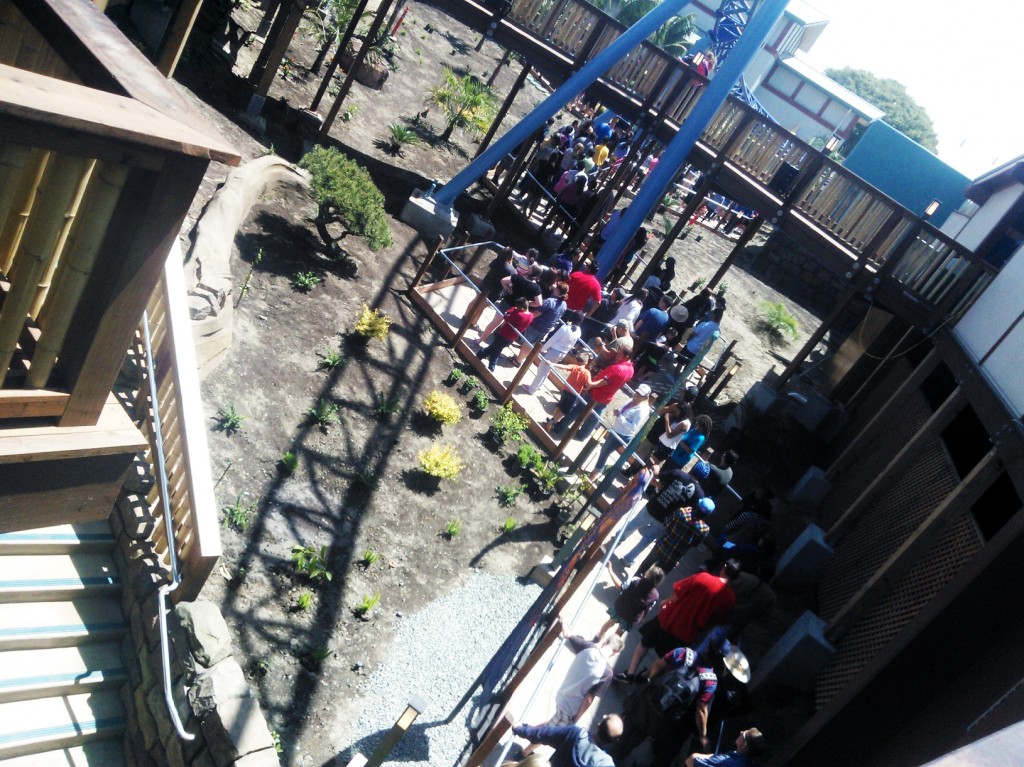 When riders enter the loading station they are greeted by a gorgeous Asian inspired loading area with lots of color and cultural embellishments.
More of the queue and aquariums:
The ride itself is an extraordinary little attraction. In fact, I overheard a park guest refer to the new ride as an "epic little thing". There is no better way describe Manta than that. You begin your journey on Manta entering a dark show building. You then hear bubbles and descend into a reef via a 270 degree giant projection surface that surrounds the track from all sides. You then notice that you are being surrounded by manta rays and your car begins to rock forward and back creating the illusion that you are in the ocean with them. The mantas then create a formation and your train is launched out of the show building and into the park reaching it's top speed of 43Mph in only 2 seconds, all in-sync with the stunning projection effect.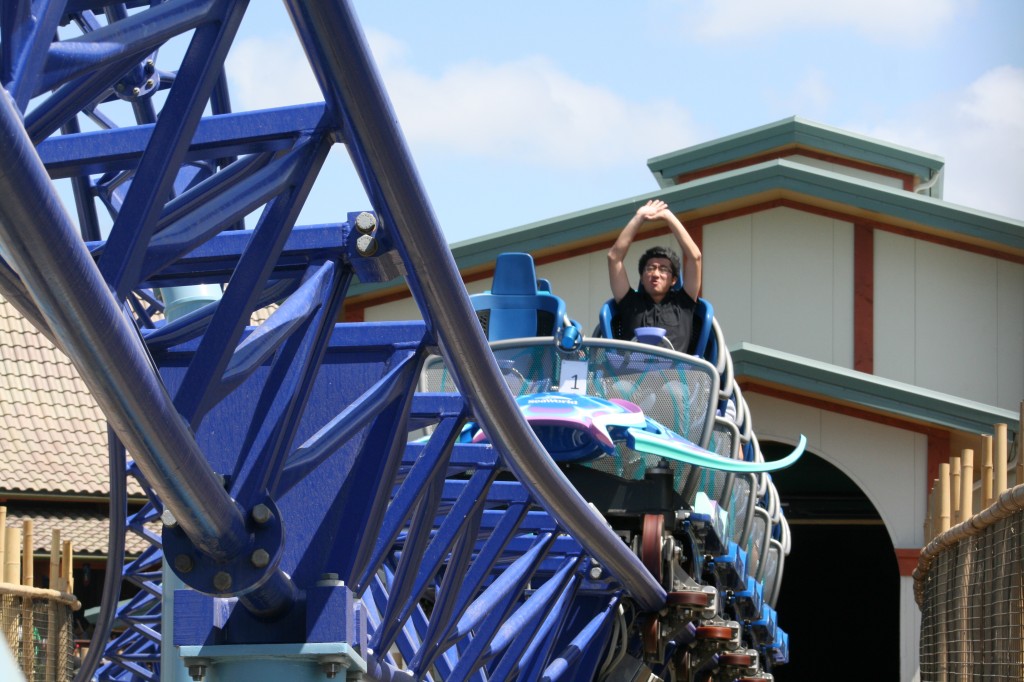 Then launch track then enters an over-banked turn to the right into a 54 foot drop sending riders under a park pathway leading to the main entrance of Manta, then back over the ride's iconic signage via another huge over-banked turn. From there you pass over the standby queue line and into a series of smooth twists and turns creating a lot of enjoyable air time.
Then you enter a quick break run.  Just when you think things have slowed down the car is then propelled back up to the ride's top speed into a 90 degree left turn and through another series of smooth twists and turns before entering the ride's final break run into the unloading station.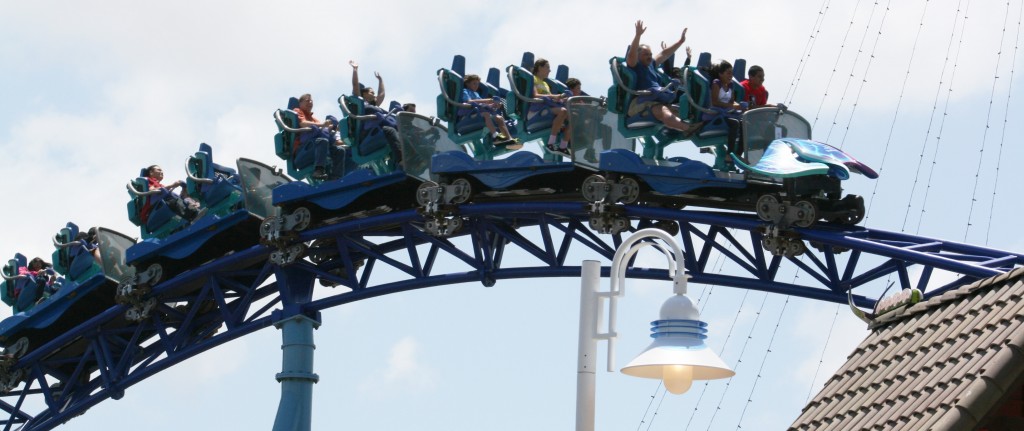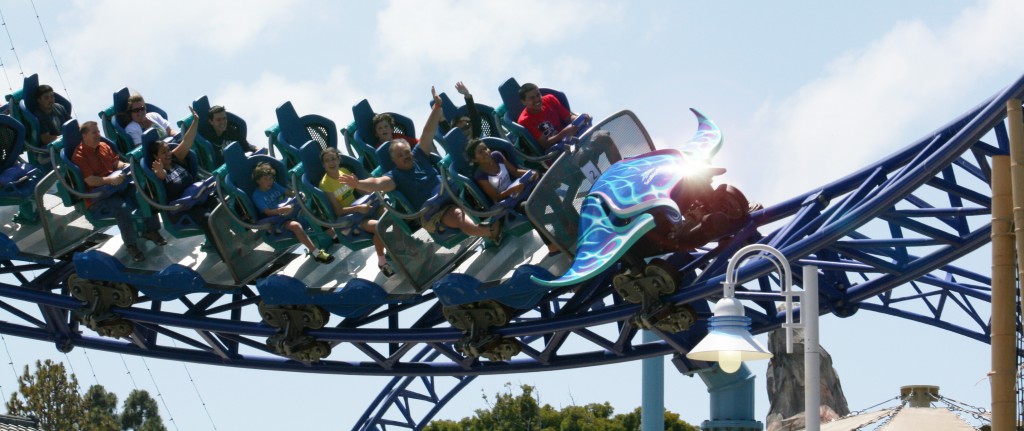 Unfortunately the second half of the ride does suffer from a lack of landscaping making riders travel over mounds of dirt and patches of grass. This however isn't as big of an issue as it may seem because during the second half of the ride you get some incredible views of the park and Mission Bay located just outside of the park, and that sure captured my attention much more than any lack of landscaping.
Check out even more pics of the amazing Manta coaster:
My final thoughts on SeaWorld San Diego's Manta. Manta brings to the table a brand new experience that has broad appeal. Both young and old riders will find this ride to be quite enjoyable. The launches are fun but not too intense and the ride manages to make 43mph feel a lot faster than it really is. While the attraction is on the shorter end with just over a minute and a half of ride time, the coaster packs quite a punch. It blends perfectly a fun filled thrill ride with a family friendly coaster, something that very few parks have ever been able to do.  To quote park president John Reilly, "SeaWorld had brought the fun back into roller-coasters", and they truly did for all ages.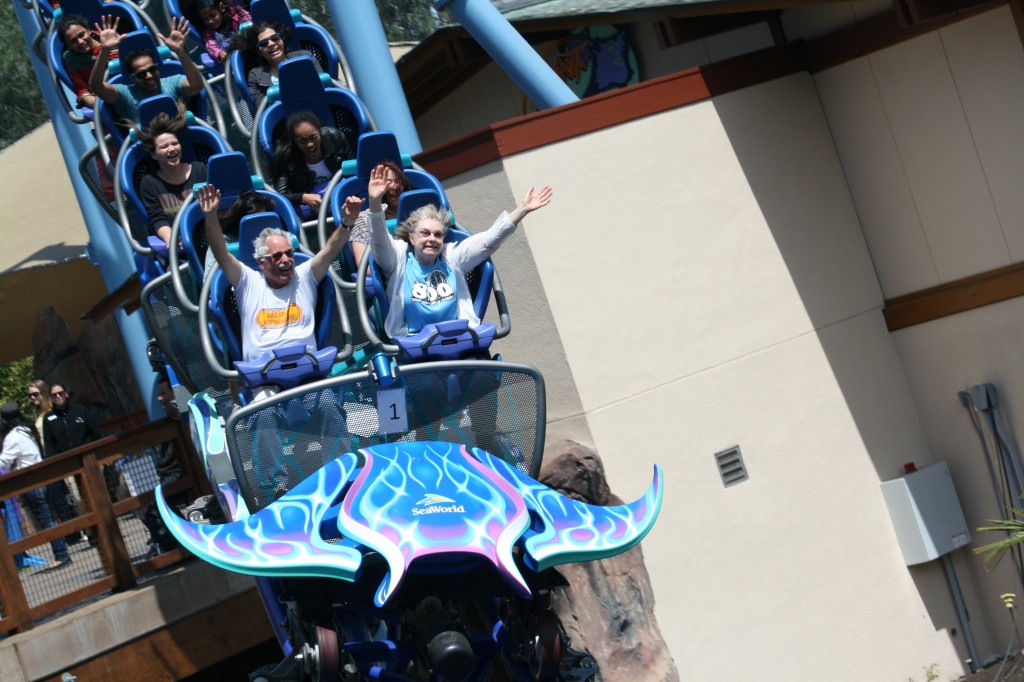 Manta's Stats
Height: 30ft
Drop: 54ft
Top Speed: 43mph
Track Length: 2,835ft
First Launch: 0-43mph in 2 seconds
Second Launch: Brake Run- 43mph in 2 seconds
Capacity: 1400 riders per hour
Rider Height: 48 inches
Be sure to visit SeaWorld San Diego's website at http://seaworldparks.com/en/seaworld-sandiego/.
Also, be sure to follow us on Twitter.