It opened two weeks ago to rave reviews. Turtle Trek at SeaWorld Orlando is now open, and it's making quite a splash with guests. The new attraction has several different pieces, all of which come together to form one very important message. We are all everyday heroes and can make a difference. The attraction not only takes guests on a journey in the life of Sea Turtles, but also allows guests to get closer than they've ever imagined to sea turtles, and manatees. We were on hand for the grand opening of Turtle Trek, and have a ton of videos and photos to follow.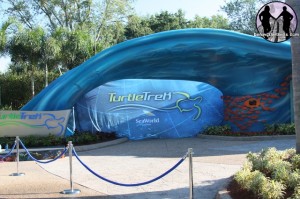 httpvh://www.youtube.com/watch?v=DLvtMdIFnE4
Turtle Trek takes the place of Manatee Encounter at SeaWorld Orlando. The attraction at one time housed a short animorphic film in a 360 degree theater in which guests would sit on the floor. Guests would see Manatees from above then see them from below. Turtle Trek takes things one step further by immersing guests with the turtles and manatees right away. Both turtles and manatees are facing dwindling numbers and are threatened by man made obstacles such as nets, fishing line and boat propellers.
In addition to the aquariums, which were redone to house sea turtles as well as manatees, the film area was completely redone and refitted to house a special 360 dome theater and a state of the art 3D film that allows for guests to get a great view of the theater no matter where they are.
Here is an overview of the Turtle Trek experience, along with special guests Julie Scardina, Brian Morrow and Gary Violetta
httpvh://www.youtube.com/watch?v=mELs-fUihuw
Turtle Trek is really less about the animals, and more about what you can do to make a difference. By making simple choices everyone can be an everyday hero. For example, one such way that guests can help is simply by shopping at the turtle shop next to Turtle Trek. A screen shows you how much of every purchase in the shop is donated to the Conservation fund.
But the big question is, how is Turtle Trek? Is it any good? We got the chance to talk with a few of the guests who experienced the attraction for their opinions on the new addition:
httpvh://www.youtube.com/watch?v=ffzGBgbrtyY
Brian Morrow was the man of the hour, giving us a very in depth interview about the attraction and what it took to bring it all together:
httpvh://www.youtube.com/watch?v=OFdWzyTZi8U
Things to Know
Turtle Trek is truly a family experience. It has no height restriction, and is completely wheelchair accessible.
The 3D film can be seen from every single angle in the room, there truly is no bad spot to stand.
3D of this kind is a first. You can see the animals move literally through the room. Once you turn around you can see them swimming away
After the show you can see the turtles and manatees from above
An interactive video game waits for guests at the exit
More pics from Turtle Trek:
For more information about Turtle Trek, including tickets to SeaWorld, visit the official SeaWorld website!