In 2012 SeaWorld Orlando is going to take guests on a journey unlike any they've been on before. They will mesh together some of today's top of the line technology with the animals of the sea. Turtle Trek promises to be one of the most immersive experiences to date by putting guests on an actual journey that these creatures take just to survive. In anticipation of the opening of Turtle Trek, SeaWorld Orlando is taking us behind the scenes in a new series of videos highlighting the attraction and what it takes to bring it all together.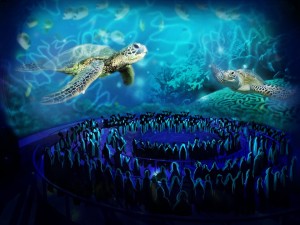 These "webisodes" can be found on the  official Inside SeaWorld blog (found here). Each webisode will take us deeper in to the process and show us more of what's sure to be an amazing attraction.
Episode 1-Overview
This episode we take a look with Brian Morrow, Creative Director of SeaWorld Orlando, at what we can expect from the attraction. The attraction will feature the world's first 3D, 360 degree domed theater, in which guests will go on a journey alongside a sea turtle. Guests will also get a chance to see real sea turtles, manatees and learn how SeaWorld has played a huge part in the future of these animals.
httpvh://youtu.be/X1vLCHmSaME
Episode 2-Dome Construction
Brian Morrow is back and this time we truly get a look behind the scenes as we take a look into the construction of the giant Dome screen that will be the main attraction of Turtle Trek. The Screen will house the 360 degree 3D theater and is specially designed for Turtle Trek.
httpvh://youtu.be/FH6rj-Aeheg
Turtle Trek opens at SeaWorld Orlando this Spring! Turtles, Manatess and you will come together in this one of a kind experience.
Episode 3-Manatees
Pedro Ramos-Supervisor of animal care at SeaWorld Orlando takes us through the Manatee habitat that will be a huge part of Turtle Trek. SeaWorld Orlando has a huge hand in helping to rescue and rehabilitate manatees that are injured in the wild.
httpvh://youtu.be/0xf-8Ho3uRY
For more information about SeaWorld Orlando, including tickets, visit the official SeaWorld Orlando website.
Episode 4-The Film
Cecil Magpuri, CCO of Falcon's Treehouse, the company that made the film for Turtle Trek takes us through the creation process of the film, and how the film went from storyboards to the finished product.
httpvh://youtu.be/3F3VgNrNAYc
Episode 5-Turtle Conservation
Dan Conklin, Supervisor of Aquariums for SeaWorld Orlando takes us through the rescue and rehabilitation process of some of the turtles that the park takes in. That is one of the most important messages of Turtle Trek. What can you do to help?
httpvh://youtu.be/Mj4mR6YAY94
Episode 6-Creating the Audio
Now that the attraction has opened, and you've had a chance to experience the attraction, Brian Morrow is back to show just how the score, soundtrack and sound effects were created for Turtle Trek
httpvh://youtu.be/bL-YWY2il_0
Stay tuned to us here at Behind the Thrills, and the official Inside SeaWorld Blog page for more episodes!
If you have any questions about SeaWorld or Turtle Trek, ask us!