All images are property of (Paul Hiffmeyer/Disneyland)
I had the very special privilege of visiting Disney California Adventure's brand new offerings recently, and was given the opportunity to descend into Buena Vista Street, the parks new entry way, and Cars Land, the highly anticipated new land built over 12 acres. Cars Land takes its inspiration from the 2005, and 2011 Disney/Pixar animated films Cars and Cars 2, in the first film, the setting is a small town on Route 66 known as Radiator Springs, the basis of Cars Land. Cars Land not only recreates the film's setting but it brings it to life with a level of detail and scale never before seen state side. This new land also adds three brand new and unique attractions to Disney California Adventure. Mater's Junkyard Jamboree, Luigi's Flying Tires, and the E-ticket Radiator Springs Racers. In this review I will take you through all of Cars Land's new offerings, rides, diners and shops.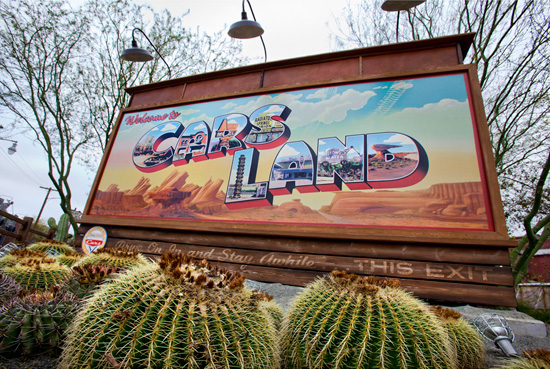 We begin our tour of Cars Land from the Pacific Wharf entrance. The vista created by the rockwork will be a sight seen in Disney commercials for years to come. Of the 12 acres of Cars Land, 6 acres are dedicated to the rock work surrounding Radiator Springs Racers, and the best views come from the path connecting Route 66 to the Pacific Wharf area. The rock work is intricate and never looks dull at any point while in Cars Land, even when your face to face to the massive structure while queuing for Radiator Spring Racers.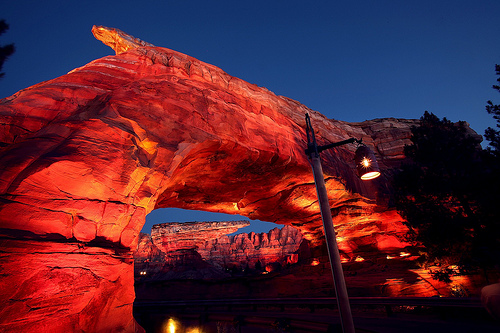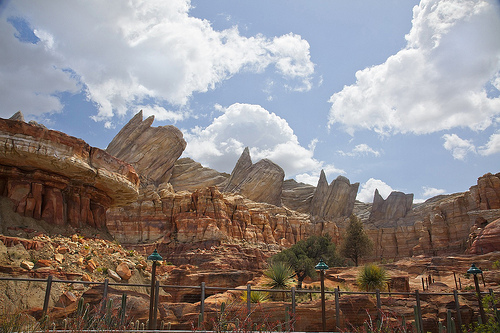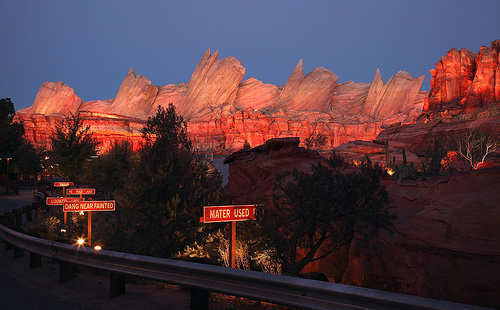 We will continue this tour talking about the dining locations.
Food

Fillmore's Taste-In
By far the most disappointing aspect of Cars Land is Fillmore's Taste-In. It's basically a large permanent outdoor vending location. The psychedelic dome is there in it's entirety with some incredible glowing effects at night. But, the dome is essentially a storage location and the main shop rests on the outside and sells healthy drinks, chips, and other types of on-the-go food items sold at the Disneyland Resort. The entrance of the dome is covered by hippie-esque beads, but behind it is nothing more than a black storage door. I feel that some guests may be disappointed by this thinking that they can enter the Fillmore's dome, but unfortunately the inside will remains off limits.
Cozy Cone Motel
On the opposite spectrum of Fillmore's, The Cozy Cone Motel offers a unique food experience. There are 5 cones located at the Cozy Cone Motel and each one offers a different cone-themed treat. You can choose from Mini-Churro Bites served in a cone, Cone Dog, Chili Cone Carde, Cone-Cauctions, and Soft Serve Ice Cream. Guest's then queue up for which ever item they want at the corresponding cone. The clear favorite was the Chili Cone Carde, but on a hot day I can see the the soft serve ice cream cone having the longest lines in the brutal heat. The themeing is on par with the rest of the land, but much like Fillmore's, the main lobby of the Cozy cone is off limits to guests but features a nicely themed office for the Sally character in the films. The price range for a cone themed items varies between $4-8 dollars and has a great novelty factor.
Flo's V8 Cafe
Clearly the favorite of all three new dining locations is Flo's V8 Cafe. It's more of a traditional sit down restaurant than the other two locations and it will certainly have lines stretching out the front doors. Flo's takes on a 1950's vibe with some colorfully eccentric indoor lighting, stainless steel design and lots of homages to Flo when she was in her heyday. Not only is Flo's V8 Cafe beautiful to look at, it offers some of the most spectacular views of the huge new mountain range. Flo's is reasonably priced at $10-$20 dollars per person, and the views alone are worth a meal at Flo's V8 Cafe.
Overall Thoughts
Cars Land's dining locations cover the full spectrum of food services. It features locations for those whom are on the go, want to sit down and relax for a bit, or the guests who want a full sit down dining experience. There's no reason to go anywhere else for food because guest's have everything they need right in Cars Land.
Shops
Sarge's Surplus Hut
Sarge's was originally meant to be an in-park RidemakerZ location, but as rumors state, there was an issue and Ridemakerz pulled out of the agreement in the last minute. That left Sarge's to be more of a general merchandise location with various general Cars themed items that can be found at any retail location. Some items include die cast Cars collectables, LEGO Cars 2 sets, t-shirts and what not. While the merchandise was not spectacular, the theme was overall quite nice and felt as if Sarge had decorated the place himself with American flags and various Military kick-knacks from his days of serving.
Lizzie's Curio Shop
Lizzie's lives up to it's name as being a curio shop. The building housing the store is covered with all sorts of Route 66 items and goodies including a side wall that is littered with only Route 66 signs. The inside of the building is actually quite small and compact. It was a struggle to find the merchandise I was looking for, and navigate to the check stand. The merch featured in the store is more unique to Cars Land and Route 66 in general.
Ramone's House of Body Art
The most satisfying store location at Cars Land was Ramone's. It seemed to have some incredibly unique merchandise, like paintings of Disneyland attractions with the corresponding cars of the same year the attraction was opened, which caught my eye. The theme of the shop is a little more edgy than the rest of the land. Lot's of diamond plating and pin striping every where you look. Chrome exhaust pipes mounted onto shelves, and merchandise that people were buying up like crazy.
Overall
My overall thoughts on the shopping locations at Cars Land are mixed. The theme of each shop is stellar, but the merchandise itself leaves something to be desired. With the exception of the Tire Hat that people seemed to be wearing every where you look, it seemed to be missing some land specific merchandise. But I certainly did find some goodies that I could not have passed up, so I am pleased with my shopping in Cars Land.
Attractions
Mater's Junkyard Jamboree
Directly to the left of the main entrance to Cars Land, the first new experience guests will come to encounter is Mater's Junkyard Jamboree. It's a new take on old fashioned flat rides – combining a traditional Tea Cup ride with an exciting whipping ride. The theme is loosely based on Mater's Tall Tales with lots of references from the series of short films. The queue and attraction does lack scenery but the themeing overall is on par with the rest of the land, featuring a huge junkyard organ which had some animated elements, and a large shack near the side.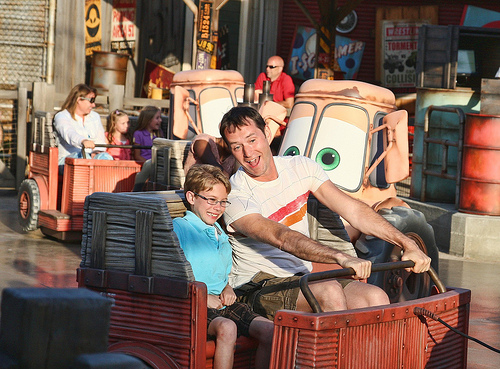 During the duration of the ride Larry the Cable Guy, who reprises his role as Mater for all of Cars Land, sings, tells jokes between cycles, and even does the Spanish loading spiel, which was quite humorous as Mater was struggling to read Spanish Dialogue. The ride vehicles are baby trackers whom are hitched to trailers that can seat up to 2 guests. I would not recommend riding alone as I did, because this attraction does pack somewhat of a punch and little ones could get thrown around pretty hard. The experience though was fun and I can see Mater's being the sleeper hit of Cars Land.
Luigi's Flying Tires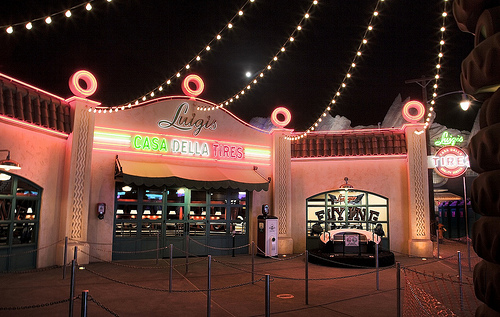 As guests enter the show building for Luigi's queue they enter a series of rooms which boasts a feature that no other attraction in Cars Land features. Air conditioning. That alone made the excessive wait worth while. The first room in the queue is a long gallery of tires which stretches all the way across the back wall, with some tire changing equipment spread around sparingly. You then enter a second room which has various themed poster boards with all sorts of Italian/Ferrari/World Grand Prix memorabilia throughout. Also is a trio of mirrors for guests to show off their new tires, this creates a great impromptu photo spot. Also in the indoor section of the queue, a wide range of traditional Italian themed music selections were blasted throughout the building. When I say blasted, I mean blasted. Families had to yell to one another in order to communicate, hopefully Disney can correct that before opening as that is only a minor problem. Once you exit the indoor portion you begin through a series of switchbacks overlooking the ride area. You then head toward the beautiful Italian garden which features all sorts of Italian topiaries and tire references. Here you are given your first briefing on how to fly a tire, then you are given a loading pass and enter the standby queue area in which you are given a second briefing and confirmation that you are confident you know how to fly a tire.
You then enter the main ride area and guests typically rush to an Italian themed beach balls, then search for their tire. The beach balls do add to the experience but not by much. The attraction could stand alone by itself but the tires just take some getting used to. After the first minute or so I found myself getting the hang of things and became the fastest tire on the whole pad. The key to flying a tire successfully is finding you center of balance, then you can become unstoppable. Also like Mater's, Tony Shalhoub reprises his role as Luigi, whom sings various Italian songs during the ride cycles. The attraction itself is a truly unique experience, but it will take a while for some rider to finally get the hang of, and until they do the ride can be slow.
Radiator Springs Racers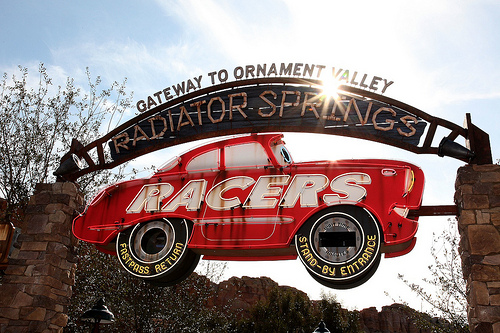 The E-ticket and main attraction of Cars Land is Radiator Springs Racers. The ride utilizes a next gen. Test Track ride system but takes it to a new level with a ridiculous amount of themeing. You begin your Radiator Springs Racers experience in the queue as with all other attractions. Here you get some spectacular views of the ride vehicles speeding by while you continue to descend into the massive rock work structure to the main queue area. This area features Stanley's Oasis as well as a series of small structures that house various facts about the history of Radiator Springs, as the massive rocks tower above you. Think Thunder Mountain  at both Disneyland and Walt Disney World, then combine the amount of rock work, then multiply by 5 and you might have an idea of the sheer magnitude of the rock detail that was put into the showbuilding's facade and queue area. Then you continue up a ramp to the main loading area.
The Ride (SPOILERS!) If you do not wish to be spoiled then stop here!
Your ride begins as a scenic trip through trees with a nice view of Willie's Butte, you then travel through a short tunnel and are climatically revealed the waterfall that is seen in the first film.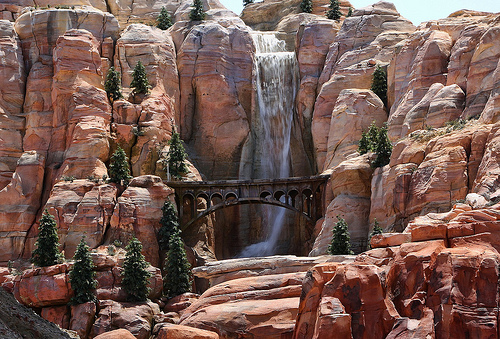 From there you then decend into another tunnel and you are transported into the massive new ride show building. It's now night time and the first thing you see is Mack trying to swerve away from you as you progress. You then see Minny and Van, the two characters whom were lost in the first film spinning by you, whom have not found their way back to Interstate 40 yet. You are then greeted by a fully articulated Sheriff audio animatronic, who guides you back to Radiator Springs, but before you make it you run into Mater whom is up to no good and invites you to go tracker tipping with him. Mater is also a fully articulated audio animatronic who drives backwards and parallel to the riders vehicle. You then hear Mater's horn and a few full sized audio animatronic trackers roll backwards. He then gives you a warning "Don't wake up Frank". You then see eyes infront of you open and Frank in all his glory is facing you down with bright lights pointed at you. Your car speeds away and you've made it into Radiator Springs. You see Fillmore and Sarge standing there.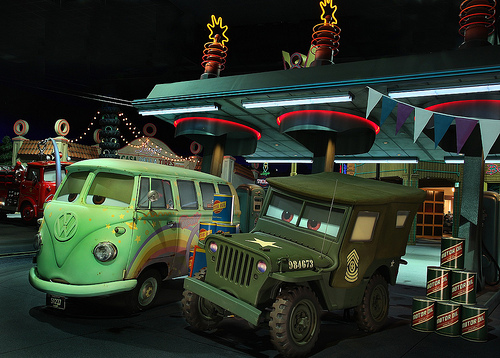 Fillmore says something and I do not recall exactly what he said, but Sarge responded with the simple answer "Hippie." Across from Sarge and Fillmore stands Lizzie tooting away in front of her shop.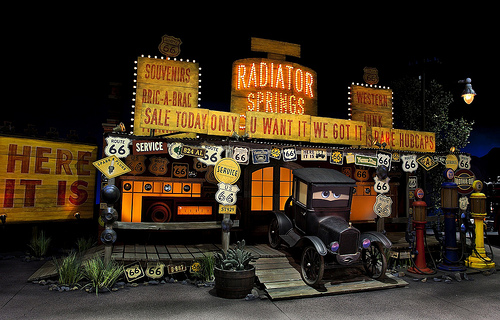 And you are greeted by Red.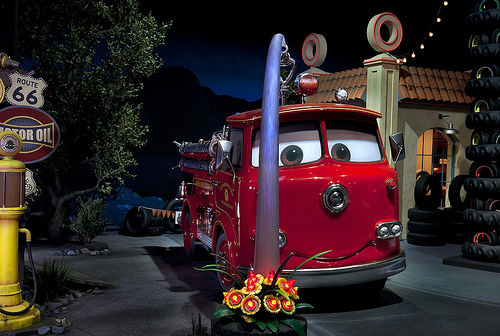 From there you see audio animatronic Lighting McQueen and Sally. They tell you that you are about to race, and the track then splits, the first car goes into Ramone's shop, and the 2nd car turns into Luigi's. When I rode I got Luigi's so I can only speak for this side. While in this room you pull up to an Audio Animatronic Luigi and you are shown a mirror to the left, you see yourself and your ride vehicle. Luigi comments that black wall tires are bad and white wall tires are far superior. A curtain around the mirror closes and your car then lifts at one side as if your tires are being replaced, then lifts on the opposite side. The curtain then opens revealing your ride vehicle and your car now has white wall tires. It was a very unexpected and awesome effect. From here you pull forward and are greeted by another fully articulated animatronic, this time of Doc Hundson.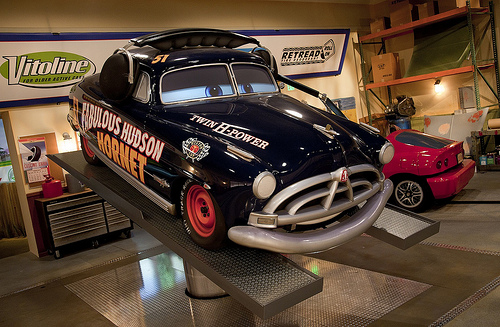 He tells you to you gotta pitch it hard….break it loose, and you continue past him. Now you make a quick left and see Luigi with Guido wearing a silly Italian flag afro hat. Your car stops and Luigi then begins to countdown. Once he finally says go you accelerate very quickly with the other ride vehicle right next to you.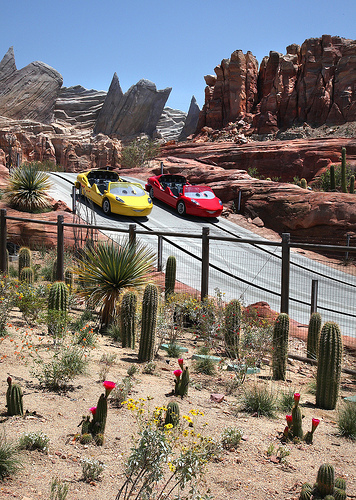 The cars switch positions over the duration of the speed segment of the ride. The views you get on this ride are indescribable. After about a minute of racing through rock work you then pass under a "Finish" sign and re-enter the show building. Here you are met by the Tail Light Cavern. Which is a nice homage to the Rainbow Caverns from Disneyland's much fabled Nature's Wonderland attraction.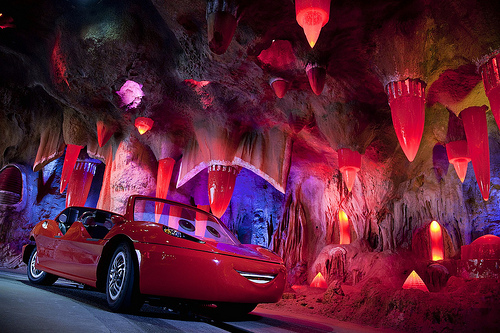 After you pass through this short scene you are met by two final audio animatronics, Mater and Lightning McQueen who congratulate the winners and tell riders how awesome Radiator Springs is. You then re-enter the loading area and your ride experience is over and you make your way back into Cars Land.
Overall
Radiator Springs Racers is an attraction on a level that has never been seen in the US before, that easily rivals the mega attractions seen overseas at Tokyo Disney Resort. From the first moment you enter the queue you are met with the highest level of detail and artistry. The audio animatronics are so life-like that it's almost scary. These Cars characters are alive in this attraction. The interior show building and set designs are massive and rivals even Disneyland's huge Pirates of the Caribbean attraction. All that topped off with a high speed portion makes Radiator Springs Racers close to perfect. It's a must see and worth a trip down to Anaheim itself, let alone for a whole land.
Cars Land Final Thoughts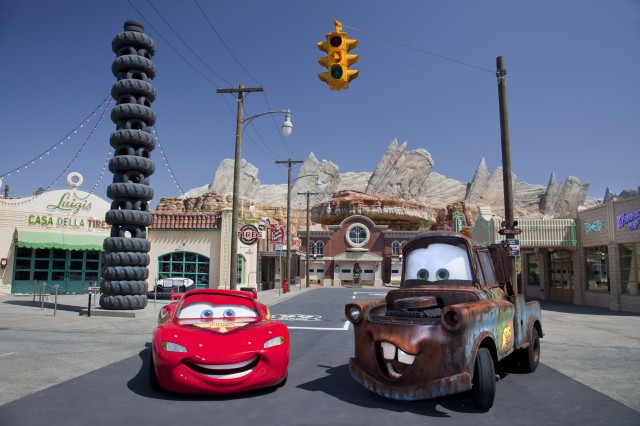 Cars Land isn't just a land based on the movie Cars. A lot of work had been put into making this place a reality, and it truly shows. They made Radiator Springs into a real place that celebrates Route 66 and car culture and does not distract the focus of the land with Cars characters. From the moment you enter you are in a different world. It's easy to forget that your in a theme park. The strengths of Cars Land is that it tries not to feel like a theme park land. It feels like a road side tourist destination, with the hyper realistic mountains always in sight and the friendly cast members, to the awesome music being played throughout the land. Cars Land is a must see. No matter where you are in the country Cars Land is worth a trip down to the Disneyland Resort to check out.
That's it for this special look at Cars Land, to plan your vacation to the Disneyland Resort please visit Disneyland's travel planning website here. Or visit Disneyland's official website here. For more on the latest of Cars Land you can also visit Disney's official blog The Disney Parks Blog.
Also be sure to follow us on Twitter!