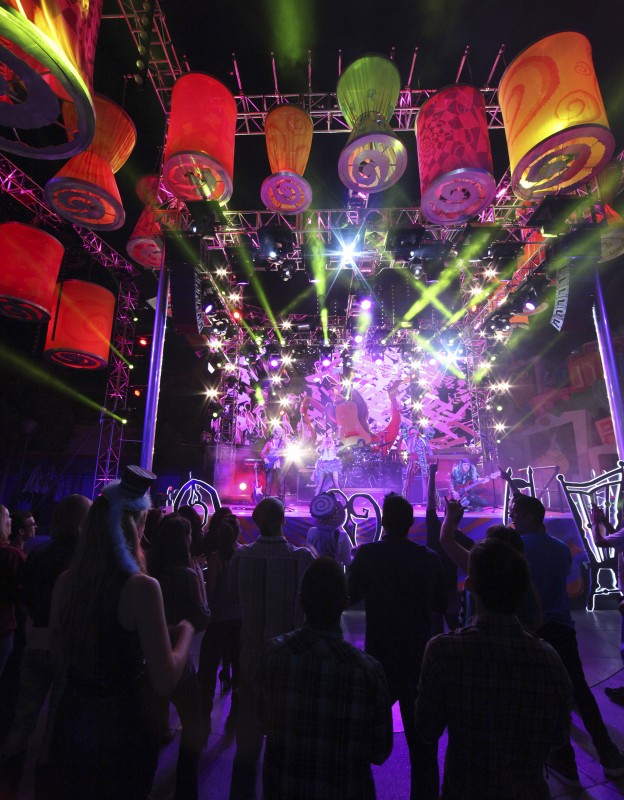 Recently Disneyland posted the brand new entertainment schedule debuting on June 15, with the relaunch of Disney California Adventure, and boy is it a full one. The new line-up and show times are as followed.
World of Color-Paradise Bay
9pm , 10:15pm
Pixar Play Parade – Performance Corridor
2:00pm, 5:00pm
Phineas and Ferbs Rockin Rollin Dance Party -Performance Corridor
9:30am, 10:30am, 11:30am,12:30pm,2:55pm,3:55pm
DJ's Dance and Drive – Route 66 (Carsland)
3:30pm, 4:30pm, 5:30pm, 7:00pm, 8:00pm, 9:00pm
Disney's Aladdin a musical Spectacular -Hyperion Theatre
11:55am, 1:35pm, 3:20pm, 4:45pm, 6:20pm
Five and Dime – Carthay Circle
8:30am, 9:30am,10:30am,12:30pm,1:30pm, 3:30pm ,4:30pm, 6:00pm, 7:15pm , 8:15pm
Red Car News Boys-Carthay Circle
10:00am, 11:00am, 12pm, 1:00pm, 3:00pm, 4:00pm
Disney Junior- Live on Stage – Disney Theatre
10:15am, 11:15am, 12:15pm, 1:50pm, 2:50pm, 3:50pm
Minnie Fly Girls Charter Airline – Condor Flats
10:50am, 11:50am, 12:50pm , 2:35pm , 3:35pm, 4:35pm
Instant Concert-Just Add Water-Paradise Bay
11:00am, 12:00pm, 1:00pm, 2:45pm, 3:45pm, 4:45pm
Dancin' With Disney – Stage 17
1-5pm
Mad T Party – Hollywood Pictures Backlot
7:00pm ,8:00pm, 9:00pm, 10:00pm
For more information on Disney California Adventure's latest, check back here or visit Disney's official blog.
Be sure to follow us on Twitter!