Your heart starts beating harder. Footsteps come closer from out of the shadows. The dense fog fills your lungs and blocks your eyes. The distant sound of a chainsaw revel up. You panic. Relax, it's only June, but the time is getting closer.

Universal Orlando officially updated the Halloween Horror Nights website. While it has nothing more than a new video teasing the event, and event dates, it's a welcome sign for haunt freaks that need something to make it through the long hot summer.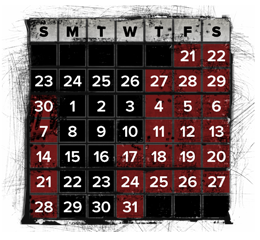 A few weeks ago a UK travel site leaked the dates, which seem to be solid. The event will run from September 21st until October 31st.
There isn't much to go on right now, except the event will take place at Universal Studios Florida once again. We also know for sure that it will not be at both Islands of Adventure this year.
As for the rumors, well there's tons of fun stuff to speculate on, but nothing official yet.
Halloween Horror Nights has been named "Best Haunted Event" by Amusement Today and has received their Golden Ticket Award for several years in a row. HHN was also named the "King of Halloween" in 2010 in the very first "Thrill Daily Awards" which were voted on by actual fans.
The event features all new haunted mazes every year, scare zones, and shows. This will be the 22nd HHN.
For more information, including tickets and updates, visit the official HHN website!