You may call me …keeper…for I am the keeper of theme park tales. Well it seems that Jimmy Neutron's rocketship's memory is finally passing. After a few days of executive and cast member previews Gru invited the general public in for a soft opening of his home and lab and I must say I love what he's done with the place!  I was able to gain access late Sunday afternoon and would like to share my adventure with you.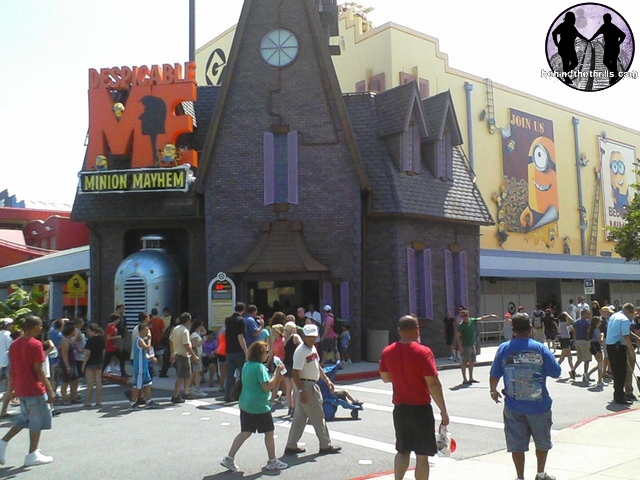 Entering thru the front of his house you can see one of his creations parked in the garage. The wait sign said 60 minutes and we got thru the outer queue in about 45 mins with no noticeable shut downs although I understand Saturday experienced a couple. The queue has more minion propaganda posters on the walls in addition to the obligatory TV screens which alternated with "case files" on the various characters and questions from the "Minion Quiz". This program does a perfect job of educating guests that might not have seen the movie the main characters in addition to some important plot points in addition to being a Despicable Me refresher course for the rest of us. A neat touch was the bombs that hung above the entire length of the queue which also functioned as speakers for the video. My only complaint was having a 15 minute show playing in a queue that holds 60 minutes of wait means, as entertaining as it is, the video gets old rather quickly.
We entered into the first pre-show, that's right the pre show area has magically been transformed into two rooms. It seemed to me we entered in the same door and the entrance to the main room is obviously in the same place yet these two rooms combined seemed larger than the old one room. No doubt the set dressing and different use of the space tricked my senses but it is definitely a huge plus for the overall experience. In this room you enter into Gru's home and are handed a pair of the new 3-D glasses that we've seen at the Daily Bugle by an egger lab assistant. Yes they are handing them out and hand collecting them at the exit, a nice thought, I think it lasted a week at Spiderman but here's to glasses I can see thru while it lasts at least. You are put in rows in this first room and are facing the TV in Gru's living room. The long design of this room facing the TV reminded me of the Shrek preshow room. Scattered around the room are dozens of  "props" and sight gags from the movie. It was hard for me to even enjoy the very funny video because I was trying to soak in the atmosphere. It made me want to re-visit this movie to see what details I missed. The video features Gru and his daughters with some ever present minions who give some introduction to the experience in addition to goggle safety tips.
Next we enter into the lab prep area which has us looking at the triple screen on the right side of the room. There has been some neat additions here but it is not as detailed as the living room since you are focused in one direction for the video and eventual boarding. Here it is explained how we would be changed into minions and some lab video of some earlier experiments leading up to our visit. Let's just say it took awhile to perfect the process J The sub plot of it being the anniversary of Gru adopting the girls is introduced and, due to him being needed elsewhere in the lab, Gru leaves the girls in charge of our training.
Next up we were brought into the lab for the main event. No real changes visible here, you know the drill wait to put on your glasses, move a-l-l-l-l the way down, and hold up your hands while the lap bars go down. I heard rumblings of people being disappointed with this attraction because it was "the same old thing". I'm not sure what they were expecting, a ride like this is limited to two things, a chase (find Elroy, bump Biff, race thru the bloodstream before your time is up) or a rollercoaster (most times quite literally) of effects with even less to hang their plot on. For what they have to deal with Minion Mayhem does one of the better jobs of making these limitations work for it. You are turned into a minion, then put thru training, followed by a chase-based adventure all in a short period of time. Add the 3-D and some new in theater effects and we really see what these seats can do. I think that some of the programming will surprise people that though they knew what these seats can and cannot accomplish.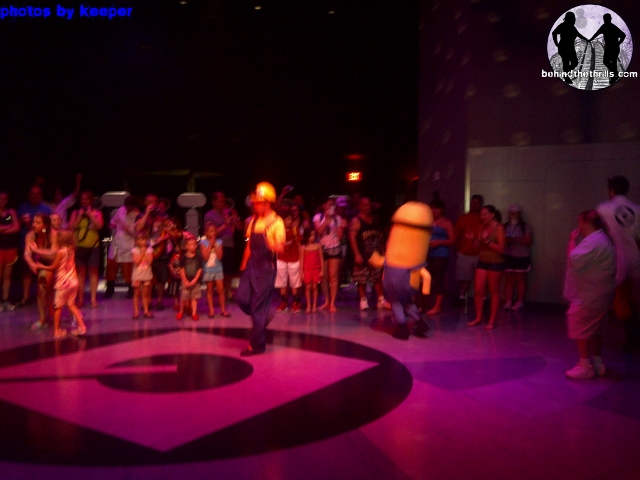 After the main show you exit into the minion dance party and you get to see what minions do on their break from the lab. There where lights, color, video screens and a pulsating beat also with a parade minion dancer and a couple costumes minions bustin' a move on the dance floor. Obviously the idea is for us to join in but on my visit I watched two groups exit and stand in a semi-circle around the cast members taking pictures and watching but not dancing. Perhaps soft opening crowds are more about locals and fanboys checking out the goods than average park guests and this will not be the norm. An odd thing about this was that it was also timed into the overall show. After a few minutes Gru's voice came over the speakers telling everyone that break time is over and get back to work…the music stopped, lights went to normal and we shrugged and entered into Super Silly Stuff (the gift shop) to hug fluffy unicorns.
In my mind this re-hab is on par with the Disaster one. I know many are not fans of that but I think its very entertaining so this is not an insult by any means. When faced with an overhaul and not a gutting there are certain elements you are locked into, in both Disaster and MM it's, of course, the ride. To me the biggest thing you can do to enhance them is something I've been preaching for some time STORY, STORY, STORY! The addition of weaving story elements in the elaborate pre-shows and creative post shows take this standard motion simulator ride and brings it to another level that all attractions should aspire…  it makes them frighten, amuse, and tug at the heartstrings. It's the difference between amusement park and THEME PARK!  It's what helps them make our time there not be just going on a ride… but living an adventure… not too shabby at all for some 22 year old shaky seats in my book.
Every Day's An Adventure
Keeper