Do you have what it takes to be a Minion? Can you serve long tireless hours without a break, for little or no pay? Do you have the cunning and know how to make it in the world of villainy and mayhem? Do you like bananas? If you answered yes to any of those questions, you may be in the wrong line of work. The highly anticipated new attraction at Universal Studios Florida, Minion Mayhem, has soft opened for Technical Rehearsals.
Minion Mayhem was announced earlier this year as a replacement for the long standing Jimmy Neutron's Nicktoon Blast. The attraction closed last year, and crews immediately went to work on the building. The attraction is based off of the hit film from 2010 surprise hit computer animated film, and features the same voice cast.
Half of the fun of the ride is the queue, as it makes use of tons of props and images recreated from the film. You walk through the queue which is very family "unfriendly" with bombs (not real and very family friendly) and propaganda posters encouraging you to enlist to be a minion.
Once you enter the building you're inside Gru's house. Fans of the movie will be happy to know it looks pretty much identical from the film. Tons of fun stuff happening in the queue, and tons of great sight gags. There's also a video that tests your knowledge to see if you're "minion material".
Once the preshow starts, Gru informs you that you are here to volunteer to become Minions…whether you want to or not. The girls also get involved, and the whole operation becomes a big fun mess. Now we won't spoil any of the details of the ride, however, the ride is a 3D attraction with some "4D" elements thrown in.
What you need to know:
Ride uses digital 3D, with glasses. This may cause motion sickness in some guests
Height requirement is 40 inches, though for those smaller guests or those who wish to not go through the motions, there are stationary seats available
The ride isn't scary at all, but does make use of crude humor like "fart guns"
As of right now the ride is in "technical rehearsals" which means that it isn't officially open. It could go up and down at any time without notice. So as of right now, don't plan your day around the ride, just jump in line if rehearsals open.
There is a huge dance party involved, so bring your boogie shoes
More Minion Mayhem photos:
Is it any good?
The ride is perfect for families. It's funny, and fun. If you like attractions like Star Tours and Spiderman, this ride will be a lot of fun. It uses great 3D technology, with a gentle motion based ride. The ride system itself is the same used on the previous ride Jimmy Neutron, but seems to have been smoothed out a great bit. There are tons of sight gags throughout the attraction, and a lot of fun interactive elements. While the attraction isn't a huge new leap in technology, it is a huge new family attraction. Even if your little one is too little for the motion seats, they can enjoy the film by sitting in the stationary seats.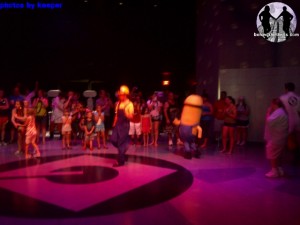 The ride does bump and jostle you around, just like any simulator would, but in the end the overall experience is a ton of fun and captures the essence of the film that made it so popular in the first place. Stick around after the ride for the dance party, and the chance to meet a minion. For more fun walk through the Silly Stuff store and get yourself a unicorn (IT'S SO FLUFFY I WANT TO DIE!) or lab coat. Universal has done what it does best once again by combining a great property with amazing atmosphere and a fun ride. It's definitely a must see, and will have a grand opening very soon!
For more information, including tickets to Universal Orlando, visit the official website!