Legoland Florida opened in October of 2011 after just eightteen short months after it was announced. In the short time that Legoland has opened it has already celebrated a "Bricktacular" Christmas, played host to girls and their "Friends" for a weekend, and even opened the Florida Fresh Greenhouse. Not bad for the first seven months. To cap it all off, Legoland Florida recently opened their all new waterpark, just in time for their first Florida summer.
The Legoland Florida waterpark is the biggest Legoland waterpark to date, and features a huge wave pool with pint sized waves for the younger swimmers, a huge water play area called Joker Soaker, and the highlight of the water park a lazy river where you build your own raft out of Legos floating along.
httpvh://www.youtube.com/watch?v=aV240mtj2yw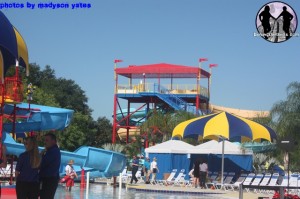 While the water park is definitely aimed at the smaller crowd (kids ages 2-12) there are a few larger slides for those looking for some "pink knuckle" thrills.
httpvh://www.youtube.com/watch?v=ERI8jf3onpE
What to know before you go:
The main target are children ages 2-12. This isn't a place for teens or big time thrill seekers.
The water park is an add on ticket. You have to purchase a ticket for Legoland Florida in order to gain access to the water park. Admission to the water park is an additional $12 dollars
Shady areas are sparse right now, so make sure to bring sunscreen, a hat and sunglasses
Lego figures can be found all throughout the water park
Legos are everywhere. You can find special play areas all over the park. There are also soft Legos floating in the lazy river to help craft your raft
More from the Legoland Florida waterpark:
In Legoland itself, the park has been busy keeping things fresh with a few new shops and attractions. The biggest is the addition of the Florida Fresh Greenhouse.
The greenhouse adds a little education into the fun by showing off the specialty foods and crops grown in Florida. In the greenhouse guests can learn about citrus and watermelons, but also sunflowers, and even milk a Lego cow.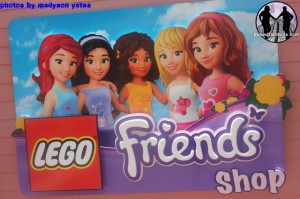 The Lego Friends burst to life in the first part of 2012 as a brand geared specifically towards girls. The figures are the same size as regular Lego figures, only the feature more doll like qualities. Legoland Florida opened up a brand new Lego Friends Shop that showcases not only the friends but all of their accessories as well.
More from Legoland Florida:
The park still has tons of things up it's sleeves, such as the Lego Club Weekend June 16th&17th where they will bring out Lego Superheroes. There will also be the Red, Brick and Boom celebration as Legoland shoots off fireworks for the 4th of July. Later in the year there will the fun Halloween event Brick or Treat, and of course Legoland Florida will celebrate it's 1st birthday in October.