We are coming into one the best times of the year. Haunt Season construction is beginning at many haunts, including Universal Studios Florida. While a lot of parks have already released haunt names, or have started teasing things, Universal Orlando has a habit of making fans writhe in agony until August. Good news is, there are small bits of information here and there which makes for great speculation. Plus, if you walk through the parks, there's a good chance you might start seeing some props constructed.
As always we need to stress that these are just rumors, and we are just speculating for fun. In no way do we know, or do we pretend to know what's happening. Basically until Universal Orlando says it's happening…it's just a rumor. Got it you frothing fan boys and girls?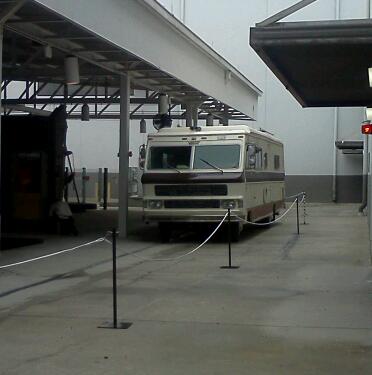 The first bit comes from frothing fans Designing the Fear. You can check them out on Facebook for tons of haunt season stuff….all the time.
This picture is taken from the Disaster extended queue area. It's an RV (duh)….while by itself it's not significant, add it with other information, and we start to see a puzzle coming together.
For that we jump over to fansite Park Rumors (previously HHN Rumors) for a look at some more speculation. ParkRumors does a lot of digging in places like public permitting offices, and has come up with names of houses before. House names are no longer needed in the permitting process, so Universal uses room names to describe work. Here's some room names from the Disaster area queue ParkRumors has come up with:
Change in level on room 1. Hospital Hallway and room 4. Roof Top.
Hospital Hallway and roof top. Hmmm…but what does it mean? We have an RV, a Hospital Hallway and a roof top. Not really a clear picture yet…but wait! There's more!
Uber fan forum Horror Night Nightmares has been running with rumors for months now that there will be a house based on AMC's hit show Walking dead. It's not unusual for HHN to do houses based on other properties. The park has used New Line characters in the park before, and has even used Lions Gate Film's SAW brand in 2009. But this would be a first (or at least a first in a very long time) that a TV show has been used. Walking Dead is a very hot property right now, and is the only TV show of it's kind. In case you're not a fan (and shame on you if you're not) the show follows a group of people after a zombie apocalypse has destroyed most of humanity.
Let's take this just a bit further. The Hospital Hallway that they are talking about could very well be from this scene in Walking Dead: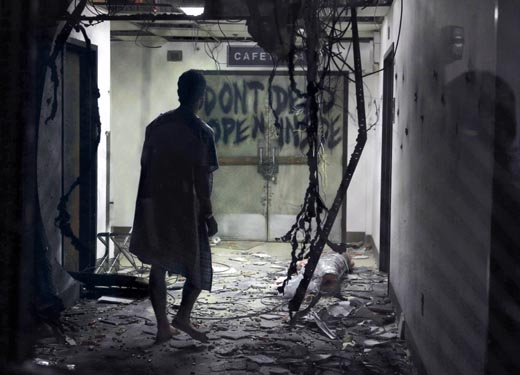 It's ripe for an attack by zombies. The next room name deals with a rooftop, which could be talking about this: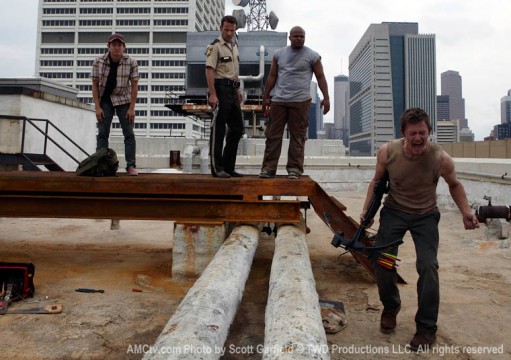 But then we go back to that pesky RV…what could that have to do with?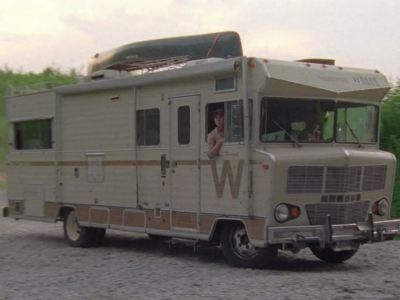 While it's not a dead ringer, in the dark, will it really matter? The RV belongs to one of the survivors, Dale, and plays a pretty important part of the show. So if this rumor holds true, it will be very interesting to see how the house is pulled off going through different scenes throughout the season.
Moving on to the other areas, ParkRumors has more on the rooms:
Please clarify dimensions for passage between rooms 4. Bat Belfry and room 5. Mirror Chamber.

Turning space shall comply with Florida Accessibility Code for Building Construction. Ref.:Exiting from room 7. Creature Pit.

Provide sprinkler coverage for "Spike room".

Provide sprinkler coverage for the "Vortex" room and the "Wrong side of the bed" room.
Bat Belfry…I got nothin. Mirror Chamber? Perhaps a Snow White and the Huntsman house? That would seem like an odd choice, but it is a Universal picture.
Creature Pit paints something else all together. My first thought (and hope) is Creature from the Black Lagoon. Why not? We have a Walking Dead house (allegedly) and it IS the 100th anniversary of Universal Pictures. Why not combine the two? Spike Room…well that kind of throws me off of the Creature thinking.
Vortex and Wrong side of the bed could point to a fun house. Last year "The In-Between" used a spinning tunnel "vortex" effect…kind of obvious that could be used again…but to what theme?
So let's go through some other rumors, getting away from the permits and pictures.
22-We could see 22 total attractions this year. Scare zones, shows, houses and rides could all equal up to 22. Doubtful…but it's a thought
22-Our Icons haven't even been teased in the slightest yet. So possibly, because of the double two, we could see double icons.
Return of an Icon House-While there are only 7 house permits filed, it's possible we could see one house duplicated. If that's the case, and we end up with a double icon, you could see two of the same house…but since it's two icons, they will be seen through each of the icons eyes. For example-One icon is clean and good, you could see a brightly lit nice house. The other icon is dark and evil, you could see a dimly lit evil house. Same props, different mood.
Cinematic Spectacular will be used-When the question came up at a press event, Jim Timon just grinned sheepishly. Could we see the show rethemed to Halloween? With Universal celebrating 100 years, and pretty much inventing horror….yeah, it's a very distinct possibility.
According to a UK website there will be a frequent fear pass that gives admission to all nights of the event.
Again, these are all just rumors, and until Universal confirms any of it, don't bet on any of it being true. If speculating on rumors is your thing follow the three sites above for all the speculation you can handle.