Sea Lions, 3D Turtles, and Rock n Roll….Orcas. That's what SeaWorld Orlando has in store for guests this Summer during the annual nighttime extravaganza. The event takes guests on all new adventures after dark every night during the summer.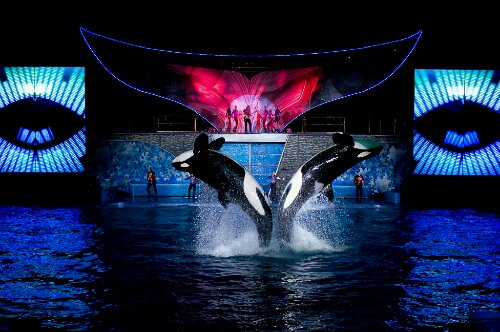 Beginning June 23rd, SeaWorld will be open nightly until 10p.m. Coasters in the dark, a completely different set of shows, and a high energy way to end your day at the park.
Here's some highlights of Summer Nights:
All-new: TurtleTrek SeaWorld Orlando's newest attraction, TurtleTrek, comes to life with SeaWorld's unique blend of up-close encounters with manatees and sea turtles and state-of-the art entertainment, making for a real adventure and a first-of-its-kind 3D 360 degree dome theater film that is completely surrounding and immersive.

Shamu Rocks-Rock the night away with Shamu during this spectacular whale show with more flash –and certainly more splash – than a rock concert. Shamu Rocks is a high-energy celebration of unprecedented proportions, combining awe-inspiring whales with a stunning light show, water fountain display and music from some of the hottest rock stars in the industry.

Sea Lions Tonite-SeaWorld's popular sea lion comedic duo takes the laughs into the night. Hilarious hijinks ensue in this evening show as the park's talented sea lions, otters and walrus parody other favorite daytime SeaWorld shows and attractions. And this year, a new spoof based on the park's newest attraction – TurtleTrek — will keep guests laughing all night long.

Reflections: Fireworks and Fountains Show Finale SeaWorld is showcased in a whole new light during this spectacular celebration of soaring fountains and dazzling fireworks. A newly arranged soundtrack features the thrilling and inspirational music of SeaWorld's most popular shows, including segments of the incredible score from TurtleTrek. Families and friends will experience a wondrous connection that lights the night like never before.

Manta An even more extraordinary sensation by moonlight, Manta lets you find out what it's like to spin, glide, skim and fly like a giant ray when you experience the only flying roller coaster of its kind in the world at nighttime, under the stars.

Summer Nights VIP Tour Experience the highlights of SeaWorld Summer Nights, VIP-style. This six-hour, guided tour includes an opportunity to feed dolphins, front-of-the-line access to our most popular rides, including Manta, and reserved seating at our exhilarating night shows, Shamu Rocks and Reflections. Included with the tour is the convenient, all-you-care-to-eat All Day Dining Deal, where you and your family can enjoy all of your favorite foods from your favorite participating restaurants!
The event runs nightly from 5p.m. starting June 23rd until August 12th and is included with daily admission.