It was a bittersweet ending to one of the original attractions at Walt Disney World that opened with the park in 1971. On Thursday, May 31st, 2012 The Scary Adventures of Snow White closed to the public. The ride was based off of the Walt Disney classic animated film, Snow White and the Seven Dwarfs. The ride closed it's doors at the end of park hours on Thursday, and will be dismantled to make room for a brand new Fantasyland Expansion.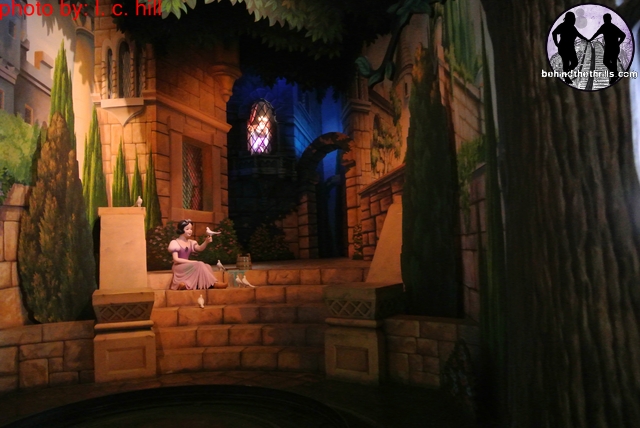 The ride opened in 1971 with the park, although it had undergone a few changes from the time it opened until it's closure. The biggest change happened in 1994 when the entire ride was completely made over. The ride was truly a scary adventure with the evil queen showing up seven times, each time trying to kill you. Riders played the part of Snow White, and the raven hair beauty wasn't even seen in the ride. The ride had the witch chasing you, and eventually getting the better of Snow White by dropping a giant gem on you. The ride concluded with a room of flashing lights. The ride was changed to include Snow White, the handsome prince, and more of the Seven Dwarfs.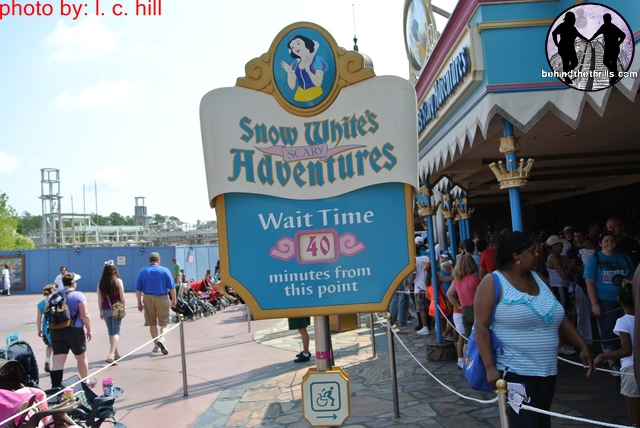 As the day went on, the line grew to over two hours just for one final glimpse at Snow White.
More Pictures from the ride:
While the ride is considered a classic by many, it was considered very out of date. The attraction used black lights and static figures that just stood there. A far cry from the technological advances that Disney has developed since 1971. Still, with all the new animatronics, 3D and Pixar characters of today's Disney attractions Snow White's Scary Adventures still had a certain bit of charm.
httpvh://www.youtube.com/watch?v=eKMNr_awOjo
Fans of the fairest of them all, the one with lips as red as a rose and skin as white as snow shouldn't worry. Disney is working diligently to bring an all new version of the attraction to life.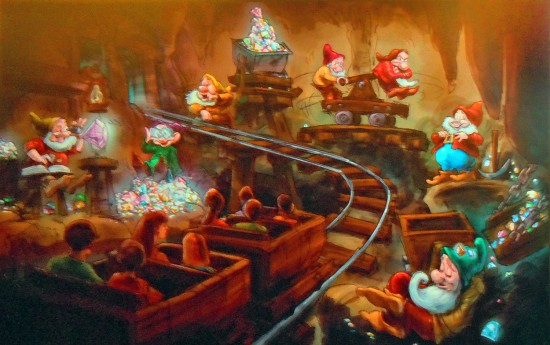 Snow White, and the Seven Dwarfs will inhabit an all new mine train coaster that will employ a lot of the new old static figures. The coaster is currently under construction and will open in 2014 as the final brick in the New Fantasyland.
For more information on Walt Disney World, including tickets, visit the official website!