If the Force has not been strong with you, this coming weekend is your last chance to check out this year's edition of Star Wars Weekends. The annual celebration of all things Star Wars comes to a close this weekend with a few actors and of course Hyperspace Hoopla. the event takes place at Disney's Hollywood Studios and is included with park admission.

Throughout the event guests have been able to catch special character photo ops, such as a photo with Darth Vader or a wookie. The event celebrates the Star Wars Saga-this year 35 years old. The highlights of the events include celebrity appearances, the dance show Hyperspace Hoopla and of course the chance to ride Star Tours 2.
httpvh://youtu.be/zglGpi3uNQA
Star Wars Episode One actors Ray Park (Darth Maul) and Jake Lloyd (Anakin Skywalker) have been on hand in the past, signing autographs and posing with guests. This weekend is no different, guests can meet Jeremy Bulloch who played the original Boba Fett in Empire Strikes Back and Return of the Jedi. Other celebrity guests will be on hand, as well, but none as cool as Boba Fett. Catch the entire line up here.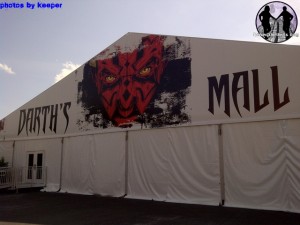 Still the biggest attraction of the event is "Darth's Mall" a huge tent that showcases merchandise for the event. You can find special figures of Stitch as General Grievous, Donald Duck as Darth Maul and all the normal cutesy Disney/Star Wars crossover stuff.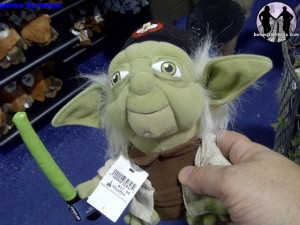 You can even do what sounds like the ultimate geek fantasy. Freeze yourself in Carbonite. It's the process that Han Solo was captured in during Empire Strikes back. It makes for an amazing centerpiece, and is just cool to look at.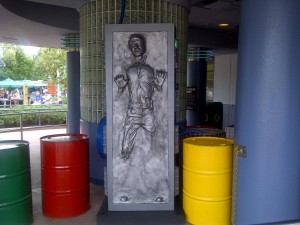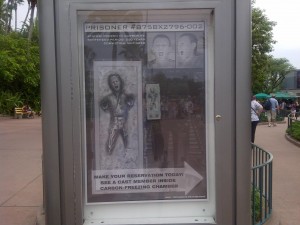 For just over $100 dollars, your face is scanned. They then put your face on Han Solo's body, and in about 4-6 weeks you're sent a carbonite "portrait".
Commercial over….time for a personal rant….
While the idea sounds cool, if you look into it, it really isn't. The whole idea is to carbon freeze yourself. What if you wear glasses? You can't wear them to be frozen. What if you have a special hat you want to wear? You can't wear that either. What if you are unnaturally skinny. You're pumped up to Han Solo size. What if you're fat, like myself? You're slimmed down to Han Solo size. And this is what I have the biggest problem with. It takes something that should be altogether cool and deflates it. What's the point of having yourself frozen in carbonite if it's not you?
End rant
Check out more Star Wars Weekends:
Star Wars 2 is really reason enough to enjoy Star Wars Weekends. They've taken the old Star Tours ride system and upgraded it to the digital 3D. Also there is more than one ride scenario, and literally dozens of possible rides. It's very possible that you may not get the same ride twice.
For more information about Star Wars Weekends, visit the official wesbite!