A ballpark infested with zombies where you will climb, crawl, hide and slide your way to safety. That is the premise of an all new experience taking place in San Diego during the weekend of Comic-Con International 2012. The Walking Dead Escape takes the popular characters created by Robert Kirkman from The Walking Dead comic books and TV shows, and brings them to life in a realistic post-apocalyptic environment, taking place at Petco Park, home of the Major League Baseball team the San Diego Padres who will be away in Los Angeles while their ballpark is infested and mangled.
SkyBound, a division of Image Comics who produced The Walking Dead formed a relationship with Ruckus obstacle courses to create this brand new 40-minute long terrifying experience. The coarse takes guests through the bowls and corridors of Petco Park where they are faced with various physical obstacles and decisions having to be made. This is going to very much be an interactive experience instead of your typical passive walk through attractions. While most of Ruckus's obstacle coarse are physically challenging, The Walking Dead Escape will be accessible to everyone who has a ticket. Weather your wearing a full costume, or just not typically the most active person, you will be able to enjoy the experience while being surrounded by flesh-eating zombies throughout the entire course.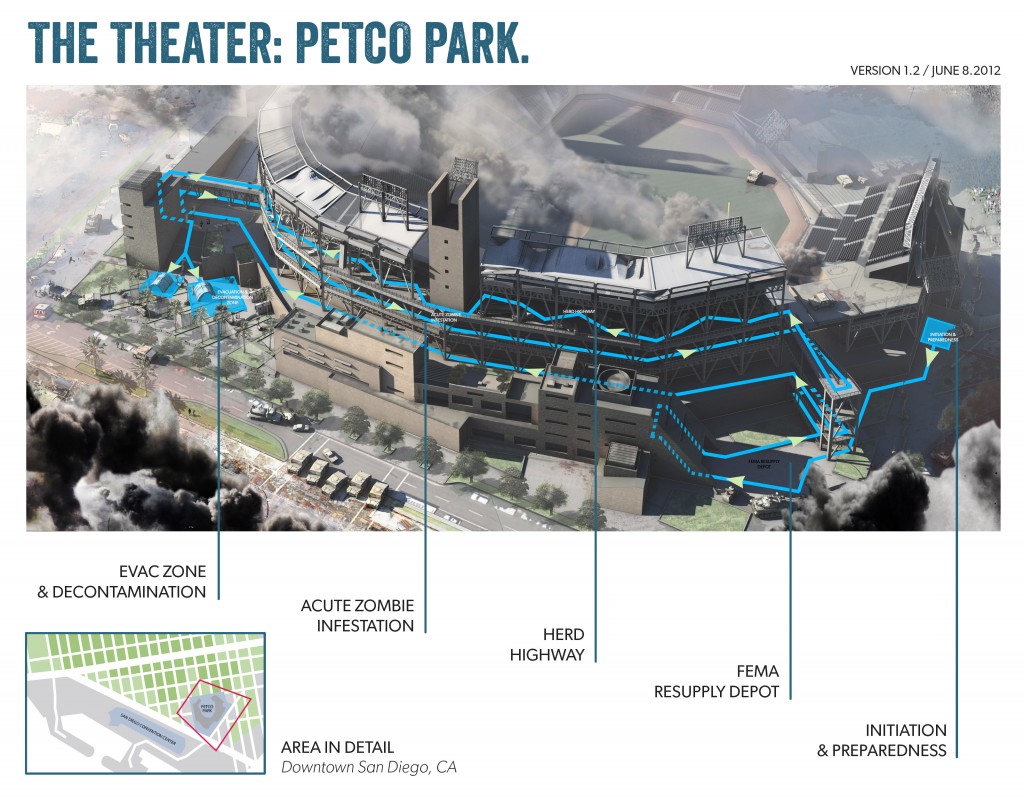 The entire coarse will feature 11 Obstacle Zones in total, including the Initiation & Preparedness Area, The FEMA Resupply Depot, Herd Highway, Acute Zombie Infestation, and the Evac and Decontamination Zones, which occupies over 4 stories of the 1st base side of the stadium. In addition to the obstacle zones, survivors will be met with many impromptu barricades and other random events that could only happen during a real zombie apocalypse.
One question on every bodies mind is about the zombies,  how realistic they will be? Rest assured fellow zombie lovers that Greg Nicotero and his team from KNB EFX Group, who created the zombies for The Walking Dead TV Show, will be in charge of the make-up and prosthetics used for the zombies at The Walking Dead Escape. The overall make-up and prosthetics will be the highest caliber make-up ever used at an event like this. Guests really get the best bang for their buck.
That just leaves us with 1 question, how can you experience The Walking Dead Escape? There are 3 ways in total you can be apart of this one of a kind event. You can sign up to a Survivor, which will allow you to walk through the entire attraction as intended and receive a special Exclusive Variant Issue of The Walking Dead #100. You can sign up to be a Walker (Sold Out), in which you will be made up as a zombie by KNB EFX and shifted to work anywhere between 2-3 hours at the event. Or you can be a spectator if you think the experience is a bit too intense, in which you will be given a fantastic look at the stadium which overviews the entire event as it happens, and you will receive an awesome Walking Dead Poster too!
One of the best things about visiting The Walking Dead Escape is that no comic-con badge is required! For more on The Walking Dead Escape and to sign-up, visit www.TheWalkingDeadEscape.com, and check back here for the latest on this event.
Thursday, July 12 / 6:00 PM – 9:00 PM
Friday, July 13 / 1:00 PM – 9:00 PM
Saturday, July 14 / 11:00 AM – 6:00 PM
Be sure to follow us on Twitter for everything San Diego Comic-Con International 2012!