Universal Orlando's Summer concert series kicks into full gear this weekend with the cast of the hit Nickelodeon show "Victorious". The cast will be on hand for not only a concert, but also a day full of fun activities, including a live Q&A session. Victorious is the first of six concerts coming to Universal Orlando.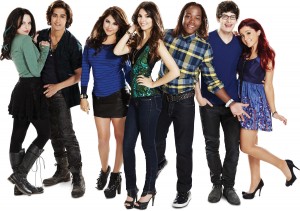 The show on Nickelodeon follows Tori Vega through her life at the prestigious performing arts high school "Hollywood Arts". The show features dance numbers, and songs almost every week. The first volume of the show soundtrack "Victorious:Music from the Hit TV Show" debuted at number 5 on the Billboard top 200 charts. The next volume was released on June 5th, and is called "Victorious 2.0: More Music from the Hit TV Show".
In addition to performing songs from the hit TV show at the concert, show star Victoria Justice and the gang will be hosting a Q&A session, and watch a full never before seen episode of Victorious.
Here's a message from Victoria Justice all about the upcoming concert:
httpvh://www.youtube.com/watch?v=coblBL9dCvY
The concert, Q&A session and show previews are all included with paid park admission. The fun starts at 2p.m. in the Animal Actors Live theater in the back of the park, right next to The Simpsons. at 3:30p.m. and 4p.m. the new show will be aired in the Shrek 4D theater. Then the night wraps up with the concert at 8p.m. on the Music Plaza stage, right underneath Hollywood Rip Ride Rockit. All seats are on a first come, first serve basis so you should definitely plan to get to the park early, as this is bound to be a popular performance.
You can RSVP to the event through the official Universal Orlando Facebook page, though that does not guarantee admission into the events.
For more information, including tickets, visit the official Universal Orlando website!