It's become a huge annual event that is so big it takes tons of parks to accomplish it. No, I'm not talking Halloween Horror Nights or Food and Wine Festival. Of course, it's that time of year again to raise the theme park ticket prices. Hurray! Last week Universal beat Disney to the punch and raised their daily ticket prices by three dollars to give them a whopping one day ticket price of $88 dollars. Many thought Disney would let Universal go this one alone and keep their ticket prices the same.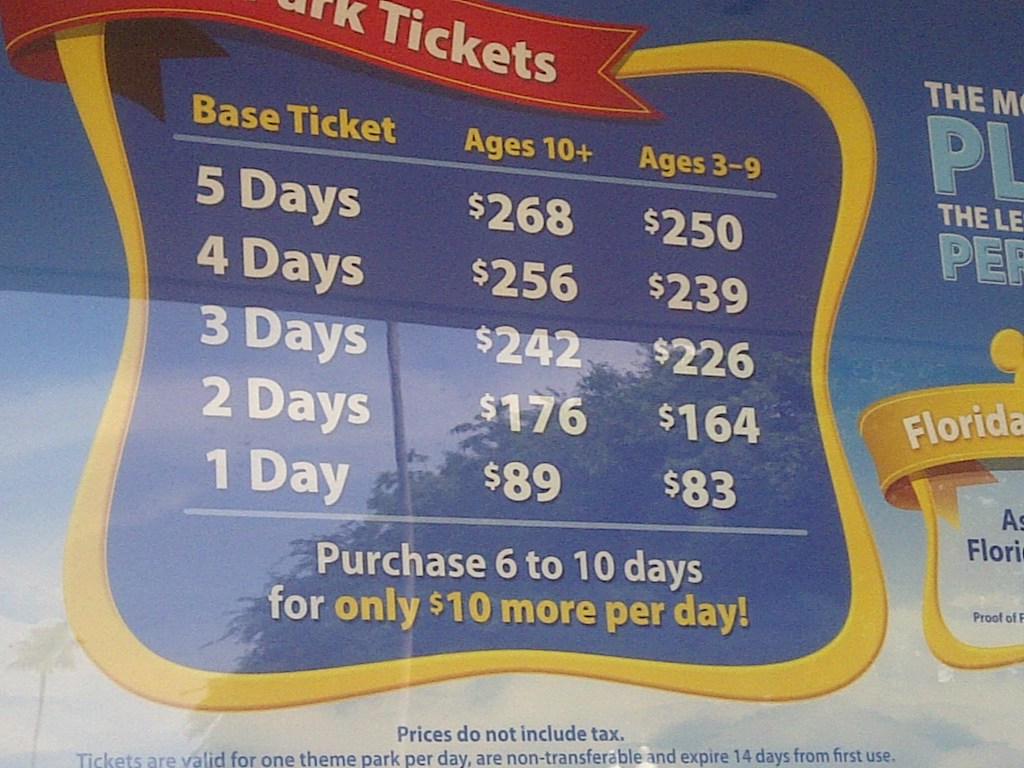 Unfortunately that wasn't the case, and Disney decided to raise their prices $4 dollars to make their final one day ticket price $89 dollars. Ouch. Disney also raised the majority of their ticket prices to match.
Here's a run down:
Regular Day Ticket Pricing (Last Year's Prices)
One-Day Adult: $89 ($85)
Two-Day Adult: $176 ($168)
Three-Day Adult: $242 ($232)
Four-Day Adult: $256 ($243)
Five-Day Adult: $268 ($251)
Six-Day Adult: $278 ($259)
Seven-Day Adult: $288 ($267)
Eight-Day Adult: $298 ($275)
Nine-Day Adult: $308 ($283)
Ten-Day Adult: $318 ($291)
One-Day Child: $83 ($79)
Two-Day Child: $164 ($153)
Three-Day Child: $226 ($214)
Four-Day Child: $239 ($224)
Five-Day Child: $250 ($232)
Six-Day Adult: $260 ($240)
Seven-Day Child : $270 ($248)
Eight-Day Child: $280 ($256)
Nine-Day Child: $290 ($264)
Ten-Day Child: $300 ($272)
Annual Pass Prices – (Last year's prices)
Premium Adult: $699 ($649)
Regular Adult: $574 ($519)
Premium FL Resident Adult: $559 ($509)
Regular FL Resident Adult: $425 ($389)
Seasonal FL Resident Adult: $299 ($269)
Premium Child: $699 ($598)
Regular Child: $574 ($478)
Premium FL Resident Child: $559 ($469)
Regular FL Resident Child: $425 ($358)
Seasonal FL Resident Child: $299 ($269)
Disney prices rose as much as 30% on some tickets. Of course the whole theory is to make the one day ticket so expensive that it would be more cost effective to stay more than one day. It makes perfect business sense and leads to more onsite stays, which in turn leads to more money spent in restaurants and gift shops.
Naturally this has given many fans, and people in general to raise all kinds of protest about the ticket increase. In fact, if you look at the majority of the Disney parks, it's really hard to justify the increase to fans. There have been no major attractions opened at any of the parks. A lot of huge renovations are taking place, which leaves fewer attractions down. Sure, there's a lot of big things coming. But Fantasyland keeps getting pushed back further and further, with the latest date being sometime in 2014. And who knows what's going on with Avatar, if that's still even on the plate.  But that's two of the six parks on property. All of which need a lot of TLC.
Of course, that's the very reason for the increase. It takes money to run theme parks and make improvements. It also takes people willing to pay those high ticket costs to fill the park. With the economy still not completely recovered, it seems insane that Disney would make such a dramatic price increase.
Last week the TEA attendance report came out, and Walt Disney World's Magic Kingdom was the most popular park in the world. In fact, attendance was up in 2011 over 2010. Truth of the matter is, that as long as that number doesn't go down significantly, neither will the price of tickets to Walt Disney World. Still, if you feel the need to protest, the very best way you can do it is with your wallet. Simply don't go.
For more information on Walt Disney World, including the increased ticket prices, visit the official website.