Every year theme parks and waterparks around the country open hundreds of new rides, slides and attractions. Every summer families and thrill seekers visit theme parks all around the country looking for the best thrills, newest rides and the most family fun. With so many new things going on, how do you keep track of what you should check out? We've got you covered! To keep your summer fun, and to make sure you have the best summer ever, we've compiled a list of the MUST SEE attractions and parks of the summer!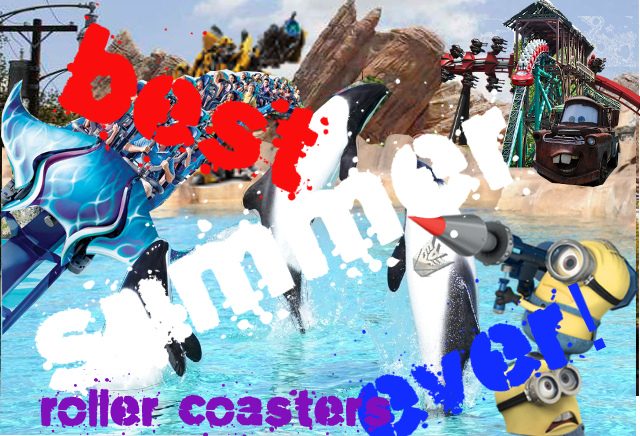 This summer is turning out to be an amazing season for coaster fans! It really doesn't matter what part of the country you're in, it seems that there is a new coaster opening somewhere near you. Brand new coasters, brand new styles, and even old favorites at new parks are making a huge mark on travelers this year. Riding the rails has never been so much fun! With so many new coasters, it's tough to pick a favorite, so we've compiled a few new coasters that you just have got to ride as soon as you can!
Where:SeaWorld San Diego
What:Manta
How do you make a world class coaster in a park that has extreme height restrictions? You merge a state of the art Mack launch coaster with a one of a kind interactive animal exhibit. The coaster made it's debut earlier this year with an amazing launch coaster, and aquariums that allow you to get up close with huge California Bat Rays.
httpvh://www.youtube.com/watch?v=ZiKYN876VOM
For more information about Manta, visit the official website!
Where:Busch Gardens Williamsburg
What:Verbolten
In the footsteps of legends, comes Verbolten, an amazing family coaster in the tradition of the Big Bad Wolf. Verbolten launches riders through the Black Forest where they face an uncertain fate, and must finally make the plunge to safety into the Rhine River. The coaster uses trains manufactured by Zierer, and launches guests twice. Riders go through the Black Forest, which is actually indoors and can have one of three different experiences, all ending the same way….dropping to your doom, and a run for your life before you crash into the river. It's always fun to Fahrt (travel) at Busch Gardens!
httpvh://www.youtube.com/watch?v=hp6-kQNLKXg
 For more information about Verbolten, including tickets, visit the official website!
Where:HersheyPark
What:SkyRush
The tallest fastest coaster in Hershey takes riders 212 feet up, and sends them soaring at 76 mph. The Intamin coaster has two regular seats that sit over the tracks, and two that hang in mid air. Ride the Edge! The coaster uses only lapbars to keep riders in place, and provides for some amazing "air-time" (that's time when your butt leaves the seat for non coaster riders).
httpvh://www.youtube.com/watch?v=LcnMo3Nn72k
 For more information about Sky Rush, visit the HersheyPark website!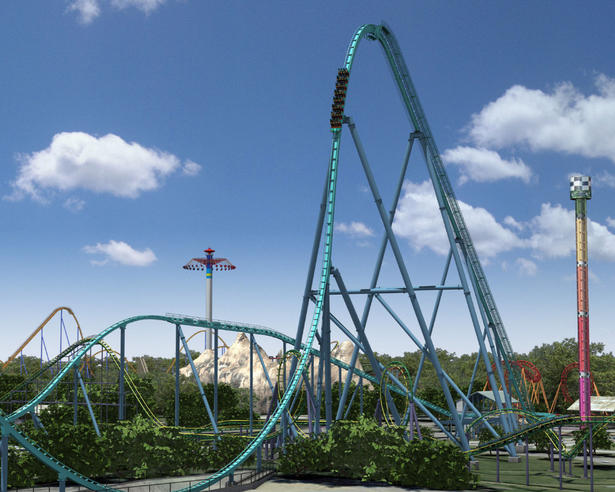 Where:Canada's Wonderland
What:Leviathan
To face the darkest demon from the depths of the ocean, you have to go to Canada. Leviathan takes riders up 316 feet, with just lapbars holding them tight. This is the tallest coaster from manufacturer B&M, considered by many to be the best coaster manufacturer in the world. The coaster is Canada Wonderland's 16th coaster, and is a grueling monster. How mean is it? Mean enough to take a tough rock radio DJ and literally have him crying for his mommy. Is he a wuss, or is it that good?
httpvh://www.youtube.com/watch?v=4OVGlLiOnPU
 For more information about Leviathan, visit the official website!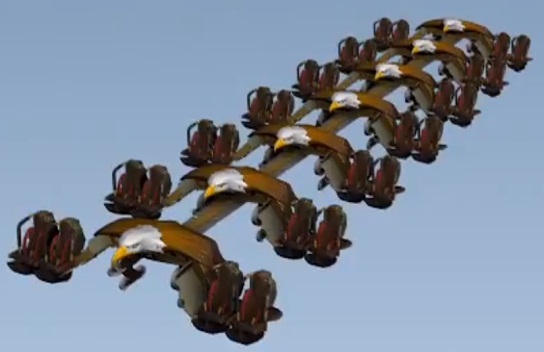 Where:Dollywood
What:Wild Eagle
The first true wing rider coaster in America, Wild Eagle takes riders and puts them over nothing. There is no track, there is no car, it's you and the air! The coaster is built on a mountain, and soars over Dollywood at heights of 210 feet, and drops riders 135 feet and into loops, rolls and tight turns. It even has it's own theme song!
httpvh://www.youtube.com/watch?v=5KwjtDW5arU&feature=relmfu
For more information, visit the official Dollywood website! 
Where:Six Flags Great America
What:X-Flight
It's the second wing rider coaster in America! XFlight takes all the great wonder of Wild Eagle at Dollywood, and does just a little bit more. You go through inversions, and very unique head and foot choppers!
httpvh://www.youtube.com/watch?v=DCXVClAaX5w
For more information, visit the official Six Flags Great America website!
For more of the BEST SUMMER EVER be sure to follow us on Twitter!