Comic Con is a time for movies, and television panels and all kinds of geekdom. If you're lucky you might get wind of a theme park project here and there, but it's not very often. We were extremely surprise when we ran into someone who not only had a lot to do with theme parks, but also someone who had knowledge of some huge Haunt news that just dropped. If Comic Con is a geeks candy store, then Jeff Tucker is definitely the chocolate bacon funnel cake! We got a chance to sit down and talk to him about all things Haunt this year, as well as his all new book!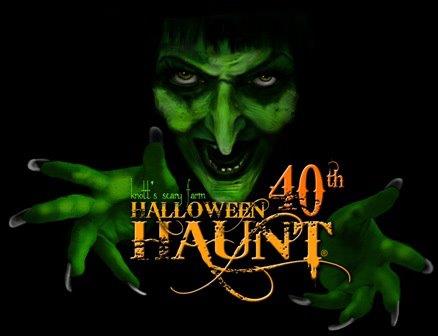 Jeff Tucker is Entertainment Supervisor at Knotts Berry Farm and Halloween Haunt. The park is celebrating 40 years of Haunt, and if you think they're going to just sit back and let that milestone slip by you're dead wrong.
"It's like when you have a birthday party, you have small parties along the way, but you hit that big milestone you go all out" Jeff said "Our mantra this year is make every step count."
That means that there will be less open space, no waiting for the scares, and each maze will be completely immersive. There's also a cohesive theme to Haunt, and that theme is….you're all going to pay.
"It's not an overall  that has every maze tied together" Jeff explains "the witch wants to destroy haunt. She's all knowing, very powerful, and very angry with us."
The Green Witch was revealed on Friday the 13th, with a lot of mystery. Jeff tells us that the legend of the witch is a  homegrown character. She came from ghost town, and is the reason that Ghost Town is so haunted. She is very powerful and throughout the summer Knott's will show you just what she's capable of and introduce you to her minions, and even give you a chance to become one of her minions.
"We pay homage to her, do the midnight witch hanging, and to make the Green Witch the Icon of haunt."
The other big news is the upcharge VIP house "Trapped". Tickets will go on sale in August, and when you purchase your ticket you'll receive a time to experience Trapped. The ticket will cost $60 dollars, and will allow you take up to five friends with you. Doing the math, it's only $10 dollars a person for a group of six.
"It's one of a kind, it's something special" Jeff said "Odds are it's going to sell out, so you need to purchase your tickets online."
The experience will truly be VIP with a special waiting area, with every creature comfort you can expect. While Jeff wouldn't go into details, he did tell us that if you wait the night of the event, not only do you have a chance of the house selling out, but the tickets will go up to $75 dollars at the park.
Jeff also has recently published his first novel, called the Sixth Key.
It's all about a young girl who gets a summer job at the Magic Castle who uncovers a 100 year old mystery and goes on an adventure filled with magicians, and hidden artifacts.
"I'm a child of the 80's, I love 80's movies. I tried to make an homage to every 80's movie I loved" Jeff explained "The same way J.K. Rowling mixed fantasy elements in Harry Potter, I mixed 80's movies!"
The book is on sale at the Ghost Town Magic Shop in Knotts Berry Farms. There will even be a book signing at Knotts Berry Farm August 25th in Virginia's Gift Shop.
See more from Jeff Tucker in our exclusive one on one interview:
httpvh://www.youtube.com/watch?v=kUKMLW8vx3k&feature=youtube_gdata_player
If you want to grab a copy of the book you can order The Sixth Key: From the Secret Files of The Magic Castle simply by clicking here!
Knott's Berry Farms transforms into Knott's Scary Farm every September and offers 13 haunted houses, scare zones, shows and more. For more information, including tickets, visit the official Knott's website!