If ever there was an attraction that just got a bum rap, Mach Tower at Busch Gardens Williamsburg just takes it. The attraction, a 240 foot tall drop tower, has been plagued with problems ever since the ride was under construction last year. It even got off to a shaky start, and didn't officially open until the last full month of operation, almost three months behind schedule. Now the attraction is closed for good. Well at least for now.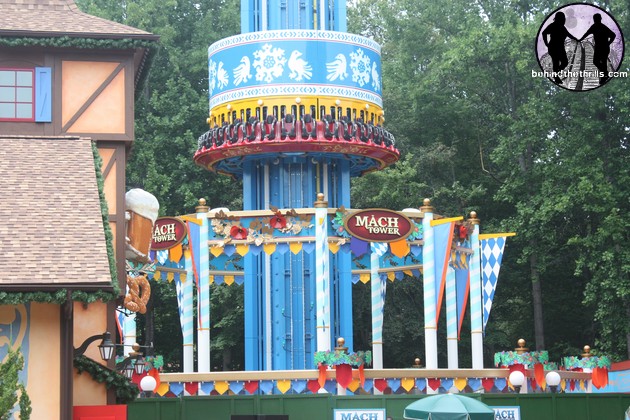 *Update
Though the ride was taken off of the operation schedule, according to Busch Gardens Williamsburg and WY Daily the ride is operational once again. The ride closed on July 12th to "review manufacturer-recommended changes to the ride's parameters"  and was reopened Thursday at 3p.m. According to WY Daily, the review was to keep any further downtime from happening. While the ride has had issues, it has become a favorite of park guests, giving many a birds eye view of the park, and construction of the all new coaster Verbolten. The attraction should now be back in the daily operation schedule until the end of the season, barring any unforeseen technical difficulties.
For more information, visit the official Busch Gardens Website.
To read more about the initial reports, continue reading below.
According to an article in the Daily Press the ride has been closed for good, at least for the time being. The park would not go into details, but did say it was not for safety reasons. So, no, there were no guests at risk…..ever. Instead the park did say  it in the Daily Press article that they will "review manufacturer-recommended changes to the ride's parameters" and that it would be closed for an undetermined amount of time. This comes at a bad time, as Busch Gardens Williamsburg is most likely experiencing a huge influx of visitors due to the brand new attraction "Verbolten" opening.
Bush Gardens Williamsburg is home to five world class roller coasters, including the all  new Verbolten. They also feature amazing shows, and have won the "Best Food Destination" award in the voter based Thrill Daily Awards two years running. The park is also right in the middle of their Illuminights celebration, which has nightly performances of European style shows.
For more information about Busch Gardens Williamsburg, visit the official website!