For haunt fans, Universal Hollywood's Halloween Horror Nights isn't an event, it's a ritual. For three years the ritual has gotten more intense and earlier as Creative Director John Murdy has taken to Twitter and teas….tortured fans with what they can expect to see at Halloween Horror Nights. Murdy has taken the reigns of Universal's Halloween Horror Nights official Twitter account, something that most parks relegate to Public Relations or Advertising Execs. But Universal Hollywood's own Master of Mayhem seems to revel in inflicting torture on the now thousands of fans that follow him.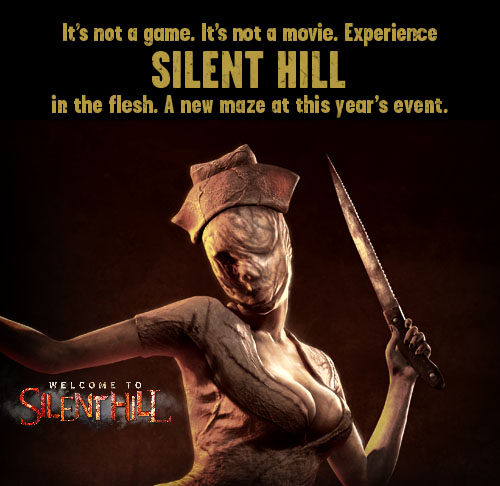 It was revealed that both Universal parks would be building houses based off of the video game and film series Silent Hill. While it came as a surprise to most followers, the answer was there, taunting fans all along.
On Twitter Murdy plays a little game. He gives out clues to names of the haunted house. Only, it's not that simple. Five clues, usually one word. Each clue has something to do with the theme of the house. It could be as blatant as naming the house, but usually it's something that takes a little brain power to figure out.
Since December, we've been dropping clues on Twitter. Clues that could lead to you winning an exclusive, behind the scenes maze tour

We released 5 maze code names. The code names are a hints that reveal the theme/property of each maze. We also released several hints…

The 5 Code Names were 1) The Smiths 2) Classic Cowboy 3) Dante 4) Quigley and 5) Carpenter. Now we can reveal the code name for Silent Hill
The code words and clues were not enough for fans to guess that the code name Carpenter was the code for Silent Hill.
The code name for Silent Hill is #5 "Carpenter" The hint was "the title of a John Carpenter movie"

John Carpenter directed "The Fog" Fog World is one of the main settings in Silent Hill and something we're creating for HHN
Sure, it's simple when you look at it from this side! But that's one tough code to crack. Thankfully there are tons of fan sites keeping track of all the clues. This set of clues comes from Horror Night Nightmares.
Maze #1

: 

"The Smiths"

 – One of the songs from the Smiths reveals the theme to the maze. The song is "Suffer Little Children".

-A character inside the maze is inspired by a Dick Smith creation (Dick Smith was a make-up artist for the Exorcist).

-Theme for the maze went out on survey in November 2011.

Quote

Maze #2: "Classic Cowboy"

 – has something to do with an NFL franchise that has never won a Super Bowl, a classic/famous cowboy and a hit song from 1987.

-Supposed to have a "CRAZY" facade that will require a lot of space.

-Entered billboard hot 100 chart in 1987.

-The song mentioned was featured in the Simpsons and Family Guy.

-Lyrics of the song mention a famous composer by name.

-The maze is based on an existing property that has never been featured at HHN.

-Someone named "Maggie" is a character inside the maze.

Quote

Maze #3: "Dante" 

– Inspired by the allegory "The Inferno" by Dante; it is implyied that Hieronymus Bosch will have some inspiration in this as well.

-Based on an existing artistic creation (i.e. movie, game, TV show, album, book, etc.)

-One scene will feature the scent of cotton candy.

-The words "Dante" and "Inferno" do not appear in the title of the maze, but the letter "D" does.

-While researching the maze, John Googled "motivational art", "animal hoarding", "doomed Franklin expedition", "Florence Nightingale", "Vargas Girl", "Las Vegas Buffet", and "Liposuction".

Quote

Maze #4: "Quigley"

. Since 1932, Quigley Publishing has tracked the top stars at the box office. They released a list of the top box office stars of all time.

-The theme of maze 4 is one of the top 10 stars on Quigley's list

-This star didn't star in the movie in question, but there's something about his career that points towards the movie this maze is based on

-7 of the top ten stars on Quigley's List, were in Universal movies or TV shows BEFORE they were famous. This star is 1 of the 7

Quote

Maze #5: "Carpenter" Hinted by Murdy that this will relate in some way to John Carpenter.

-One of the titles of Carpenter's works relates to the theme of the maze.

Confirmed to be "Welcome to Silent Hill"

Quote

Other hints:

1) "This year's mazes have scenes featuring 8 different animals. 7 are mammals. Some are props/effects. Some are characters"

2) "There are mazes set in 3 different countries, 2 mazes are set in the same country"

3) "There are 2 mazes that feature vehicles bigger than a car"

4) Two of the mazes have scenes involving amusement parks but neither of them have clowns in it.
Wow. Tons of clues and hints, and it all leads to madness! If rumors hold true, then one of these code names point to The Walking Dead…if rumors hold true. We'll keep you updated as we learn more. Until then, follow Madman John Murdy on Twitter.
For more information on Halloween Horror Nights at Universal Studios Hollywood, visit the official website!