With the successful opening of The Wizarding World of Harry Potter, Universal Orlando has seen a spike in attendance, spending and even the amount of vacations being booked at their onsite hotels. To date Universal, with partner Loews Hotels has three onsite hotels, each with a different theme and flair. Today Universal Orlando announced that they will be adding another hotel, Cabana Bay Beach Resort.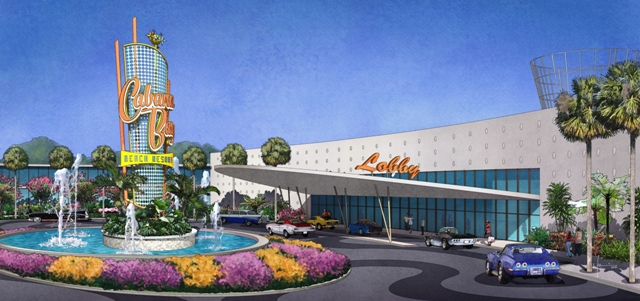 Cabana Bay Beach will evoke a vintage feeling of the motor coach hotels of the 1950's that so many Americans grew up enjoying with their families. The vintage look of the hotel will be accented with bold, dramatic, clean lines, bright, period colors, and touches of neon. The inside areas of the hotels, including the lobby, dining areas, and large comfortable rooms will follow suit. The hotel will also featured two themed pool areas.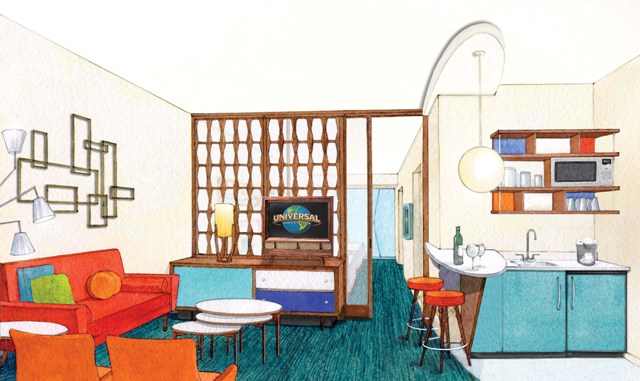 Cabana Bay Beach Resort will offer two different types of guest rooms, which will offer two distinct experiences. The hotel, which will be built by Lowes Hotels & Resorts, will offer 900 family suites and 900 standard rooms. Family suites can sleep up to six people and also includes a kitchen. The standard guest rooms will offer moderate and value-priced accommodations.
"Our new hotel will give guests an affordable, incredibly themed on-site hotel experience unlike anything else at our resort," said Tom Williams, chairman and chief executive officer, Universal Parks & Resorts.  "Our new family suites and family-value pricing will give our guests on-site options they've never had before."
This hotel will provide families with the choice of value-pricing or higher levels of service and benefits that comes with staying at a Universal Orlando on-site hotel. It will offer early admission to the parks, and is located within close proximity to Islands of Adventure and other resort-wide charging privileges. However, this hotel will not offer complimentary Universal Express Unlimited Access.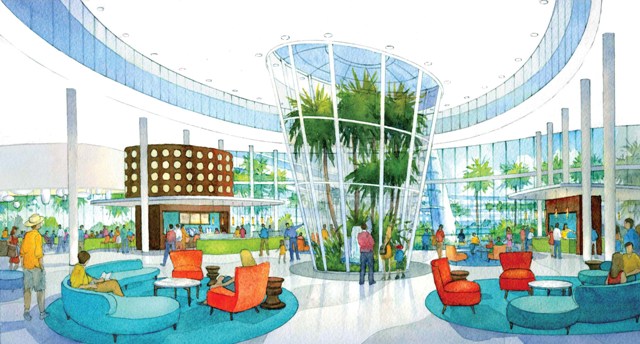 The hotel will be built upon 37 acres of land adjacent to Islands of Adventure, just near Hollywood Way and Turkey Lake Road. Cabana Bay Beach Resort is scheduled to open in 2014.
Site work will begin soon on the hotel. More information, including pricing, an opening time frame, and information on when rooms go on sale will be released in the future.
This new information feeds into rumors that have been swirling around about an expansion to the Wizarding World of Harry Potter, also at Universal Orlando Resort. According to the rumors, the Wizarding World expansion will open at Universal Studios Florida, and will open in 2014. If that holds true, then it would make the construction and timing of this new hotel very crucial. When the Wizarding World opened in 2010 attendance jumped 36% the first year. In fact, everything across the park from attendance to park spending has gone up significantly. Of course, nothing has been announced by Universal about an expansion, so take that with a grain of salt.
For more information about Universal Orlando Resort, visit the official website.