Greetings…you may call me…Keeper, for I am the keeper of theme park tales. I love theme parks. But what I love even more than theme parks are small attractions. The phrase "tourist trap" comes to mind but that has negative connotations. When I say tourist trap it's only with love and affection. I'm the Goof in The Goofy Movie dragging the Mrs and daughter from Chester's Possum Park to the biggest ball of string while they pretend to be interested. Myrtle Beach, SC…4 hours closer, less country music, and the same type of collection of attractions. In some cases different branches of the same very attractions in Pigeon Forge.The Mrs. agreed and we find ourselves ready to head out for our first out of state family adventure in over 20 years. We further decided that to counter the long drive after a grueling vacation schedule we will make a stop off in Savannah, GA for a night on the way home and possibly squeeze in some southern cookin' and historical touring to cap off our adventure. The challenges for our adventure…the drive, a very short stay, no fully developed goals, and the biggest going to a beach town in peak season when I'm not even a beach goer. I suspect the girls may take a beach detour at some point while I chase down the biggest glob of silly putty or longest railroad spike or some other perceived treasure to add to my journey of adventure. The fun part on this journey is, you get to tag along too. Although reporting on everything will be impossible due to time constraints I plan on sending "postcards" of my mini-adventures so you can enjoy and discover along with us. As always, I will call em as I see em, the good and the bad along the way to give a flavor of an "away from the big boys" kinda trip. Whether the trip succeeds or fails remains to be seen but I imagine we have many adventures awaiting us, and as you know the journey to adventure is part of the fun cause….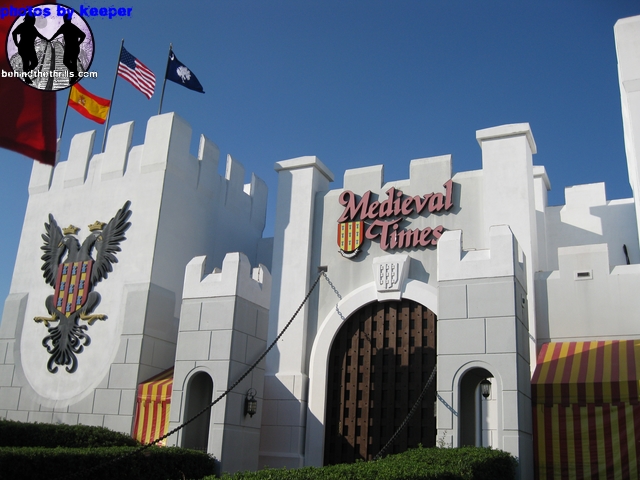 Now we have seen our share of dinner shows in Orlando. We've rooted for all manner of knights, cowboys, gladiators, ninjas and calvary. We've moved a-l-l the way down the bench and we've eaten foul with our fingers. So what do we do for dinner when on vacation? Yup, you guessed it; we seek out a dinner show. Because it was the busy season in MB we got sold out on a few options but thanks to perseverance, quick changes in our schedule and a matinee show being added, we were able to squeeze in two during our time in the Grand Strand.
Firstly the father of all dinner shows, Medieval Times. It was not even on our list since we have a MT castle like 20 minutes from our house and have visited many times. It fit our schedule and the added appeal of being near the defunct Hard Rock/ Freestyle Music Park site being nearby made it a worthy addition to our night. They were promoting a new show so the discount for that didn't hurt either. Before entering I tried to get as close to the old park site but the entire parking lot was fenced off. It is indeed a sad sight to see the silhouette of a roller coaster jutting up amidst the shells of buildings at the end of a parking lot where weeds are starting to work their way up thru the concrete. This became even worse after we exited the show and saw a half dozen spotlights shining towards us from the ghost park. It's enough to bring a tear to your eye.
Oh well, Medieval Times…they invented the dinner show and the experience is always a well oiled machine and the MB castle is no exception. The new show was enjoyable but seriously, can anyone remember the plot of the old show? The core of the show remains the same as always knights, jousting, hitting a target, collecting rings on their lances, tossing flowers to the maidens, and battling their butts off in a dust filled arena. There was a bad guy, lots of good guys, a princess that needed defending and a king with a somewhat out of place NY accent. There are overpriced drinks, paper crown and colored flags as far as the eye can see. You either love MT or you hate it, and I suppose we sometimes take it for granted being it's been a fixture in the Orlando landscape for so long. I was not a fan of them passing out time share "coupons" here when you get your tickets. It's bad enough to give castle pre-show space to them but making it seem like its part of the show is bad form in my book.
Although not a vegetarian, on a whim I ordered the vegetarian meal because the picture I saw of it looked appealing. It did not disappoint and IMHO was better than the regular meal and just as filling. It started with the soup and bread that everyone else got. The main dish was a huge mushroom cap filled with a rice pilaf mixture that contained kidney beans, dried cranberries, and slivers of veggies. The dish also had a skewer with one chunk of green pepper, one chunk of red pepper, one small onion, and the two chunks of potato (the same potatoes on the non-vegie dish). A generous portion of humus with some tasty pita chips to dip in it was on the side. Of course, drinks and the regular desert were included too. The only negative I have to say about the dish is skewering the potatoes to make it seem like it was more veggies seemed silly and that due to the nature of how they serve the main meal this came after everyone else was served. Our wench explained this clearly in advance but it seems that there could be a better way to do this as the girls were more than halfway thru their meal before I started min. All things considered it was a surprisingly tasty dish that really hit the spot. I felt guilty and a little out of place 'cause it even came with silverware! All in all a solid night of entertainment at Medieval Times, good food, good company, my daughter caught a flower, and the bad guy got banished from the kingdom. What more can you want for a night out.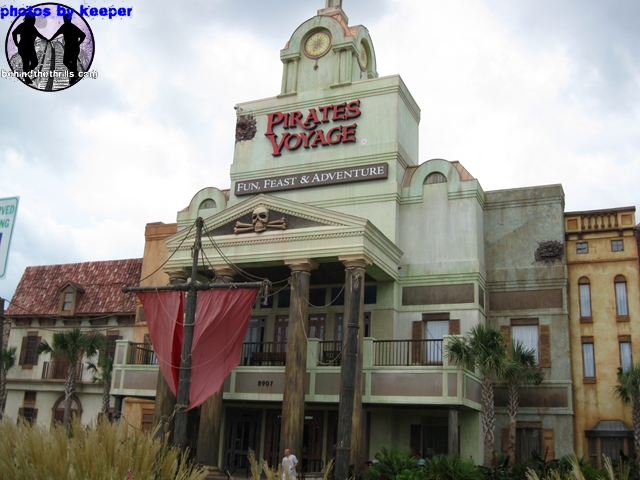 We were able to catch a 1:00 show of the new Pirates Voyage later in the week. This site was converted by Dolly Parton's organization from a Dixie Stampede last June. Looking at the basic building layout it appears to be the same as the Orlando DS so I'm assuming little structural changes were made in the building. Unlike MT where the pre-show is shopping, dodging time share flunkies, and buying drinks in specialty glasses Pirates Voyage has an actual show in the pre-show area. Don't get me wrong there are drinks, and popcorn and souvenirs to by too but at least they made some kind of effort. Now as to quality it did start off on the low end of the entertainment spectrum….pirate sing-along. Lots of audience participation with the kids, singing, silly sword play and bad jokes. Things started looking up when the entertaining juggler took the stage before we went in to the main show.
We walked into one side of a big arena where the focal point was a huge pirate ship surrounded by water. Most of the guest gasped and praised the (apparently) godlike Ms Dolly and we just looked at each other and said "how'd they get away with ripping off Orland's Pirates Dinner Adventure". Now O-towns pirate dinner show is an absolute train wreck that I can never pass up..call it a guilty pleasure. Bad food, absolutely insane storyline and over the top cheesiness (do not confuse this with the incredible Treasure Tavern next door) …I honestly don't know why I keep returning but I can't get enough of it. So when I say they lifted entire elements from Orlando's show, I'm talking I don't know how they didn't get sued similarities. The mystery is if your going to make a pirate show why take stuff from a show like PDA?? Yes there were some notable additions….a sea lion that had stage fright on our visit and an enjoyable mermaid number that squeezed in a song by Dolly Parton. But for overall storyline….wow ya got me…just as disjointed as Orlando's Pirates if not more so. At one point an 8 foot mechanical zombie Davy Jones rose from the water. I should clarify that's Davy Jones as in Davy Jones Locker but Davy Jones from the Monkeys would have made just as much sense in this hodge-podge. Another annoying thing is picture taking of any kind was forbidden in the main show. You can take all the pics you want of the horrible sing along but none of the amazing boat set or cheesy show. I suppose if I had my name attached to the show I wouldn't want any documentation either! Oddly enough even with an arena full of horses, MT has no issues with flash photography. I can see no operational reason for PV to deny this except to try to peddle pictures and perhaps a future video in the gift shop.
Since the veggie experiment went so well across town I tried it again here. Does the phrase, "quit while you're ahead" ring a bell? The veggie meal was about 1 ½ cups of pasta with 6-8 chunks of veggies in it and a plastic cup (like you'd get salsa in at a take out place) on the side of spaghetti sauce. The dish was not hot enough, the sauce tasted horrible, and the portion size was like that of a kid's meal. I also got a scoop of potatoes when our waitress came by with them but I think that's only cause she felt sorry for me. Oh yes and a wilted chunk of corn on the cob…mmmmmm yummy. I asked the girls about the quality of the main meal and they said it wasn't bad. They could not be pressed into picking MT over PV because each meal for them had its strengths and weaknesses. One had better chicken another better potatoes, etc but both were decent filling meals in their estimation. I know I sure salivated at looking at their plates when my meal showed up.
For more information about Medieval Times, visit the official website!
Although Dolly Parton's Pirate Voyage wasn't a complete bust (hehe) and similarly priced (with no time share pitches) the winner in this battle easily goes to the knights and wenches at Medieval Times ….long live da king!
For more about Dolly's Pirate Voyage, visit the official website!
More from our Dinner Adventures!
Every Day's An Adventure
Keeper