In the dark side of the gardens, there's so much you will find. It appears that Busch Gardens Tampa has opened the gate to the "dark side of the gardens" once again this year for their annual Halloween event, Howl O Scream. After promising Facebook fans a glimpse of the new Icon (the official spokes…thing…for the event) the HOSInsider kept true to his(her?) word and let a small picture slip earlier today. Of course, in true HOSInsider fashion, there's much left to the imagination, and plenty of time to wait for more.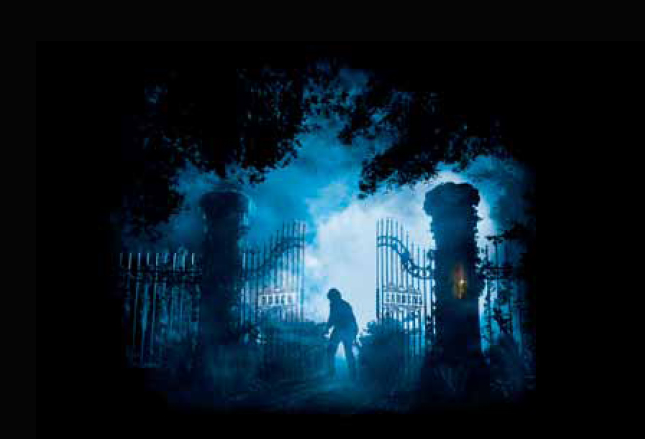 "I hang it there so they will use it…"

Call me creeped out. We see a lone figure, a male as HOSInsider tells us, but who is he? Busch Gardens uploaded a much clearer version of this year's creepy icon. The caption above makes a lot of sense looking at the clearer version. You can see a key hanging just under the lantern.
Last week the Insider let another pic slip with another creepy message.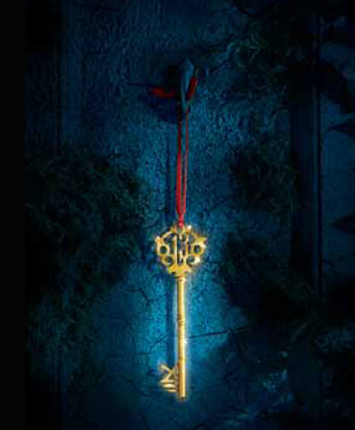 "They can't resist The Golden Key That taunts and calls and beckons thee."
A gate, and a key. The Keymaster? The Gatekeeper? Zuul? (okay enough ghostbuster references). Other possibilities include a groundskeeper, and even an evil gardener. This year marks the 13th year for Howl O Scream, and the return of an Icon. The last Icon was 2010's Sylvie…a skinny Emo girl who would cut off the fingers of her ex-boyfriends.
In fact, we may see some of the old icons this year as Howl O Scream will have a scarezone that will feature past icons, and characters that we've come to know and love from years past.
Here's a rundown of some past icons:
2010-Sylvie, lead singer from My X. Cut off your finger
2009-Ms. Vayne, Vampire fashion designers. Her and her vamp fashion models would eat you
2008-Raven Twins, once conjoined twins who were horribly scarred. They would lure young men in and…double team them
2007-Death Jockey, an evil DJ who would get you dancing, then bring you to your knees with terrifying No beats
2006-No One 2 Trust, ironically…there was no icon, just a dead man holding a bloody cell phone
2005-Evil Jack in the Box, your darkest fears from childhood and beyond came to life.
2004-Hack, the evil taxi driver. You could enter, but you couldn't escape the cab of doom
2003-F.E.A.R. the ultimate controller of horror roamed the streets of Howl O Scream seven years before being unleased at Halloween Horror Nights
2002-Death, the ultimate bad spirit. No one escapes death, though many have tried
2001-Torment, Mangler, and Pernicia Doom…because of the events of September 11th that year, the Icons were downplayed and not used as much, though they still did roam the park
2000-Dr. Livingsdoom. Love this character! The mad scientist that stalked the African plains. This year was the first official year of Howl O Scream and Dr. Livingsdoom was officially the first character. He was played in advertising by the now creative director, Scott Swenson, and this is the one character that I'm hoping we see return…played by the original actor!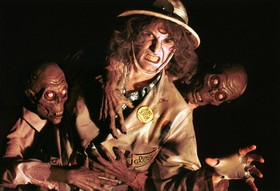 With the long rich history of interesting characters that Howl O Scream at Busch Gardens Tampa has dug up, we can be certain that whoever our shadowy friend is, he'll be very interesting to say the least.
For more information about Howl O Scream at Busch Gardens Tampa, visit the official website!