What would you do if you had a beloved amusement park, but the guests just weren't going through the turnstiles anymore? Would you just throw your arms in the air and walk away? Or would you come up with an idea, so terrible, so twisted that you wouldn't have to worry about people coming through the gates ever again? That's the premise of the new Indie horror film, Scream Park. But where do you film a movie about a murderous amusement park?
Conneaut Lake Park serves as the backdrop for Scream Park, the all new film that makes "Death the new attraction". The film was made in the spirit of 80's slasher films. Instead of doing a remake, reboot, sequel or prequel, the filmmakers took their original idea and put it to film. When ticket sales dry up, the park owner comes up with a diabolical plan to hire a pair of killers as a publicity stunt. The killers are then set loose on an unsuspecting group of park workers who break the golden rule of slasher films, and pay the ultimate price for their after hours party in the park.
The making of the film has an interesting story in itself. Instead of being financed by a studio, or an investor, the film was financed by fans of horror and amusement parks. The crew of the film started an account on Kickstarter, a site that gives groups a chance to raise money for their respected projects. Through Kickstarter and Paypal donations the film was able to go into production, and even hire the ever evil Doug Bradley. The name may not sound familiar, but you definitely know him from his ….other roles.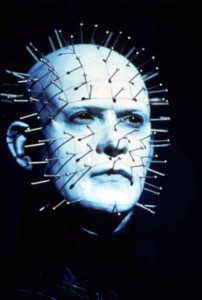 That's right, the man who will tear your soul apart is back in a deliciously evil role as the park owner with a penchant for killing off his employees. In addition to Mr. Bradley, the film also stars Kevin "Ogre" Ogilvie, but you may know him better as Nivek Ogre from theband Skinny Puppy.
httpvh://www.youtube.com/watch?v=CDKkRSUrTd8
Conneaut Lake Park is located just in Western Pennsylvania and has the perfect combination of old charm, that gives Scream Park it's creepy vibe. Scream Park hits DVD in just a few weeks, but take a look at the trailer for it now:
httpvh://www.youtube.com/watch?v=w2pa55u0Vqc&feature=player_embedded
For more information about the film, including where to purchase, visit the official Scream Park website!