Be Our Guest, be our guest, make a reservation, or try your best! Get that number on speed dial, you're going to wait a while! Disney has confirmed that reservations for the all new "Be Our Guest" in the New Fantasyland will begin next week. The all new experience will take guests inside of Beast's Castle for a culinary thrill like you've never seen! Gaston's Tavern, the enchanted rose, and more will all be on display when the first meal is served.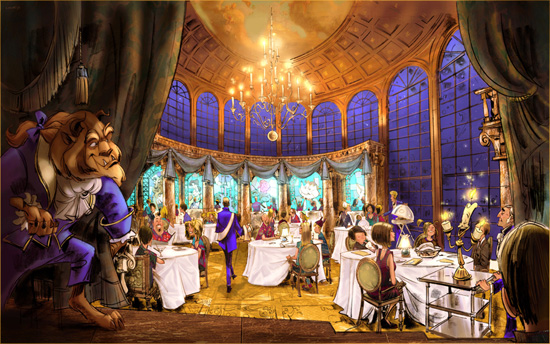 The Disney Parks Blog has revealed that Monday, August 20th at noon (12 E.S.T.) the first reservations will be made available. Reservations can be made up to 180 days out, which means that the first meal will be dinner on November 19th. Of course, keep your eyes open to see if the restaurant soft opens before then, but reservations can be made starting August 20th for November 19th.
Reservations can be made by calling 1-407-WDW-DINE (3463)
The cuisine will be French inspired, which is of course the inspiration given in Beauty and the Beast. Lunch will be counter service, where you order via touch screens, and then go to your seat where your lunch is brought to you on China. Dinner will be table service, with a full wait staff to cater to your every whim.
There will be three themed dining rooms:
The West Wing (I thought that was forbidden?) with the enchanted rose
The Rose Gallery with twirling figures of Belle and Beast
The Ballroom, with elegant domed ceiling and gently falling snow outside
The grand opening for The New Fantasyland, including Be Our Guest, is December 6th! Be sure to make your reservations, beginning Monday August 20th at noon!
For more information, visit the official Walt Disney World Website!