Halloween in theme parks can be a pretty scary place. Goblins, ghouls and chainsaws start making their rounds through the night, making them a place that families with children the to avoid. At SeaWorld Orlando, the Halloween fun gets spooky but never scary under the sea. This year the annual event is back weekends in October.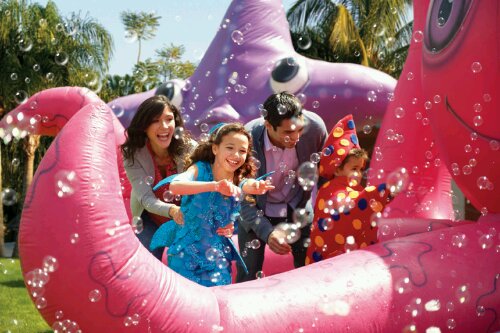 Trick or treating, special shows and fun characters are all in store at this years Spooktacular. Event dates are October: 6-7, 13-14, 19-21 and 26-28. Here's more info:
Penelope's Party Zone Join the Halloween party of the season that immerses children in the wonders of the sea through kid-friendly music, games, and playful characters. Located at SeaWorld's Bayside area, this dynamic underwater environment comes to life when guests dance and play along to the spooky sound waves broadcast by a live DJ. With countless bubbles floating overhead and colorful pumpkin fish gliding beside you, this Halloween party is sure to provide non-stop fun for all ages.

Trick-or-Treating Under the Sea Offering more than one million pieces of trick-or-treat sweets, costumed youngsters can search for hidden "sea" treasures using their Spooktacular maps at fifteen different locations. Each station features an assortment of ghoulish goodies and candies.

Sweet Treat Decorating Kids and parents alike can have a "splash" creating their own sweet treats at this interactive station located inside of Penelope's Party Zone. Tasty apples dipped in decadent caramel and chocolate-covered rice crispy treats are available to decorate to your sweet tooth's desire with a variety of tasty toppings.

Strolling Entertainment Stroll among colorful, playful schools of pumpkin fish welcoming trick-or-treaters throughout the park and get the chance to meet other whimsical characters like Penelope Pumpkin fish, Shamu, Dolly Dolphin, Shivers the Polar Bear, Pete and Penny Penguin, a mermaid, and a walking-talking spider-crab! Photo opportunities with these "spook-tastic" characters create lasting memories.
While Disney offers a Halloween event, SeaWorld Orlando offers Spooktacular free with paid admission. The event starts at noon and will wind all the way into the night until 8pm on event dates. If you want even more Halloween fun, you can take your little ones to a fun spooky sleepover!
SeaWorld's Holiday Family Sleepovers (6 p.m. – 9 a.m. on Oct. 19, 20, 26 and 27) Families can snuggle into a spooky slumber surrounded by exotic fish, rays, and sea dragons inside the floor-to-ceiling aquariums at Manta. Cost is $78 per person or $103 (includes next-day park admission). A pizza dinner and breakfast are included. Program is for children in grades K-5 and their families. Reservations can be made by calling: 1-800-406-2244
Spooktacular is a fun event for all ages, and happens rain or shine.
For more information, including tickets visit the official SeaWorld website!