It never fails for creepy things to come upon us around this time of year. If the mail carriers actually looked inside the creepy packages that appear on our doorstep every so often, they would think we're a bunch of freaks. Last year, Universal Orlando teased Halloween Horror Nights 21 through a slew of bloody cards sent through the mail. Universal Orlando continues to tease this year's event, but it's getting a little creepy.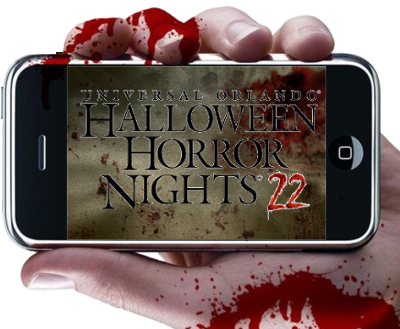 We're not sure how this happened, but somehow someone.. or something.. got a hold of our phone number and called us tonight. The message was very, very creepy and sent chills down our spines. Is it possible.. that this year's icon might be trying to tell us something? Say something to us?
httpvh://www.youtube.com/watch?v=mxg0wRA3Z-U
Man, I'm freakin' out. All will be revealed soon…….
Call 2
Yet another call, this time, thankfully, in the middle of the day.
httpvh://www.youtube.com/watch?v=c-_MIIWOkwg&feature=youtu.be
We think it says: "You fear the unknown, these creatures of the night….are strong" Or maybe "and you should". The howls in the background tell us this is about a werewolf…or it could be for the rumored gargoyle house. But…one thing I am starting to get, could we be hearing the return of Fear from HHN 20? The voice is very similar!
Call 3
All has been revealed. A 3rd call tells us that they are everywhere, and that we are not safe anywhere.
httpvh://www.youtube.com/watch?v=RQ65GmM_89k&feature=youtu.be
It seems that this is now the voice of the Iniquitus, the masters of the Legions of Horror that have been dug up by all the construction. Maybe we will see an Icon after all.
Universal Orlando will unleash all the gory details of Halloween Horror Nights 22 on August 30th. Be sure to catch our live show with Horror Night Nightmares.. it'll be something you don't want to miss.
For more information about Halloween Horror Nights, visit the official website.