Universal Orlando tries to keep fans guessing about the theme, houses, scarezones, and the event in general when it comes to Halloween Horror Nights. Although the park has been pretty open this year in terms of announcing houses, the theme of the event has yet to be released.. or even hinted at.
A new survey has been posted to the Horror Nights website, which is mainly about the website, however, it trails off into other areas based on the answers you provide to the questions. I had questions that asked why I didn't purchase tickets today, where I would be most likely to buy them, and what would keep me from the event. I also had one question in particular that got me thinking.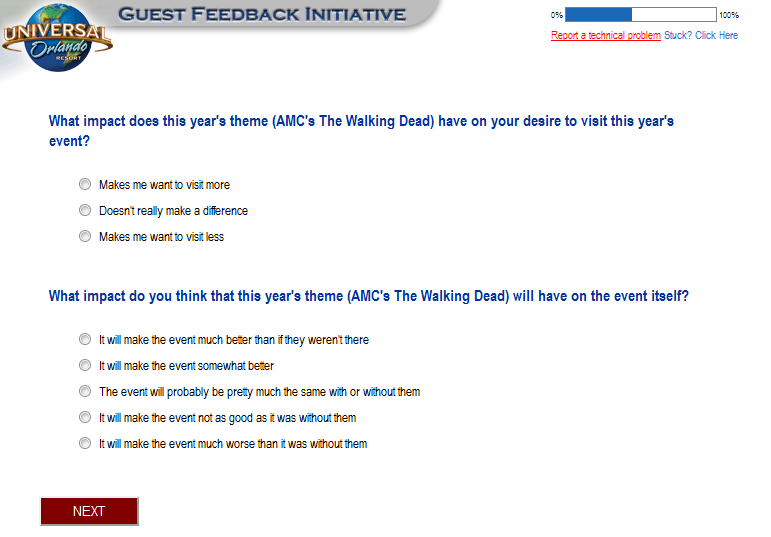 I find it very odd, that Universal is asking such a question like the two pictured above.
Based on the current line up of houses (Walking Dead, Silent Hill, Alice Cooper, and Penn & Teller), I was hoping for an apocalypse theme. After all, with the exception of "Alice Cooper – Welcome To My Nightmare", all the houses seem to toy with the apocalypse in some sort of way.
The Walking Dead takes place during a zombie apocalypse and they have to fight and keep themselves from the walkers in order to stay alive. Silent Hill has more of a "hell on earth" deal going. At the end of the movie, the mother and her daughter return home, but her husband cannot see either of them. They're still there, but it seems they're in another dimension or something. Their world has ended, but everything else just keeps going. And finally, "Penn and Teller New(kd) Las Vegas" dubs itself as the end of Las Vegas based on the description in the annual pass holder mailing.
Universal has not officially announced that AMC's The Walking Dead is truly the theme this year, so stay tuned for more information over the next few weeks.
[flickr-gallery mode="photoset" photoset="72157630918244620″]
For more information about Halloween Horror Nights, visit the official website.