Greetings…you may call me…Keeper, for I am the keeper of theme park tales. I love theme parks. But what I love even more than theme parks are small attractions. The phrase "tourist trap" comes to mind but that has negative connotations. When I say tourist trap it's only with love and affection. I'm the Goof in The Goofy Movie dragging the Mrs and daughter from Chester's Possum Park to the biggest ball of string while they pretend to be interested. Myrtle Beach, SC…4 hours closer, less country music, and the same type of collection of attractions. In some cases different branches of the same very attractions in Pigeon Forge.The Mrs. agreed and we find ourselves ready to head out for our first out of state family adventure in over 20 years. We further decided that to counter the long drive after a grueling vacation schedule we will make a stop off in Savannah, GA for a night on the way home and possibly squeeze in some southern cookin' and historical touring to cap off our adventure. The challenges for our adventure…the drive, a very short stay, no fully developed goals, and the biggest going to a beach town in peak season when I'm not even a beach goer. I suspect the girls may take a beach detour at some point while I chase down the biggest glob of silly putty or longest railroad spike or some other perceived treasure to add to my journey of adventure. The fun part on this journey is, you get to tag along too. Although reporting on everything will be impossible due to time constraints I plan on sending "postcards" of my mini-adventures so you can enjoy and discover along with us. As always, I will call em as I see em, the good and the bad along the way to give a flavor of an "away from the big boys" kinda trip. Whether the trip succeeds or fails remains to be seen but I imagine we have many adventures awaiting us, and as you know the journey to adventure is part of the fun cause….

Like many of you out there, I'm a huge fan of Halloween events at the theme parks. But when vacation comes in the middle of summer usually the best you can do is a ghost tour and hope they don't start with that silly orb nonsense and meter readings. Imagine my ghoulish delight when I found out there was not one, not two, but THREE year round haunts in Myrtle Beach. We never made it to the third one but from what we did see were two very different approaches to the spook attraction.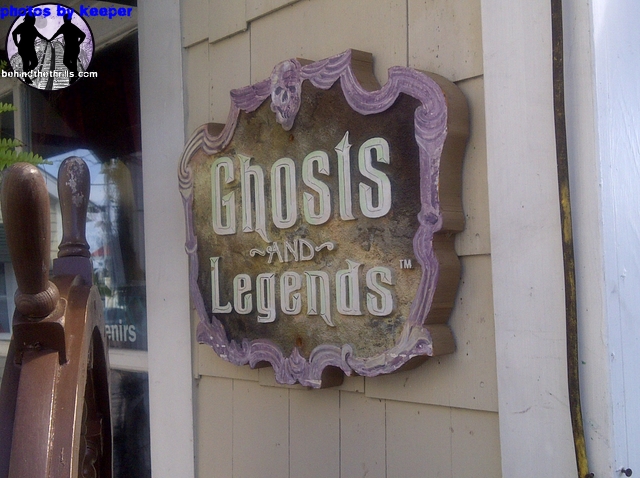 Ghost and Legends in the Barefoot Landing shopping center was a stop early in our visit and we enjoyed it so much we squeezed in an encore as our last thing before leaving town. You'd be hard pressed to find a more unique take on the ghost story. It's a combination of the Hollywood's Magic Castle, Disney's Haunted Mansion, Pleasure Islands defunct Adventurer's Club, a local history lesson and a ghost walk all nestled in an intimate Victorian sitting room. Although no pictures are allowed we were lucky enough to be by ourselves on one early morning viewing and they kindly let us take a few pictures just for your enjoyment although pictures cannot do this attraction justice. You buy your tickets in the small gift shop that contains a red curtain with a velvet rope in front of it. After a few countdown announcements the wall to the left of supposed entrance slides over and the secret portal into the adventure is revealed. You move into a small theater that has benches that seat about 50 people. In front is a stage set up like a Victorian sitting room with many interesting props on the walls, mantleplace, and surrounding the stage and the viewing area. It gives you the feeling that you have been invited into this parlor. Soon the lights dim, the secret door slides shut and the music builds. A single spotlight shines on the stage to a patio door with opens by itself as the ghost host invisibly walks across the stage, lights a candle and sits in a chair (you see the indentation form as he sits) while he sets the stage. What follows is an amazing blend of story, performance, and technology as four local ghost tales are told by the ghosts themselves. The final tale involves the ghost of a seafarer and at the peak of the tale you feel like you are actually inside a storm at sea. During the entire 25 minute show the whole theater comes alive and there are marvels to see on all sides of you from semi transparent ghosts, to floating lantern, to blowing curtains and even an invisible slave that pick on a visible banjo while he spins his yarn. The entire program was fully automatated once the start button was pressed by the attendant to let us in. This was the unquestioned high point of our visit and the sad part is they were advertising that this 10 year old attraction was closing it's door after this season. Here's hoping this attraction is an inspiration to some future innovator to re-create this in some form—it's just too good for its impact to be fully forgotten.
For more information about Haunts and Legends, visit the official website!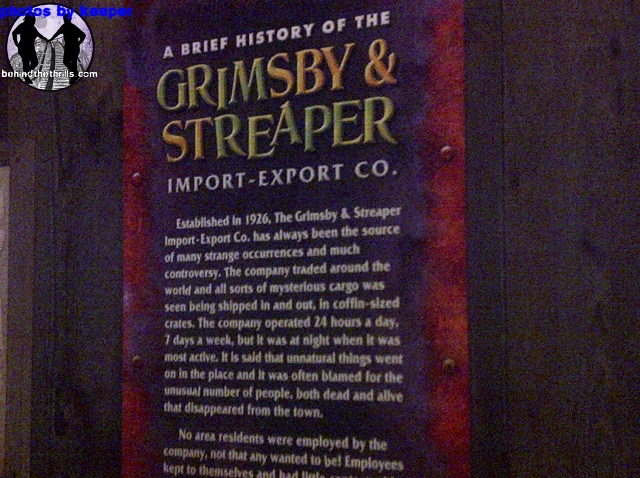 Meanwhile beachside in the Ripley's complex is Ripley's answer to a year-round haunt, Ripley's Haunted Adventure. The freedom that they have in a year-round haunt is something that I'm sure many of us dream of when visiting a temporary haunt. Maybe because of this I had higher expectations that I should have. It started promising enough, a neat façade with a sign explaining the backstory of Gimsby & Streaper, an import export company. It seems no one local was employed by the firm and no one quite knew what was in those coffin shaped shipping crates they moved at all hours of the night. OK I was sold; a nice premise and my hopes were further raised when we were bullied into a large rickety cage that functioned at the elevator to the top floor. After that things were mostly downhill,, we were given a lackluster spiel by a guy who told us like 3 times not to touch any characters and that our group was required to walk with hands on our neighbors shoulders for the entire journey. Ummm I can't touch the workers but I HAVE to touch the guests? The rest of the journey was unmemorable and about 1/3 or more seemed to have nothing to do with the promising theme, just random "scary rooms". At one point we went outside on a catwalk at the front of the building, which, I'm sure, is a great way to draw attention to guests cruising the area and perhaps draw in a few more suckers. The only room that really impressed me was the simplest of all…the total black room. We went in and our conga line felt our way around the entire circumference of the room in pitch darkness until we realized we were repeating ourselves and not only was there no exit door …the door we entered thru was gone also! All this with ghoulish taunts coming from different directions. If each room had this level of creepiness this would get a bigger recommendation from me. Of course, like all haunts, the experience is driven by the talent doing the scares, I might have had an off crew and it was towards the end of their shift too. The concept, backstory, façade, elevator, and dark room get an A+ the rest ..maybe C.
For more information about Ripley's, visit the official website!
More Haunted fun:

Once again time was our enemy and we were unable to visit the Nightmare Haunted House, which was just a few doors down from the Ripley's complex. It too looked like it could hold some interesting scares. The beach houses are only open in the evening which, I'm sure, helps them set the mood. This time around the traditional haunted house was put to shame by the high-tech ghosts that live, for a few months more at least, in that small unassuming theater in person. Of course they will live in our haunted memories forever.
Every Day's An Adventure
Keeper