The weeping woman of the lost village was a huge, and scary addition to Halloween Horror Nights in Hollywood last year. It was such a well loved success that Halloween Horror Nights is bringing back the Latin Legend for this year's Halloween Horror Nights. La Llorona is coming back, and it appears that this year, she's done with the weeping.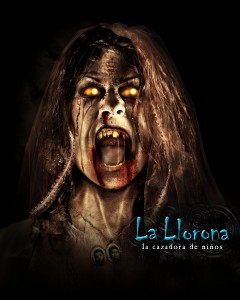 La cazadora de ninos translates into "Hunter of Children" which gives a bit of an indication on which way the Latin Legend is going to take. The original house told the story of the mournful woman who drowned her children to be with the man she loved. When he rejected her, she then drowned herself. She is said to kidnap wandering children to help fill the void once filled by her own children. Others say that if you hear the wail of La Llorona you are marked for death.
According to John Murdy, Creative Director for Universal Hollywood (via @HorrorNights on Twitter) La Llorona was the house that guests wanted back the most. It also won't be the same house that it was last year.
@HorrorNights
Here's my honest critique of the maze last year. Thought the set/design was one of the best we've ever done but thought it could be scarier
The house will also introduce guests to La Llorona's children, and let them see the imagination and nightmares of a child. The house will join Silent Hill, and The Walking Dead at Halloween Horror Nights. La Llorona is an original house, and specific only to Hollywood. This is the first house announced so far that both Hollywood and Orlando won't have a version of. Both parks will have Silent Hill, The Walking Dead and a variation of a house inspired by Alice Cooper.
In addition to the big house announcement, Hollywood has also revealed the event dates for Halloween Horror Nights.
September 21,22,28,29
October 5,6,7,12,13,14,18,19,20,21,25,26,27,28,31
For more information about Halloween Horror Nights at Universal Hollywood, visit the official website.