It's August in Florida, it's brutally hot. The temperature and humidity levels pretty much match, and let's be honest, if you don't have to go outside, you probably shouldn't. Let's reprhase that, if you don't have an amazingly fun theme park to go to, you probably shouldn't go outside. Legoland Florida knows it's hot in Florida, so they are cooling off guests to their Legoland Florida waterpark in an unusual way.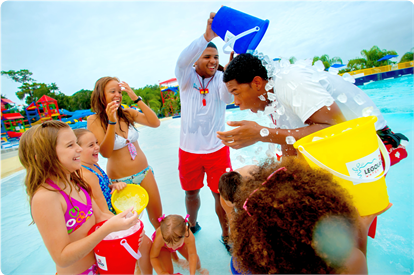 This past July was the hottest month ever recorded by The National Oceanic and Atmospheric Administration (NOAA) in the past 118 years of recorded history. August is shaping up to be just as hot, so to help battle the heat, Legoland Florida dumped in over 4,000 pounds of ice in the wave pool.
httpvh://www.youtube.com/watch?v=YKIx9OwTl6s
Lifeguards and guests dumped buckets upon buckets of ice into the wave pool to help cool things off, and make things a bit more refreshing. With 4,000 pounds of ice, it might take a polar bear to get into that water, but with the hot Florida heat, it was just the right way to cap things off.
Legoland Florida opened the waterpark earlier this year, which adds a perfect splash to the day where guests can enjoy the rides, and even build their own Lego raft.
For more information about Legoland Florida, including tickets, visit the official Legoland website!