Busch Gardens Tampa's annual Howl O Scream is a perfect mix of houses, scare zones, and shows. Add in the fact that you can ride coasters in the dark, and you have a combination that many love. The event is known for recycling several houses and shows from previous years. This year is no exception. The event will be getting two new houses, leaving five to return. But the mix is being shaken up just a little bit more this year.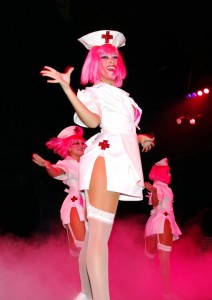 The oldest part of Howl O Scream has been with the park since it's opening. Since Fiends made it's debut at the very first Howl O Scream Dr. Freakenstein, Igor and the sexy pink hair nurses have brought the monsters out to an exclusive party. This year the party is moving to  a new location.
The traditional place for Fiends has been in the Stanleyville theater, but according to the official Howl O Scream twitter account, HOSInsider says that Dr. Freakenstein is moving to a new home.
THIS JUST IN: We all knew that the famous (infamous?) Fiends show is back, but for 2012, it's MOVING TO DESERT GRILL!
That's a pretty big move. The Desert Grill is traditionally home to another show, a show that changes from year to year. Many are taking this as a blessing, the new venue means air conditioning and a chance to get some food. Desert Grill is the home of Fright Feast as well, which will give those who pay for the all you can eat buffet an old favorite to watch while they wait. Why the change? No reason is given, but chances are it has something to do with the first ever ChristmasTown which will make it's debut in November this year. The Stanleyville theater is going to be used for the event, and it's possible that the change over time needed just isn't enough. So what about that second show? Don't fret just yet, there will be a new show…just not your traditional, average show.
No plans for Stanleyville Theater, but details still to come on a street show in SheiKra Plaza.
There you have it, tweeted directly to us from HOSInsider.
The show change is the latest in a series of Twitter announcements from HOSInsider. Already for this season the Insider has listed the houses, and a few different ideas for scare zones, as well as teased the new Icon.
House lineup:
Alone (returning)
Zombie Mortuary(returning)
Nevermore (returning)
Vampire Casino(returning with flashlights)
Nightshade Toys (returning)
Blood Asylum
Circus of Superstition 3D
A new scarezone will feature favorite characters from the past 13 years of HOS and possibly old icons as well.
For more information about Howl O Scream at Busch Gardens Tampa, visit the official website!