A flying elephant? Check. A daredevil acrobat? Check. A train full of circus animals? Check. The only thing missing from Walt Disney World's Storybook Circus is the sideshow! It appears that Pete will bring that to town next when "Pete's Silly Sideshow" makes it's debut later this year as part of the New Fantasyland.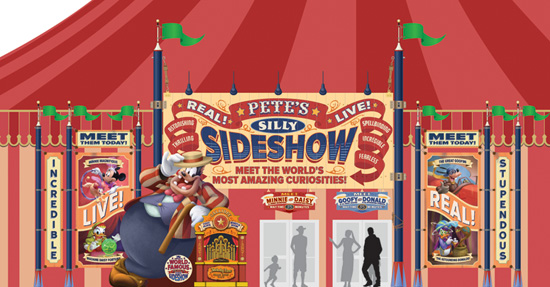 The official Disney Parks Blog has all the details, and tons of pictures about the all new addition which is expected to open later this year. Circus tents have been going up all around Storybook Circus, and they will house the Silly Sideshow. The area will be a meet and greet for tons of characters like Minnie, Daisy, Donald, and of course, the Great Goofini. Mickey will still be available at Town Square Theater on Main Street U.S.A.
As for the rest of the gang, they will be dressed in their circus best as different performers in the Greatest Show on Earth!
Mickey Magnifique-Minnie Mouse will be appearing as an animal trainer
Daisy Fortuna-Daisy Duck will be appearing as an all knowing Fortune Teller
The Astounding Donaldo- Donald Duck will appear as an awe inspiring snake charmer
The Great Goofini-Goofy will be appearing as the all around stunt man extraordinaire, The Great Goofini!
Just like the current Mickey Mouse and Princess meet and greets, the area is expected to be heavily detailed and will most likely have Fastpass.
For more information, including tickets, visit the official website!