Silver Dollar City has been quietly building a coaster all year in the Branson Missouri theme park. The wooden skeleton has stretched over the horizon, and made it's way on to the radar of all coaster enthusiasts in the world. Earlier today, Silver Dollar City finally released the details..officially about their newest coaster, and it's one that will make all coaster riders drool. Outlaw Run will make it's debut at the park in 2013, and it's not only a gang of outlaws that you have to face, it's the most unique wooden coaster built to date.
While this sounds like it will be a run of the mill roller coaster, it's going to break some records that no other coaster has done before. It will be only the second wooden coaster in the world to have an inversion (that's a part of the coaster that goes upside down). Son of Beast first tried it in 2000 with a wooden coaster, it didn't work out so well. The coaster, which is now being demolished at Kings Island, had only one loop which was removed in 2006 after an accident.
This coaster will not only attempt an inversion, but it's going to take riders upside down three times, including a double barrel roll, something that has never been done on a wooden coaster. But that's not where the fun ends.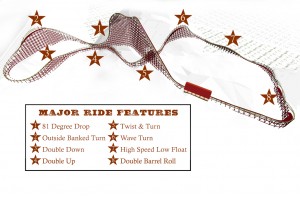 The coaster will be the steepest coaster in the world with a very sharp 81 degree, nearly straight down drop. The coaster will clock in at 68 mph, and will have the worlds first outside banking turn.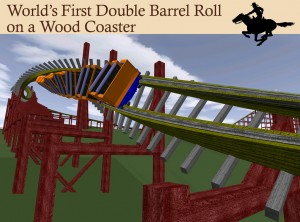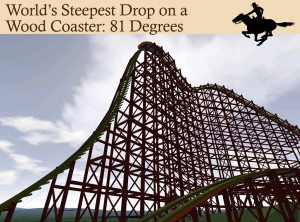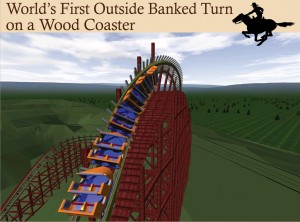 The coaster is being built by American Company Rocky Mountain Construction Group and is a hybrid wood-steel coaster much like the recently rehabbed Texas Giant coaster. That coaster has a metal support structure with a wooden frame and track layout. The coaster will use the natural hillside to have a hill of about 100 feet, and a drop of 162 feet tall. The track will be about 2,937 feet long.
httpvh://youtu.be/2bhPPJrSOdk
No word on the harnesses yet, but by the looks of the concept art and video, it looks like it will have just lapbars. Talk about an intense experience! The coaster is expected to open sometime next year.
For more information, visit the official Silver Dollar City website!