2012 was an unprecedented year for Six Flags parks when they rolled out more attractions, coasters and shows for 2012 than any other year in the amusement park chain's history. This year, they aren't letting up with a huge early morning announcement that lined up the entire 2013 season for every Six Flags park in the world. While the amount of coasters has been scaled back, the amount of fun and thrills seems to be amped up to six…flags.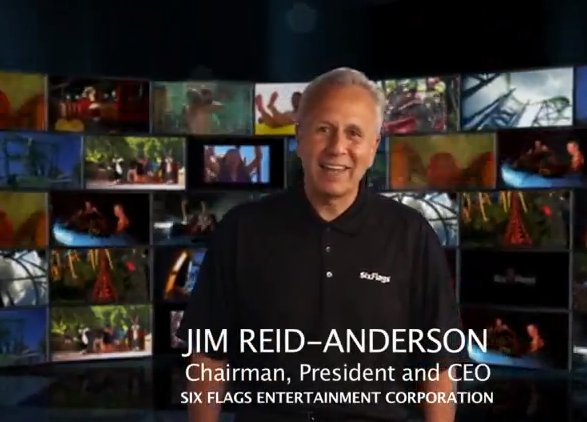 Jim Reid-Anderson, President and CEO of Six Flags Entertainment Corporation introduced the all new attractions in a 12 minute long video, posted first on the official Six Flags corporate Facebook Page.
Here's the full rundown of new attractions, coming in 2013 to Six Flags parks:

Six Flags Great America-IGNight:The Grand Finale- Guests will want to stay late at Great America as the park offers a state of the art night time show using water, lights, music and of course fireworks. More Information

Six Flags St. Louis-Boomerang:Guests will be pulled 125 up, backwards and released into a twisting track that goes through five inversions before climbing a second lift hill and being launched right back through it all again, backwards. More information

Six Flags Fiesta Texas-Iron Rattler: After the success of the huge refurbishment that the Texas Giant underwent at Six Flags over Texas, Six Flags Fiesta Texas in San Antonio is following suit and pulling the stops out on it's own wooden monster, Rattler. The coaster closed earlier this year, and will get a metal make over as it gets taller, steeper, and will take riders upside down! More information
httpvh://youtu.be/-1Ey4k6lN44
Six Flags Over Georgia-SkyScreamer: The Atlanta Six Flags will be getting the over 200 foot tall swing that is already at many Six Flags parks. More information
Six Flags WhiteWater-Typhoon Twister:Georgia's Six Flags waterpark will be getting the first multi-person bowl slide in the state with Typhoon Twister. More information 
Six Flags Great Escape-Screamin Eagles: Great Escape will be getting an all new classic flat ride that swings riders above. More information

Six Flags Great Adventure-Safari Off Road Adventure:The drive through safari will close and the animal park will become a regular attraction at the amusement park. Guests will be able to see, pet and even feed over 1200 animals in this new take on a classic favorite. More information
Hurricane Harbor, Great Adventure-Big Wave Racer: An all new racing mat slide that will let guests race down hills, twists and turns. More information

Six Flags over Texas-Texas SkyScreamer:Six Flags Over Texas gets the standard SkyScreamer swing that's been featured in many of their parks. This time, it's in Texas, which means you gotta go big. Texas SkyScreamer will be over 400 feet tall, making it the tallest swing ride in the world. More information
Six Flags Hurricane Harbor-Black Hole of Doom 4D:The popular dark waterslide will be getting an all new makeover with special effects, and digital screens to make the experience even more out of this world. More information
Hurricane Harbor at Six Flags New England and America-Bonzai Pipelines:These two parks will be getting an all new freefall drop waterslide that literally drops riders into the slide for a breathtaking ride. More information
La Ronde-Aqua Twist:The Canadian park will be getting an all new Water Battle ride
Six Flags Mexico-Festival del Terror:For the first time ever, the Mexican park will be celebrating Halloween with their own Fright Fest

Six Flags Discovery Kingdom-Cirque Dreams Splashtastic:The revered acrobatic skills and theatrical flair of Cirque Dreams will be combined with dolphins and water as Splashtastic opens at Discovery Kingdom. This is a first for any Six Flags park. More information

 Six Flags Magic Mountain-Full Throttle:The roller coaster capital of the world, Magic Mountain will be adding it's 18th coaster with Full Throttle. It will be a multi launch coaster with three distinct launches, and sounds insane. The first launch will shoot riders out at 70 mph and into the tallest loop in the world at 160 feet. Then you dive down into a dive loop into an underground tunnel. Then you'll be launched again…backwards back into the dive loop and launched back out and OVER the outside of the 160 foot tall loop. It's a record breaking top hat. The coaster will use the mountainous terrain of the park, and will be a first of it's kind anywhere. More information
httpvh://youtu.be/OzZcHQT_q58
Want more? Watch the full reveal video from CEO Jim Reid-Anderson:
httpvh://youtu.be/cMmlxJzuOM0
While the chain isn't rolling out the same number of coasters, what they are rolling out is certainly impressive. The crown jewel definitely seems to be Full Throttle, with many new elements and a huge promise of firsts to many coaster fans! What do you think of the announcements? Let us know in the comments below!
For more information, visit the official Six Flags website!