Busch Gardens Williamsburg released almost all of the gory details for their 14th annual Howl-o-Scream event. The Lady of the Gardens will return on September 14th to show off the Dark Side of the Gardens. She has also helped to create a new maze that will make it's debut this year. Of course, she is not ready to release details on the new house just yet, but sources say she has been spending a lot of time in the green house.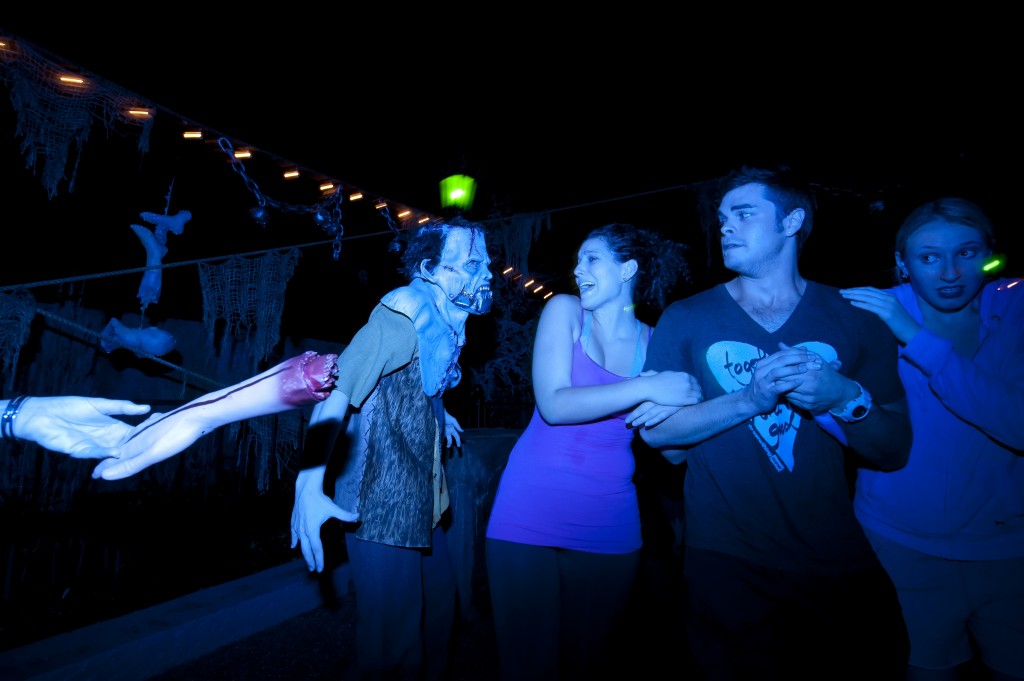 Here's this year's Howl-o-Scream line up:
SHOWS

FIENDS (Abbey Stone Theatre in Ireland): The wacky doctor and his manic nurses are creating the ultimate Fiend, and there's not a bad seat in the lab.  The voltage is high, and so is the fun as they sing, dance and bring you along on the operation of a lifetime.

NEW!

DIG IT UP (Il Teatro di San Marco in Italy): Relics long forgotten and buried in the vaults of the Muse di San Marco have recently been dug up, dusted off and brought to life through song.  Cavemen, Egyptians, Romans, and even an alien encounter make their musical debut in this eclectic energy packed anything goes at Halloween show.
TBD – A new show in Das Festhaus: Details coming soon. 

MAZES

CATACOMBS: Through a ruined cemetery filled with statues lies a tunnel that leads to an underground city. Its history is more terrifying than that of France's worst revolutions. Deep within these tunnels lie mile after mile of bones—the final resting place for those who are buried here. But all is not as quiet as it appears. As guests venture forth into the dank, dripping corridors of rat infested remains, the voices of the dead begin to speak, and some have taken shape.
DEAD LINE: Deep underground, construction of the newest line of the Pompeii Metro was moving smoothly until an ancient pipe was accidentally struck. At first, it seemed like steam. Then the mist became thicker, more sinister. Now the strange gas is leaking quickly, and everyone trapped inside is infected. The difficult decision was made to cut off all communication to the outside world. The Dead Line is off the grid.
BITTEN: Suspicion, darkness and mind-numbing fear surround the "Bitten" house which is set in Eastern Europe in the late 1800s. Full of legends and lore of vampires and the undead that preyed on the innocent, this manor sits by the road upon which all travelers must pass but few return.
13:  YOUR NUMBER'S UP: For 13 long years, the dark tower was locked away from the world—existing only in the nightmares of those who had dared to experience Howl-O-Scream's first and most terrifying maze. But now the seal has been broken. The tower is open once more and on the 13th floor, your darkest phobias and fears lurk in the shadows. Are you brave enough to face them or is your number up?
FEAR FAIR: On the dark outskirts of the Fair Grounds near Festa Italia, a traveling carnival is waiting under a stained and tattered big top. Lift the flaps of the tent and discover the macabre—a fantastic collection of freaks, psychotic clowns and other insane oddities that defy human explanation. Will your sides split with laughter? Or will you turn around and run for your life? Either way, you'll quickly understand why this evil carnival is doomed to wander the Italian countryside … never stopping in the same village twice.
TBD – A new haunted maze: Details coming soon.
In order to provide more scares, thrills, and horror for guests, Busch Gardens Williamsburg has added one more weekend of fear. Howl-o-Scream runs from September 14th until October 28th on Fridays, Saturdays, and Sundays. No place is safe this year, as hoards of minions will roam the park feeding off the fear of visitors.
Howl-o-Scream is included with park admission to Busch Gardens Wililamsburg. The park is offering a "Fall Fun Card", which is the same price as a single day's admission to the park and is valid from September 8th until October 28th. It does not include parking, but it's valid for unlimited admission to Howl-o-Scream.
For more information about Howl-o-Scream, visit the official website.