It's August in Florida, and there's a tropical system heading towards Florida. It's honestly not that big of an ordeal, but for those in Florida hoping to squeeze just a few more drops of theme park goodness into your vacation, some of your plans may be squashed. Parks across Central Florida have suspended certain programs, and in some cases have closed altogether. We run down the list of what's closed and not, and how you can have fun in even the wettest of weather.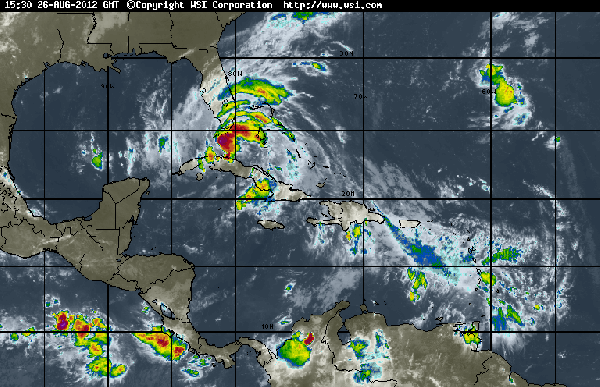 While theme parks are very concerned about the safety of their guests and employees, not very many close for heavy rains, and winds unless it will directly impact safety concerns.
Here's a list of parks and attraction closings for Monday, August 27th 2012:
Blizzard Beach at Walt Disney World is closed
Winter Summerland Mini Golf at Walt Disney World is closed
Aquatica at SeaWorld Orlando is closed
Dine with Shamu at SeaWorld Orlando will be closed today
SeaWorld Orlando will be closing early at 4p.m.
Legoland Florida Waterpark will be closed
Legoland Florida will close at 5pm
Busch Gardens Tampa will be closed
We will update the list as more parks make announcements, and will keep you informed if parks continue to have closures on Tuesday. Tropical Storm Isaac has moved into the Gulf of Mexico, and is heading towards Louisiana. However, Florida will continue to feel wind and rains from the storm.
With all the wind and rain, the question becomes "Should we chance a trip?"
The short answer? Yes! While it is raining, and some attractions will be closed, the majority of people feel the same way you do and will stay home, or seek alternative indoor activities.
Here's some tips on how you can enjoy parks in the rain:
Take a poncho-Poncho's are full body raincoats. They keep the majority of your clothes dry and you can take them on rides
Wear flip flops or sandals-If you wear sneakers, or closed toe shoes, expect to walk around with wet feet all day
Ride closures-Some rides may be down due to lightning and strong winds. Check signs at the front of the park before making plans. Coasters generally tend to stop operation if lightning is within 30 miles of a park, and the rule of thumb is that you should remain indoors for 30 minutes after the last lightning flash
Shows and indoor attractions-Parks like Magic Kingdom, and Universal Studios have a huge array of shows, and indoor rides. Head to those parks, and wait for the shows
Eat often-Find a nice restaurant to settle down in and wait out the storm
Watch the feeder bands-Feeder bands are the strips of storms that swirl around the center of a storm. They will provide a few minutes of drenching rain, wind and possible lightning, but will also give you breaks inbetween
Be safe-Take your time in the rain. Watch for slick surfaces and just enjoy the light crowds! If things get too bad, leave and come back later.
Stay tuned here for the latest information about theme park closures in Central Florida.