Busch Gardens Williamsburg hosted a pass member appreciation breakfast this morning in Das Festhaus, which is located in the Oktoberfest section of the park. During today's breakfast, pass members packed into the Festhaus to hear details for the rest of this year's events, plus what will be coming to the park in 2013.
Howl-o-Scream
Howl-o-Scream will be kicking off at the park in a little more than a week. You can read full details on this year's event by clicking here. This year features six haunted mazes, three shows, and several fun frightening features that are sure to give you chills. Busch Gardens also stated Monster Stomp would be gone for two years. However, they have two brand new shows this year: Dig It Up and Night Beats.
Howl-o-Scream runs on from September 14th until October 28th on select nights. For more information, visit the Howl-o-Scream website.
Christmas Town
New this year will be Retro Lane. Retro Lane will be located in the Festa Italia section of the park. Retro Lane celebrates the sights, sounds, and nostalgic good cheer of a vintage Americana Christmas that has come to life. The addition of Retro Lane will add one more million lights to Christmas Town, which will twinkle this winter with more than six million lights in the park.
Christmas Town runs from November 23rd until December 31st on select nights. For more information, visit the Christmas Town website.
Food Festival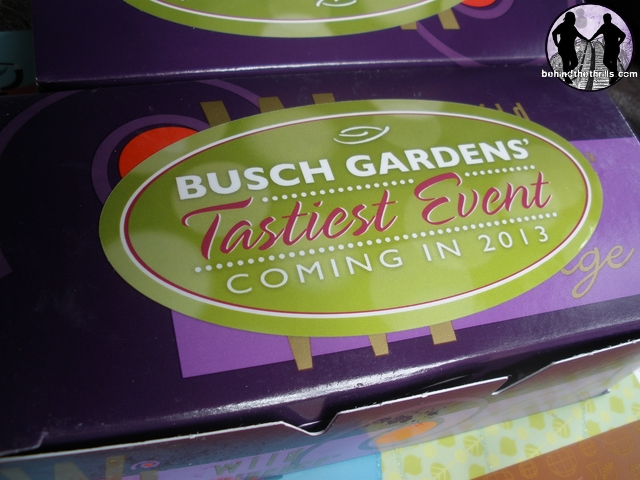 New in 2013 will be a food festival. The festival has yet to be named, but it will bring special foods and beverages to the park that are not normally found at Busch Gardens. Guests will be able to sample authentic tastes of Europe within the park. More details will be announced soon, so stay tuned for details.
Sounds to me they will be doing something similar to Epcot's Food and Wine Festival, with specifically a European twist to fit in with the park's theme. Our readers have also voted Busch Gardens Williamsburg to be the number one theme park food destination in our annual Thrill Weekly Awards. The park has always been known for stellar culinary and a wide variety of choices in the park.
For more information about Busch Gardens Williamsburg, visit the official website.