One of the top films on many fans lists this fall is the Tim Burton directed Frankenweenie. The film is actually a remake of a short film Burton did many years ago, and tells the story of a boy named Victor who's dog Sparky is run over by a car. Victor wishes that he could bring his dog back, and that's exactly what he does. This time around, the film is a feature length film and has been done in stop motion animation, just like the family favorite "The Nightmare Before Christmas".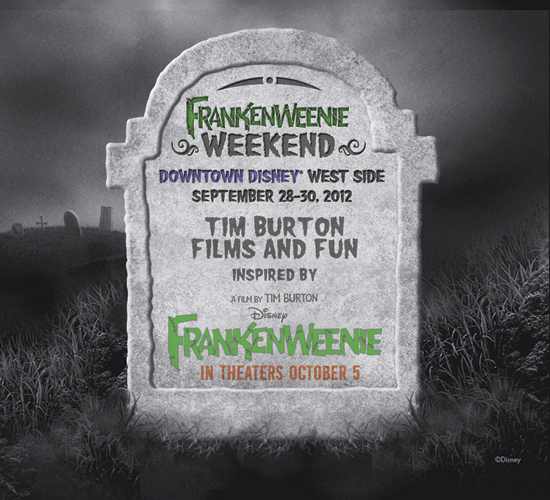 Downtown Disney Westside at Walt Disney World resort will play host this weekend to Frankenweenie Weekend to celebrate the upcoming Tim Burton film. According to Disney Parks Blog the event will feature screenings of two other Disney related Tim Burton films, Alice in Wonderland and Nightmare Before Christmas. Each film will feature an extended look at Frankenweenie which opens in theaters October 5th.
If you want to check out some Frankenweenie action without going to the movies, you can check out some of the other Frankenweenie activities happening at Downtown Disney each night of Frankenweenie weekend including the first ever appearance of Jack and Sally from Nightmare Before Christmas at Walt Disney World. The two are staples at Disneyland in California and even appear in Haunted Mansion Holiday.
Here's a rundown of activities:
New Holland Pet Cemetery picture spot presented by HGTV and inspired by "Frankenweenie"
First Walt Disney World meet and greet with Jack & Sally from "The Nightmare Before Christmas"
"Frankenweenie"-inspired merchandise at D-Street
Special treats and beverages including Franken Fusion Lemonade, Frankenweenie hot dogs and more