Haunt season is getting into full swing now. Maybe haunts have already started, but many are just about to kick off their opening weekend. Kings Dominion is no exception, as they will be kicking off their haunt event, Halloween Haunt, beginning this Friday, September 28th.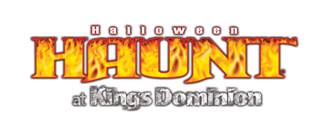 Halloween Haunt runs every Friday, Saturday, and Sunday from September 28th until October 28th with the exception of Sunday, September 30th. Guests are invited to dress up like zombies and make their way out to the park to officially kick of Halloween Haunt, beginning at 6pm. Anyone interested in attending can find more information about the Zombie Invasion by clicking here.
Kings Dominion's 2012 Halloween Haunt Line-Up:
Mazes:
BLUE RIDGE BLOODBATH
CAMP KILLAUEE
CLUB BLOOD
CORNSTALKERS
DOLL FACTORY

NEW!

NO VACANCY
OUTBREAK: THE EVOLUTION
SLAUGHTER HOUSE
TOXIC PLAGUE
Scarezones:
NEW!

CLEAVER BROTHERS CARNIVAL
FEARY TALES
IRONWORX
NECROPOLIS

NEW!

PRIMEVIL: THE KURU CURSE
THE LAIR
Shows:
BLOOD DRUMS
HAUNTED HOUSE
OVERLORD'S RESURRECTION
THE MOB
THE NIGHTSHIFT
UPRISING
This year's haunt will feature more than 450 monsters, 10 haunted mazes, 6 scarezones, 6 shows, and more than 20 thrill rides in the dark.
"Every year Halloween Haunt at Kings Dominion gets bigger and the fear continues to grow, providing our guests with the best Halloween scare in the region," said Kings Dominion Vice President and General Manager Pat Jones. "I can promise our guests this year there's more to fear."
Kings Dominion will also be offering a program similar to Fast Lane for Halloween Haunt, called Fright Lane. Pricing for Fright Lane starts at $25 and includes front of the line access to the haunted mazes.
For more tickets or more information about Halloween Haunt at Kings Dominion, visit the official website.