Howl O Scream at Busch Gardens Tampa opened this weekend for their "Freaky Preview" and showcases another year in "The Dark side of the gardens" with Trickster calling the shots. This year Howl O Scream turns the unlucky 13 and brings with it two new houses, two new  "mini shows" a change in venue for it's longest running show, and an all new scare zone showcasing years past. The past has come back to haunt Howl O Scream, and this year it's haunting you.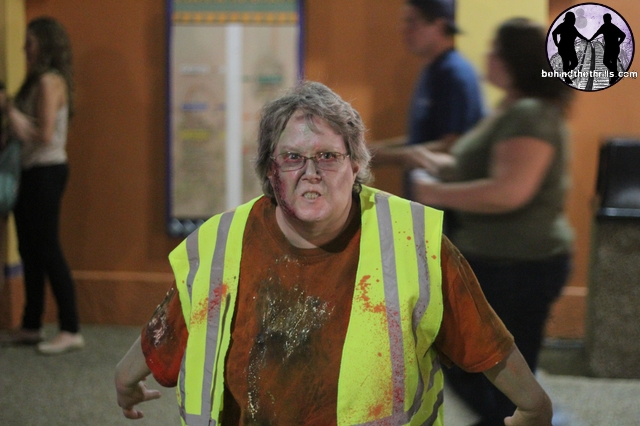 Before the event kicked off on Friday, we were invited out to check out the all new Blood Asylum with Scream Cam. Our reporters Greg and Joey went out to check it out, and after a few minutes of debate Greg strapped on the cam. Joey would have been funnier, because when we tends to get startled, the swearing starts…and the waiver seemed to be against swearing.
httpvh://www.youtube.com/watch?v=e86Fu-FG0Gw
That was only half of the house! Can you handle all of it?
Blood Asylum was just one of two new houses at Howl O Scream this year, which has a total of six houses included with admission. Also returning again is Alone, this is the upcharge house that you pay an additional fee for to go in…Alone. This year the price of Alone is $50 dollars, and is not included with admission. Admission is required to experience Alone.
So what about the houses? We'll go down the list of houses and talk a little about what you'll see, and maybe some of what to expect. I'll remain spoiler free, and save my judgments for the end of the article.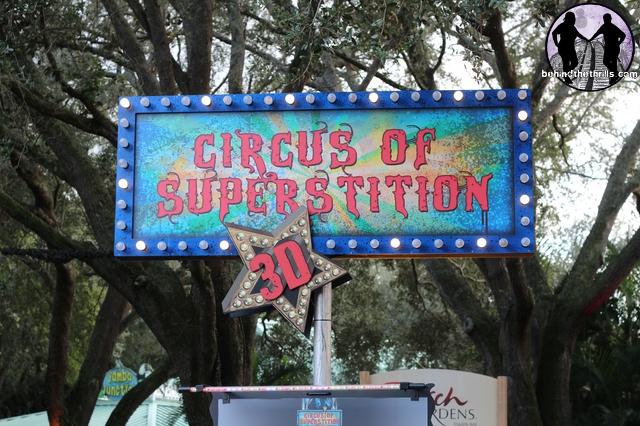 Circus of Superstition 3D-This house tempts the boundaries of the superstitious right off the bat by making you walk under a ladder. Once you're inside the big top (yes, the house is a giant circus tent) your senses are assaulted by tons of neon colors, noises and clowns as you don 3D glasses to go through this house with a classic funhouse feel to it. Each room has something to do with a different superstition.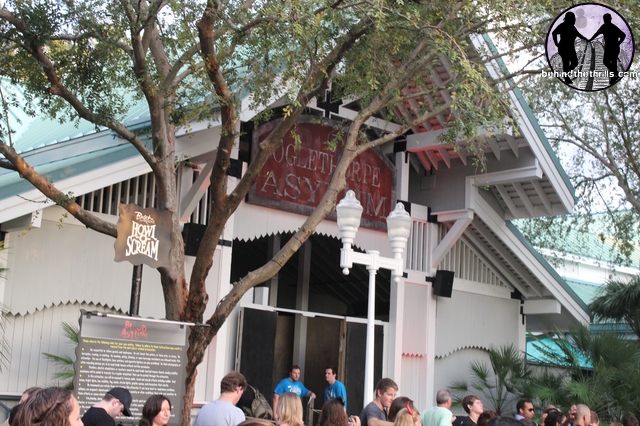 Blood Asylum-The Beast is loose in Oglethorpe Asylum and is ripping off his victims faces. Other inmates are loose as well, and are wreaking havoc on the visitors. You enter through a waiting room, and go through different parts of the hospital, from doctors offices and waiting rooms, to surgery rooms and freezers. You see a lot of different residents in various stages of madness.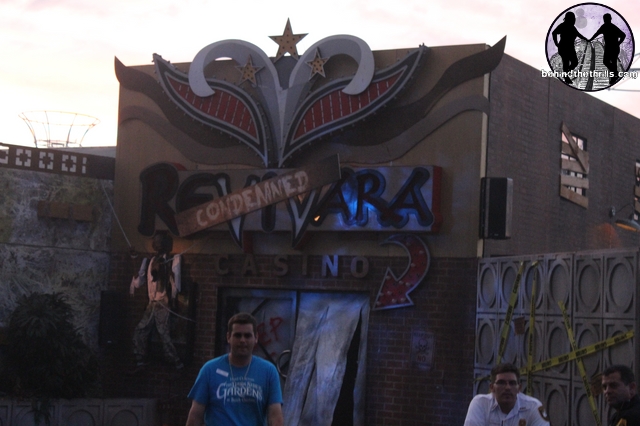 Ultimate Gamble:Condemned-Once known as "Vampire Casino" the property has now been condemned and a lair for the rumored Vegas Vampires. Only a few brave souls venture in with flashlights, though none venture out. All the glitz and glam from last year's returning favorite has been turned off. Instead of the gleam of slot machines, we get the glare of flashlights as you make your way through a maze of vampires trying to lure you into their embrace. It's dark in there.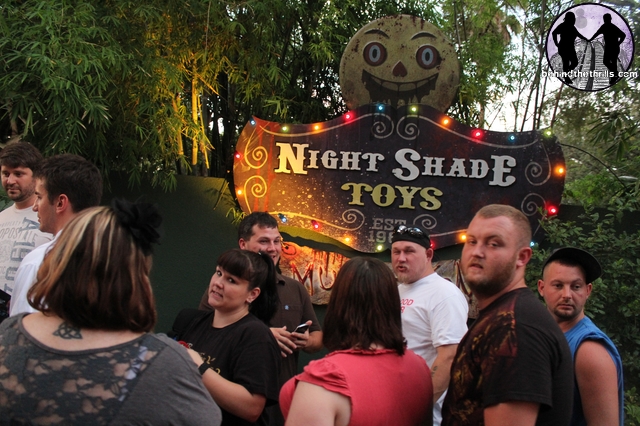 Nightshade Toy Factory:Mutation-Something has happened to the Nightshade Toy Factory. What was once a place for the demented toys to come to life is now a place for humans to be eaten by demented toys. A leak at the nearby nuclear facility has covered everything in glowing green slime. All your favorite pieces are here, from the giant bears to Tina Tinkle (she's gonna get ya!) all the way down to the demented dolls.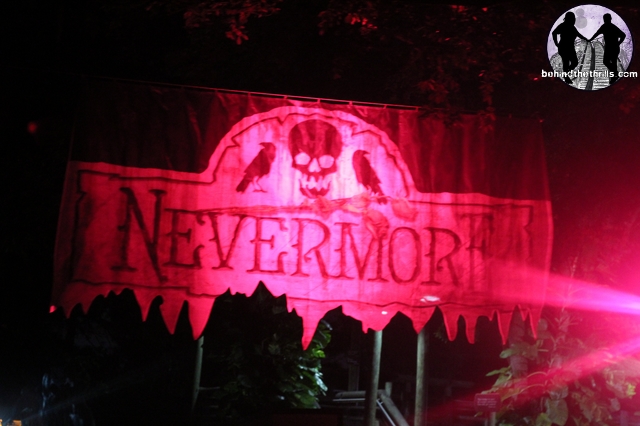 Nevermore-The tales of Edgar Allen Poe come to life, more than before. You now literally walk through the pages of the books, and hear the author reading aloud stories of love lost, terror and watch as key points of the story come life. The walls close in on you as pendulums swing overhead, and some recognizable characters come to life.
Zombie Mortuary-This place is zombified! Zombies walk through the halls as mourners are feasted upon by the recently deceased. Zombie dogs, a crematorium and a funeral are some of the scenes you'll experience as you walk in.
More from the houses:

Shows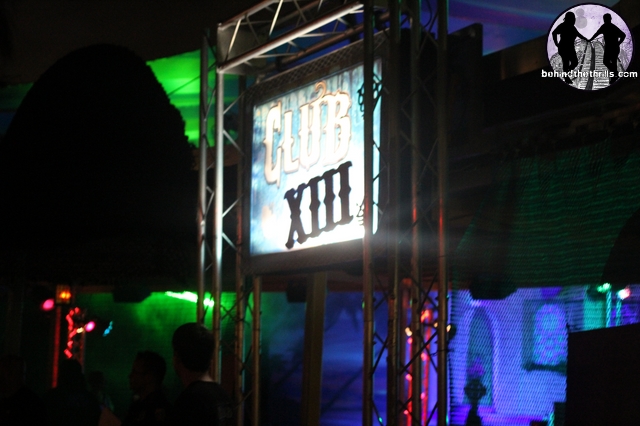 Instead of having the traditional space available for Fiends, the park has moved it to the Desert Grill. Apparently the theater is undergoing a transformation for the new Christmas Town coming later this year. In addition to Fiends, there are two mini-shows located in the park at different times. These shows are very informal, and though they are scheduled, tend to take people by surprise, be on the look out for them near Sheikra and Cheetah Hunt. Also returning is the club at the front of the park, this year called Club XIII which serves alcohol, and has a live DJ.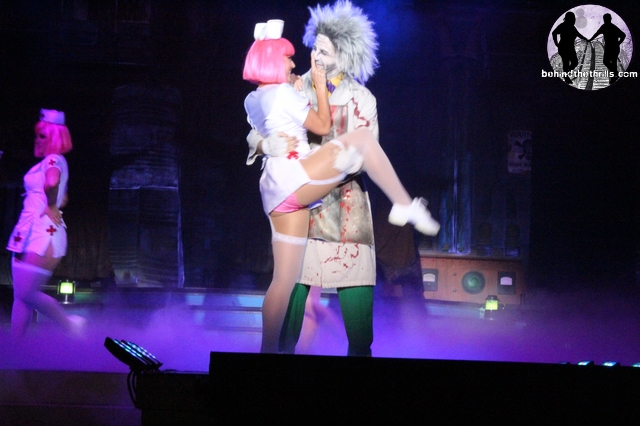 Fiends-The Notorious Dr. Freakenstein is in the middle of conducting an experiment. He's looking to build a monster that will be crowned king at the Monsters Ball. He has his foul mouthed perverted sidekick Igor and his army of hot pink haired nurses with big boobs to help. It's a musical show that throws little jabs at pop culture, and uses music from all over the decades.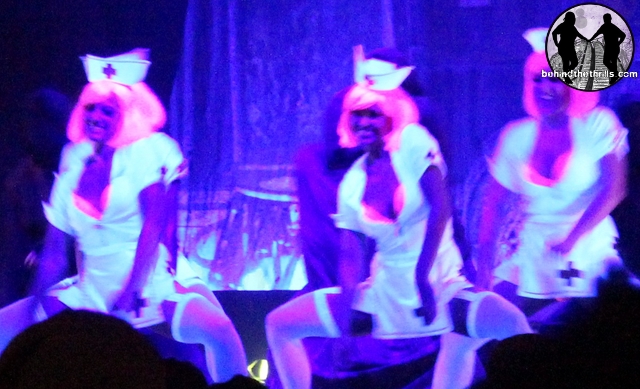 After 13 years, Fiends has undergone some major changes, the biggest of which being the location. Dr. Freakenstein and Igor are very aware of the surroundings, and very aware of the upcoming election. The show has undergone some pacing changes, and a few character upgrades, but the differences stop there. It's still the same old Fiends, with a lot of the same old music and changes from last year.
Scare zones
Traditionally in a haunted event like Howl O Scream, you have a large area of scare zones. They act like miniature houses with props and actors jumping out from spots to get the scares. Last year saw Busch Gardens try their hand at the roaming horde concept. This year that concept is back, and in full force. There seems to be more hordes, more frequently and more in the hordes. There also seems to be a really great variety of hordes which range from zombies, to caretakers, scare crows and steampunk cyborgs.They tend to stay around certain key places and stick around for about 20 minutes. Last year we had almost no experiences with the hordes, this year we had a bunch.
More from the Scare Zones:
Faded Memories-The one set designated scare zone is Faded Memories. It's a chronicle of the last 13 years at Howl O Scream. There are a lot of great props here, and tons of familiar characters for those who have been coming for quite some time. Sylvie and her superfans are there from MyX, Darkheart is there from Darkheart's Fear Fair. You even see an escaped patient from Escape From Insanity (the park's original asylum house). It's a fun romp through the past, though the number of actors could stand to be amped up a little bit.
More Faded Memories:
Horror is a very subjective topic. What you find scary, I may not. It's a phrase that rings true in haunt season every year. The same can be said about haunts, what you may be a fan of, I may not be. Such is the case of Howl O Scream. Quite honestly, I haven't been a fan of Howl O Scream since 2010, and we were actually debating not going to the event at all this year. Freaky Preview works out pretty good for us, passholders get free admission to the first weekend of Howl O Scream, so the only thing we really pay for is Fright Feast. So, reluctantly we booked our Fright Feast.
We were pleasantly surprised about the overall event this year. You set the pace with the first thing you see, and the first thing we saw was Fiends during Fright Feast. It had enough changed that we were able to enjoy it much more than previously. Then comes the haunted houses. I liked Circus of Superstition, it was bright and vibrant. Blood Asylum felt exactly like DeConstruction last year. Nightshade Toys boiled down to the  actors, and the flashlight gag in Ultimate Gamble was just enough to work…in fact it was enough to send us through it twice. Nevermore felt as if it borrowed from another poet themed house from last year…but that's not a knock against it. Quite the contrary, it worked in a very positive way for the house and made it quite different than previous years.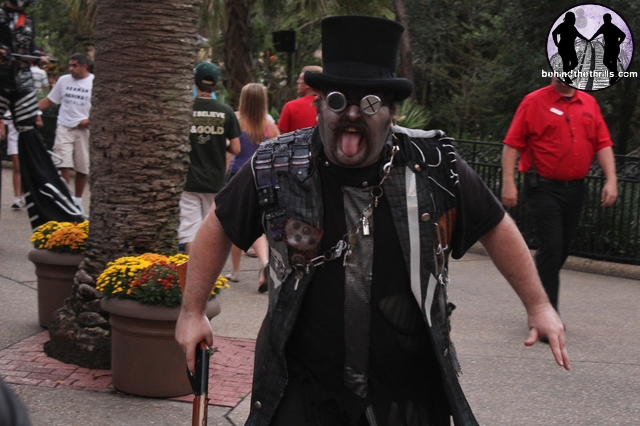 The scare zones were the most surprising for me. Last year, as I said earlier, the scare zones were a misfire. This year, maybe it was timing, maybe it was an increase..it was a surefire hit. We were seeing tons of actors, and watching tons of scares. And Faded Memories was a fun walk down memory lane.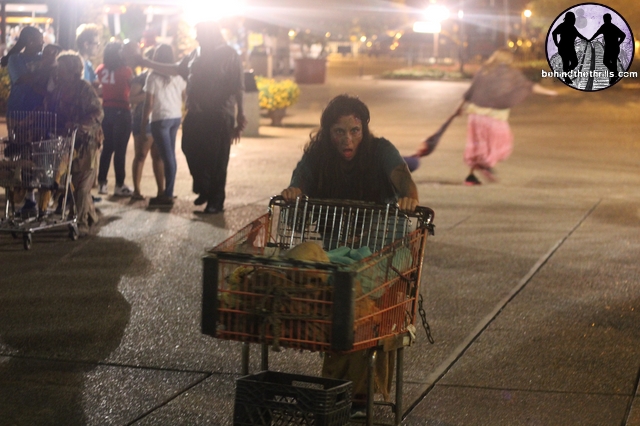 While the event was working out some kinks during "freaky preview' it worked more than it missed. Let's hope next year they change out even more, and step up to the potential that this event has. That's what makes it frustrating! You can see it there shining below the surface. The biggest example is with "Trickster" who looks like he could be a lot of fun…yet he's nowhere to be seen in the park, and if he is…we missed him. What's the fun of an Icon if he has no story to tell, and no havoc to wreak! The actors, as always, were dead on point and brought so much energy to the roles they were provided. For me personally, the event is turning into an every other year event. If there's nothing that grabs my attention (this year the only thing that did was Ultimate Gamble), I'll wait to see it the following year, simply because I know it will be there again. Again, a personal opinion.
The event runs from now until October 27th on select Thursday,Friday and Saturday nights. That is a very limited time. So how do you get the most out of your visit to Howl O Scream? Here are a few tips to help you get the most scares and see most of the event.
Find a babysitter-While Howl O Scream isn't as intense as some other events, the actors do not let up just because a kid is scared. We recommend no kids under 12, but each child is different.
Fright Feast-We mentioned Fright Feast briefly, but it's worth talking about more. For roughly $25 dollars you get a meal, a chance to watch Fiends and you get released into the park 30 minutes before everyone else. You also get to skip the line until 8:30 which gives you ample time to see the houses
New Houses first-Do the whole event in a big circle, with the new houses first. Then go in order from there. Mostly everyone heads to the closest house (which is Zombie Mortuary) this gives you a chance to see the houses ALONE…see what I did there?
Coasters last-The coasters in the dark is a great temptation, but the coaster will tend to empty out at the end of the night, while the houses get busier as the night goes on.
Go during the week-If you go on Thursday or Friday nights, the park tends to be a little less crowded than on Saturdays. Most people have school and work on Friday, so they can't get out to the park in enough time
Tours-VIP Tours, while extremely expensive, are the best way to see absolutely everything at the event. You get to skip all the lines and have no wait at all, reserved seating at shows and in some cases front of the line access to the coasters as well.
If you haven't gone…GO-Plain and simple, if you haven't gone, you'll absolutely love it. It's new, Busch Gardens does it well, and the lines are usually shorter than other haunted events.
For more information, visit the official Howl O Scream website!