Greetings…you may call me…Keeper, for I am the keeper of theme park tales. I love theme parks. But what I love even more than theme parks are small attractions. The phrase "tourist trap" comes to mind but that has negative connotations. When I say tourist trap it's only with love and affection. I'm the Goof in The Goofy Movie dragging the Mrs and daughter from Chester's Possum Park to the biggest ball of string while they pretend to be interested. Myrtle Beach, SC…4 hours closer, less country music, and the same type of collection of attractions. In some cases different branches of the same very attractions in Pigeon Forge.The Mrs. agreed and we find ourselves ready to head out for our first out of state family adventure in over 20 years.  We further decided that to counter the long drive after a grueling vacation schedule we will make a stop off in Savannah, GA for a night on the way home and possibly squeeze in some southern cookin' and historical touring to cap off our adventure. The challenges for our adventure…the drive, a very short stay, no fully developed goals, and the biggest going to a beach town in peak season when I'm not even a beach goer. I suspect the girls may take a beach detour at some point while I chase down the biggest glob of silly putty or longest railroad spike or some other perceived treasure to add to my journey of adventure. The fun part on this journey is, you get to tag along too. Although reporting on everything will be impossible due to time constraints I plan on sending "postcards" of my mini-adventures so you can enjoy and discover along with us. As always, I will call em as I see em, the good and the bad along the way to give a flavor of an "away from the big boys" kinda trip. Whether the trip succeeds or fails remains to be seen but I imagine we have many adventures awaiting us, and as you know the journey to adventure is part of the fun cause….

Our trip to Myrtle Beach was jammed full yet there always seemed to be more to see. There were many non-dinner show theater options but most seemed to lean towards country music which does nothing for us. We did find two promising options that we squeezed in. At the Palace Theatre near Broadway at the Beach we discovered Le Grand Cirque.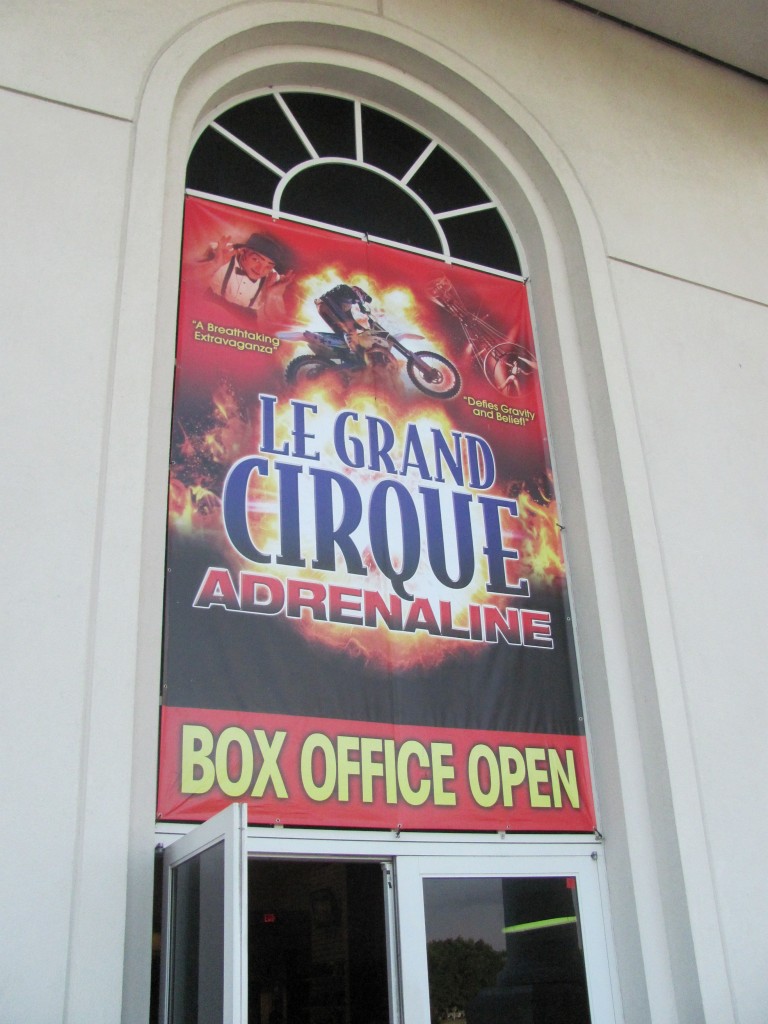 A neat Cirque du Soleil–type of show that shared the theater with other, more mundane offerings. No where near the high tech of a Vegas Cirque show but what they lost in glitz they made up for in the energy of the talented performers. As usual, in these shows, the clown is not only your guide but steals the show from the other stars. It's a great high energy show good for the entire family.
About a 30 minute ride away is The Grand Theater in Surfside Beach right over the MB line. There we were lucky enough to catch the premiere of Grand Illusions starring Brandon Wagster and Hannah Lynne. This was a full length illusion show that feature fast-paced magic themed in various scenes that featured the two stars. They ran the gambit from serious; to mysterious, to romantic, to comical yet each one had a magical element to it. The two young stars put on a great show and we were pleased we got to catch its first performance in this classy looking venue.
The major Ripley attraction in MB is also housed in the Broadway at the Beach complex. The Ripley Aquarium was advertised as being South Carolinas most visited attraction but like the rest of Ripley's offerings in town left us feeling like something was missing. This sparkling clean and high-tech looking building was plagued with the same issue that the older beachfront Ripley attractions were —lack of air conditioning. They had a neat covered tunnel with moving walkway not unlike Sea World shark exhibit that took you thru the big tank. It was maybe 3 times as long as the Sea World version but the heat in this tunnel was so bad I expected to see someone pass out from it. Add another 50-100 bodies watching the mermaid show in a small viewing area that fed off the tube and the sea of people made the experience even worse. We could not enjoy what should have been the highlight of this aquarium. In addition to the underwater areas and tanks you would expect to see they had a special exhibit of animatronics dinosaurs. It looked like a traveling exhibit that goes to various museums. It was small and seemed very basic to me but the crowd seemed to love it. I spent most of my time trying to figure out what it was doing in an aquarium.
Outside of Ripley's was one of the unexpected gems of our trip, watching a guy ride a mechanical shark. Just like the standard mechanical bull, but it was…a shark. A very surreal thing to watch right on the sidewalk outside of the aquarium. A few paces further on in this complex was the King Arthur fortune telling machine that looked like Art was recovering from a stroke. Bad glare on the glass but I tried to document it for your amusement. The Zoltar fortune teller was away from the elements in the magic shop so he still looked to be healthy, note the sign inside cautioning you not to wish to be big. Well played Zoltar, well played! The complex also has a Wonder Works which we did not visit along with numerable wacky stores. The high point for my daughter was the Kiss Coffeeshop. That's right, the only place on the planet where you can rock and roll all night and drink refreshing coffee-based cold drinks every day. We spent a lot of time here in addition to helping to contribute to Gene Simmon's retirement fund. Who am I to make fun of my daughter's bag of Kiss junk, I mean collectibles, since I had an equally big bag of wands and MagiQuest goodies we were lugging around. Another small surprise we experienced was stumbling upon a robot ice cream machine during our travels. It has since shown up at Orlando's Dave and Busters but I've included all its robotic goodness here for those that have not experienced it yet. Beware my friends, it's an early step to judgment day.
Near the beachside attractions was the Ripley's museum. If you've been to one of their other locations you know the experience. We can only compare it to Orlando, St Augustine and Key West and it was the least impressive of the four. A neat life sized figure of everyone's favorite lizardman was there but the crazy heat that was in all the Ripley beachside attractions took an average experience and moved to mediocre.
There was much more to see and do in Myrtle Beach, we saw a lot but missed more. I can see it easily being a relaxing, but full week of adventures and perhaps our plans will bring us back again.
Check out all my Myrtle Beach Adventures:

Every Day's An Adventure
Keeper