Universal Orlando pulled the curtain back early, just a little, to give media a glimpse at what's to come for guests at this year's Halloween Horror Nights. The creative team was on hand to talk about the rather unorthodox line up that makes up this year's haunted maze line up. However, Universal's team wasn't just going to talk about it, what fun is that? Instead of just talking about it..they showed us why this year, Once you're inside….there's no getting out!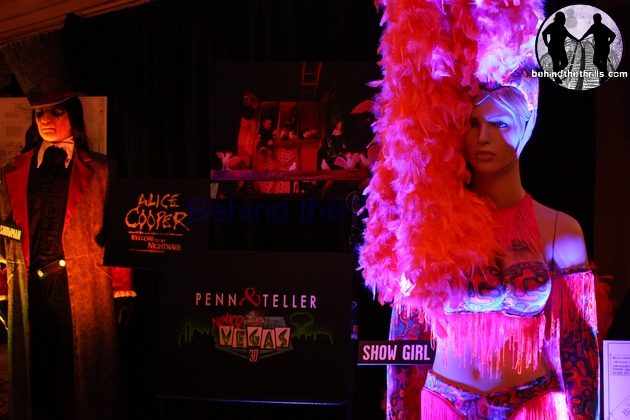 No, your eyes don't deceive you…that Show Girl has three boobs. It's one of the many different approaches to Halloween Horror Nights this year. From the crazy mayhem that is Penn&Teller Newk'd Las Vegas, all the way to AMC's The Walking Dead, this year is taking everything from movies to TV shows and for the first time ever…video games, and mashing them up. While hardcore fans are used to a general story that ties the entire event together, there will be none. While there's usually an Icon to tie that story together…this year an Icon is absent.
httpvh://www.youtube.com/watch?v=9DHiLyy2bU8&feature=plcp
"This icon this year is Halloween Horror Nights" says show director Mike Aiello "The content this year is so diverse, we're putting you the guests in the footsteps of all these great characters. The overall thematic is all this content that we're presenting, which is a big change this year from the normal structure."
httpvh://www.youtube.com/watch?v=xjb8uFVvuuk&feature=plcp
The event will have quite an impressive list of characters to pull from, each one with something special that makes it unique. From the rich storytelling, to familiar characters, and even original ideas, this year seems to have more for everyone (not just hardcore fans) than ever before. Here's the list of houses: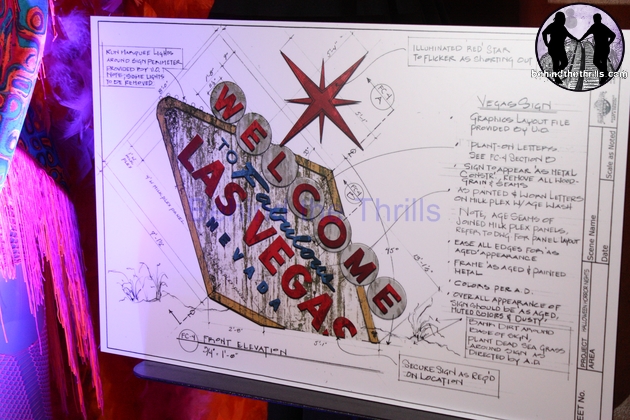 Penn&Teller Newk'd Las Vegas-Magicians Penn&Teller are known for pushing the envelope. They push the envelope with the classic trick of catching a bullet with your teeth…instead of a bullet they use and Intercontinental Ballistic Missile….and miss. What results is a hellish, but hilarious look at what would happen if Vegas were to be affected by radiation. Three boob showgirls are just the beginning. Spoiler-Penn&Teller will appear in the house every night…by way of special effects. One part in the house, however has been constructed so that it will pull away and on select nights Penn&Teller will actually appear!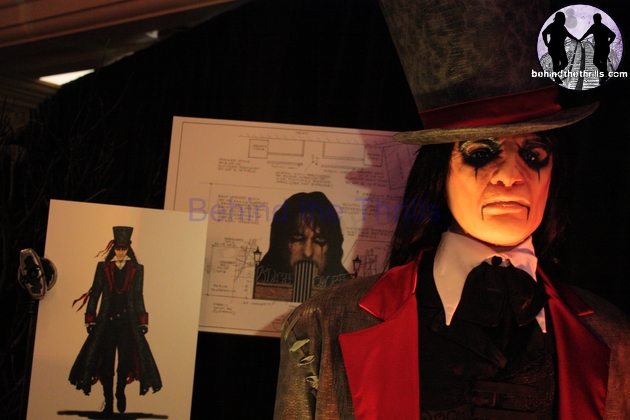 Alice Cooper's Welcome to My Nightmare-The music of Alice Cooper is meshed together to form the dream of our main character Stephen. The hellish images inspired by Cooper's music, including the man himself will make up the nightmare of this house.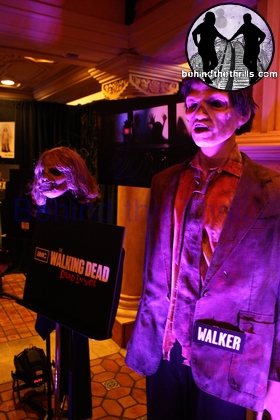 The Walking Dead-AMC's hit Television series about the world after a zombie apocalypse is a world ripe for turning into a haunted house. The characters, scenes, and of course zombies are here in full force. Then once you seemingly escape the house, you are funneled into the street….and right into a horde of zombies.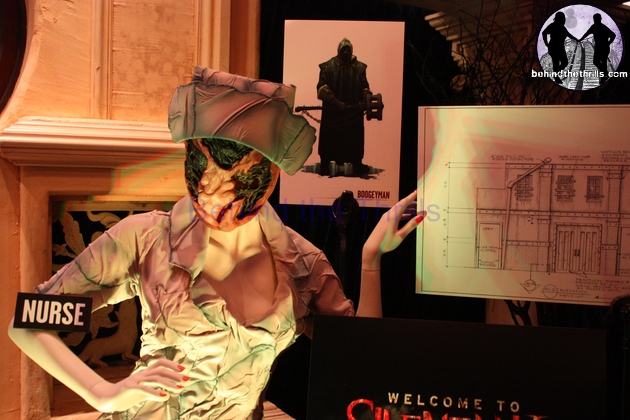 Welcome to Silent Hill-Based on the video game series…mostly…Silent Hill takes you to the town where hell comes to earth. The house will take the game series, and the film series and intertwine them into a horrific hell. Faceless nurses, Fog World, Pyramid Head, and the siren all play a major roll in scaring you to hell.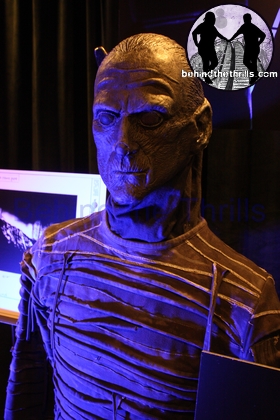 Universal's House of Horrors-Universal was built on monsters. They have a deep legacy that runs 100 years with film, so of course they have to pay homage to the very fathers of horror. House of Horrors will use technologies and techniques never before used at Horror Nights. You'll crawl through caves, go underwater with the Creature, and even explore curses with the Mummy. The entire house will also be in stunning "black and white"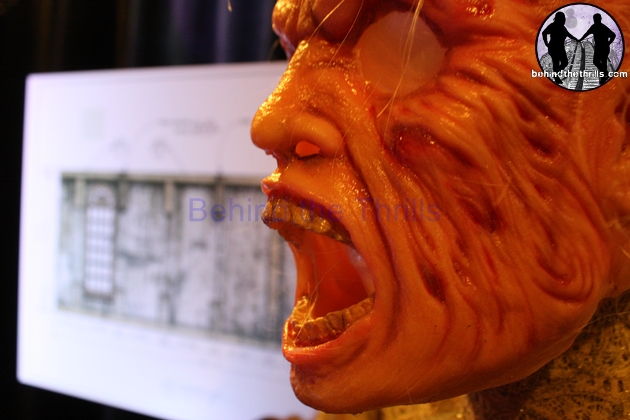 Dead End-The very real town of Carey Ohio has had a mythical past of terror with Halloween Horror Nights. There is a house at the end of the street that no one goes near. Rumor has it that very bad things happened there…and the dead still haunt it. Sometimes rumors persist so long that the rumors themselves call out an evil that never happened. This house will use oldest tricks in the book, as well as some unreal new techniques.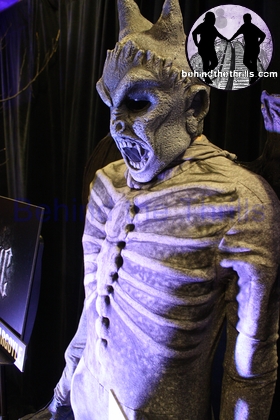 Gothic-By day the cathedral is under construction…at night it's protected. Bottom line, no one is supposed to be here. Gargoyles will come at you from above, from below and keep you from discovering what's really in this church. They are protectors. The only word we could get from everyone about this house was "Gorgeous".
Streets 
The street experience has been a favorite at Halloween Horror Nights for years. You see the area coming up, and you know where the ghouls could hide. They still get you, scaring you to your core….but this year they turn throw that concept away and introduce you to the "Legions of Horror". The legions are everywhere.
"Halloween Horror Nights is known for changing the game" says Art and Design Director TJ Mannarino "This year we went overboard. We want to make each time you visit a unique experience, and we've elevated our streets to a level we never have before."
httpvh://www.youtube.com/watch?v=cwZ5OEq3XFA&feature=plcp
"The legions will stray from the typical scare zones that guests have grown accustomed to" says show director Lora Wallace "they take paths that have never been gone down before by traditional creatures. They're going to be everywhere."
When we asked what she meant by everywhere…we were just given a cute smile (typical of Lora) "You'll just have to wait and see."
What can you expect from the legions? Vampires from all over the world and time will make the legion of vampires.  An all female chainsaw gang, a first ever, makes up the Legion of Prisoners. Dragon Warriors who are hungry for flesh make up the Legion of Warriors. Beasts are half man, half creature. Every traditional Halloween character from trick or treaters, witches and pumpkins make up the legion of Traditionals.
httpvh://www.youtube.com/watch?v=YA2LnF9nM04&feature=plcp
And what about those Walking Dead walkers?
"We have literally hundreds of people cast as walkers" says show director Patrick Braillard "You're going to see a horde of walkers at certain times completely surround you."
httpvh://www.youtube.com/watch?v=LN23xzMI0m4&feature=plcp
The Walking Dead isn't a legion…they are the walking dead…those poor souls that have died and now are back to feast on those walking in their way. You'll see familiar zombies from the hit show, you'll see a sea of walkers ambling towards you, and you'll have them in every which direction.
One of the challenges of such a huge event with so many different characters is the make up.
"We use all different kinds of techniques for the characters" says make up designer Michael Burnett "we have some that are in latex masks, others have light make up, and even others will have heavy prosthetics."
httpvh://www.youtube.com/watch?v=F53oRwNN8ro&feature=plcp
Check out more pictures from the HHN Preview:
Want to walk through two Halloween Horror Nights houses early? Click here to walk through Silent Hill and Dead End!
For more information about Halloween Horror Nights, visit the official website!