Horror saved Universal Studios, quite literally, from bankruptcy many years ago. It was the classic monsters like Frankenstein, Wolfman, Dracula, and The Creature from the Black Lagoon that kept the studio afloat. Earlier this year Universal Orlando launched their all new nighttime spectacular, Universal Cinematic Spectacular:100 Years of Movie Memories. The show uses fountains, fireworks and Morgan Freeman to tell the epic story of Universal films. It was a sure bet that the new show would be showcased during Halloween Horror Nights. After all, without the classic films, we wouldn't have HHN.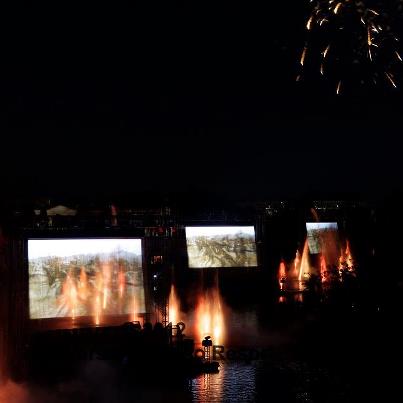 Tonight on the official Facebook Page Universal announced that they will be paying tribute to the classic films by utilizing the same technology used for Cinematic Spectacular.
Throughout the night, the Universal Studios Lagoon will play host, visually, to several horrifying tributes complete with choreographed fountains, lasers and light. From its murky depths, atmospheric homages to Alfred Hitchcock, the Universal Classic Monsters, Alice Cooper and The Child's Play series will invade our guests' senses as they experience all the terrifying thrills HHN22 has to offer.
While it's not going to be comparable to the whole show, this is great news for fans of the show and those who have never seen it. You'll get a glimpse of the amazing new show while watching amazing horror clips. You're liable to get lost in the moment of the famous shower scene right before you get attacked by a nightmarish Legion of Horror.
In addition to the Lagoon show, guests will be able to walk through the House of Horrors. Universal will bring the creatures back to life in Black and White, by using stunning new techniques and technology.
For more information on Universal's Halloween Horror Nights, visit the official website!