Reservations for the first few days of dining at Be Our Guest are filled to capacity. People are trying their hardest to get in, and plan at least a lunch in the all new restaurant, and the first meal hasn't even been served yet. It's one of the most anticipated openings ever, but it's not for the food as much as it is for the atmosphere. Soft openings of The New Fantasyland continue this week, and we were able to walk around the new restaurant and take a look.
Nestled in the mountains underneath a far away castle, Be Our Guest promises to be a cornerstone in the New Fantasyland at the Magic Kingdom at Walt Disney World. The first reservations won't be filled for quite a few weeks, but it is open for tours during the New Fantasyland soft openings.
Everything about the restaurant is just flat out gorgeous, from the walk up to the interior. As you walk up, you literally walk over a river and through the woods, only instead of grandmothers house you walk ever closer to the enchanted castle that always seems just out of reach.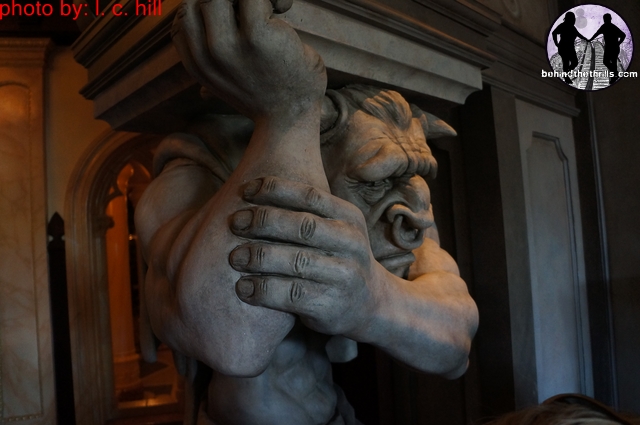 In Beauty and the Beast, the castle in which Beast was in was enchanted. Everyone there, while they were magical were all prisoners within the castle made to serve a specific duty. That is very much felt as you walk in, with faces trying hard to hold up pillars and even faces leering down at you from every corner and crevice.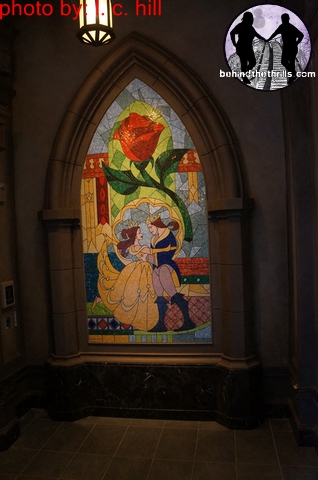 Several elements from the movie are present as you walk through the halls and corridors of Be Our Guest. You can see the classic stained glass window, as well as the rose which loses it's petals. The whole atmosphere changes from room to room and you never know just what you will see as you feast on delightful French cuisine.
httpvh://www.youtube.com/watch?v=pdDOQwK2xHU
The restaurant will serve lunch as a counter service dining option where guests will order their meals from touch screen and be served at their tables on fine china. Then at dinner the restaurant will transform and become a full service restaurant serving not only french cuisine, but also beer and wine. The first time beer or wine has ever been offered at the Magic Kingdom.
Check out more from Be Our Guest:
Be Our Guest officially opens December 6th when the New Fantasyland has it's grand opening.
For more information, visit the official Walt Disney World website!